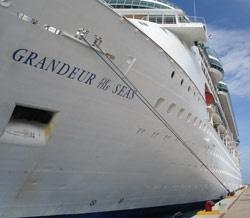 Grandeur of the Seas is an older ship in the Royal Caribbean fleet of cruise ships, but it still packs a lot of great opportunities for guys looking for inexpensive mancation options.
While there were the expected bars, nightclub, pools etc. what really impressed me was that Royal Caribbean is actively marketing their spa services to us guys! Heather from Chick Vacations was disappointed though because the special "men's package" was actually significantly cheaper than the individual services that she was offered off the menu.
Compared to the recently launched
Oasis of the Seas
that we covered previously,
Grandeur of the Seas
is a tiny ship, but don't let that fool you - there is still plenty of fun to be had!
The Good Stuff about Grandeur:
Nice Selection of Bourbons, Scotches, and Spirits
Most of the bars were very well stocked with not just the usual spirits but also the Jim Beam Small Batch Collection (Knob Creek, Bakers, Booker's, and Basil) as well as fine scotches, and vodkas. So if you choose to visit Grandeur of the Seas and you think all there will be is fruity umbrella drinks don't worry!
If your drinks of choice happen to be fruity rum drinks they have that too though.

Cigar Bar in the Viking Lounge at Night
In the evening, the Viking Crown Lounge (very top of the boat) turns into part night club, part cigar bar. So if you are looking for a place to relax, watch the sea pass by while sipping scotch and smoking a cigar this is your spot.
Plenty of Food at All Hours
There was always plenty of food - either at the buffet, the pool restaurant (hot dogs, burgers, pizza, fries etc.), or at the Great Gatsby dining room. Like all cruise ships you have near total flexibility with the dining room menu. If you want fish and steak you can do that ... if you want the shrimp appetizer and a salad, just ask.
Good Entertainment
On our cruise (4 days) there was a variety of entertainment in the main stage including a fantastic comedian, the Los Pampas Gauchos, and there was even a lounge where many of the guys we saw were planted watching the bowl games. However, there was no sports bar as there is on larger ships there was still plenty of opportunity to keep up to date on the various games back home.
Quest - Adult Scavenger Hunt
I regret that I can't fully relate what goes on during Quest, but suffice to say it is an after-hours adult game. Activities involved hoola hoops, swaping cloths with members of the opposite sex, and a scavenger hunt. If you see Quest listed on your activities calendar when you get on board you should check it out.
It is absolutely one of the highlights for any mancation cruise.
Friendly Staff
All of the staff we met were super friendly and willing to help make the cruise a great experience.

Nice Spa and Packages for Men
While individual spa treatments were somewhat pricey, there was a spa package advertised just for guys that was only $99 including a facial, scalp massage, foot and ankle exfoliation, and a back massage.
Also, the treatment rooms all looked out over the ocean and the spas's relaxation room and it was probably the only refuge from kids on the ship.
Price!
We paid only $250 per person for a four-day cruise. Compared to what it would cost for just a room in Chicago, a cruise is an absolutely fantastic deal. Even better was that once on the ship you didn't have to worry about money (though drinks are not included and there are plenty of opportunities to spend your money on-board).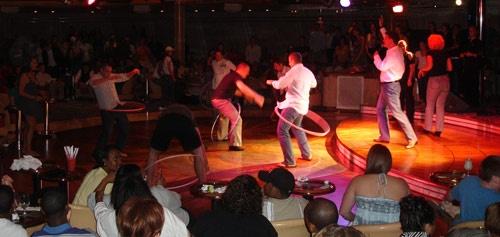 The Bad Stuff about Grandeur:
Quality of the Food
While the quantity of food was very good (though it would have been nice to have at least one specialty restaurant), the quality was not what I was hoping or expecting. Some items such as the salad bar at lunch and some of the Indian items on the buffet were fantastic, however some other items were significantly below my expectations.
At best I would have to say that the food quality was similar to what I would expect at an average family restaurant back home.
It isn't so much that the food was "bad" ... just don't expect 4-star food to match the 4-star environment and service.
Adult Only Sections Not Enforced
One aspect of the ship that I was looking forward to was the "adults only" solarium on Grandeur of the Seas. Unfortunately it was quickly invaded by kids and Royal Caribbean staff (who were present) chose not to enforce the rules.
Activities and Excitement Slow to Start
Our first day was slow, with the only real activities being a shopping lecture, an art lecture, and I think there was a gem stone lecture too. All of these were designed to inform you ultimately of ways you can spend your money the next day in Cozumel or at the shops on board.
The evening following our port day and then the second sea day we enjoyed tremendously. It was almost as though the staff was prepared for a 5 or 7 day cruise and forgot that it was only 4 days. By the end of the last night I really wish that there was another couple days to enjoy on board.
Ice Cream Machine Often Out of Order
There was an ice cream machine located by the pool, but unfortunately it only had chocolate and EVERY time we stopped by it was either out of service, or there were no cones left.
Minimal Dining Options
On the larger ships, there are specialty restaurants that you can visit. On Grandeur of the Seas there was only the buffet, dining room, and the burgers and hot dogs place by the pool.
The "incident" on Departure Day
Unfortunately, on the last day of the cruise we learned an important lesson - the safe in your room is there for a reason. You can't necessarily trust room stewards or hotel staff so you should always keep valuables locked up when you aren't in the room. This is true even if you are only out of the room for a few moments!
While we will probably not know for certain what exactly happened and I am not going to go into full details here, the short version is that my wife's rings disappeared from our safe and were later "found" on the bathroom sink after Royal Caribbean staff "tore the room apart".
While it would be easy to say that this is a negative about Royal Caribbean or Grandeur of the Seas, the reality is that incidents like this can happen anywhere. If you are on a cruise ship, resort hotel, or anywhere else that has a safe - USE IT.
The good news is that after we reported the incident that the staff was very helpful in resolving the situation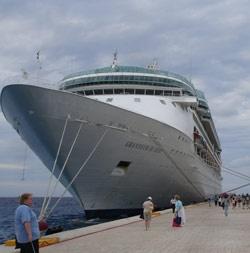 Over all, we had a good experience on our cruise, and I look forward to checking out other ships, other cruise lines, and other destinations in the near future.
This was not a sponsored trip, but we did receive upgraded toiletries and other items including: a fruit bowl, cheese tray, and a bottle of champagne.