Can you believe it? Guardians of the Galaxy is finally coming out on DVD and Blu-Ray on December 9 and you can pick it up - along with all sorts of awesome toys and action figures at Walmart to make the movie watching experience event greater.
These movies are bigger than just films to watch - they are indeed entertainment phenomena to wrap awesome merchandise around such as books, soundtracks, action figures, and other toys. To celebrate, I decided to step back in time and create my own adventure using some of the action figures from the movie ... just like I did when I was a kid.
Before we start our adventure, let's get some tunes going ...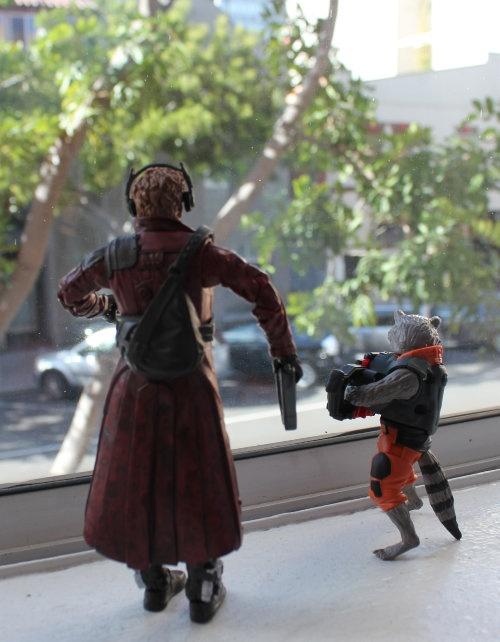 Now that we got the tunes cranked up, it's time for Rocket and Peter to head out to find Groot and the rest of gang so that everyone is ready for an awesome DVD / Blu-Ray Release Party!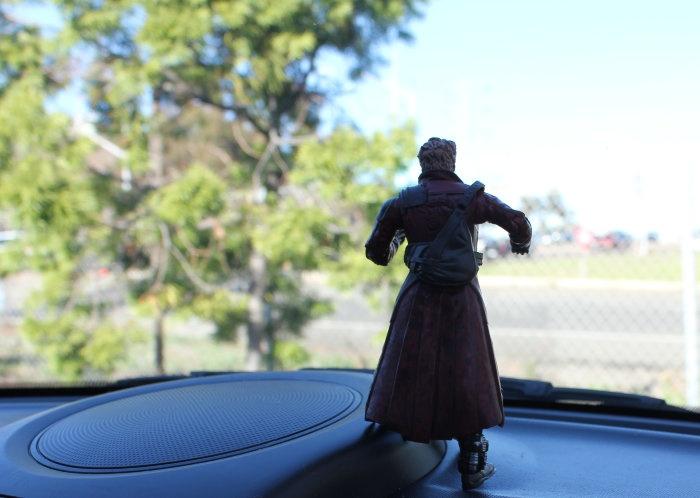 Into the car we go! Peter decided to navigate and since he brought the Awesome Mix Vol. 1 CD with him he won that debate since road trips suck without great music to go along with the drive!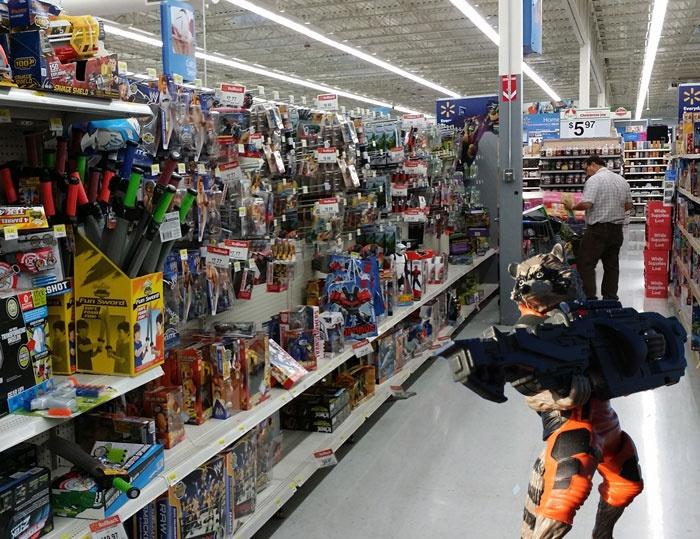 Our hero's arrived at Walmart and while no one sane ever wants to visit the toy aisle during Christmas, that's what they did to liberate the rest of the team!
Narrator's Note: Each Walmart is different and most will actually have a display featuring not just the action figures but other merchandise including the CD, books, space ships, blaster toys and more. And on December 9, the stores will all have the movie itself too! In our store, the Guardians of the Galaxy figures were located right next to the other ones from the Marvel universe so it was pretty easy to locate.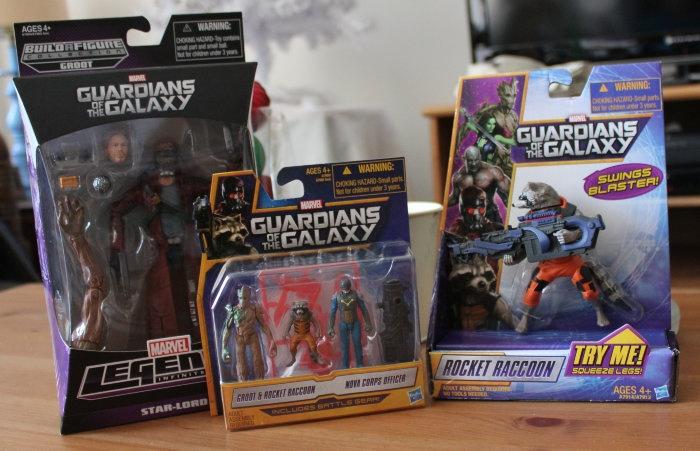 Rocky and Peter were shocked to find copies of themselves at the store along with several versions of their friends, all imprisoned in plastic - likely a trick by the evil Ronan!
Once free again, it was time to continue the journey. While they were able to find a miniature version of Groot, they discovered that to fully assemble their friend they would need to collect all of the Build A Figure Collection figures.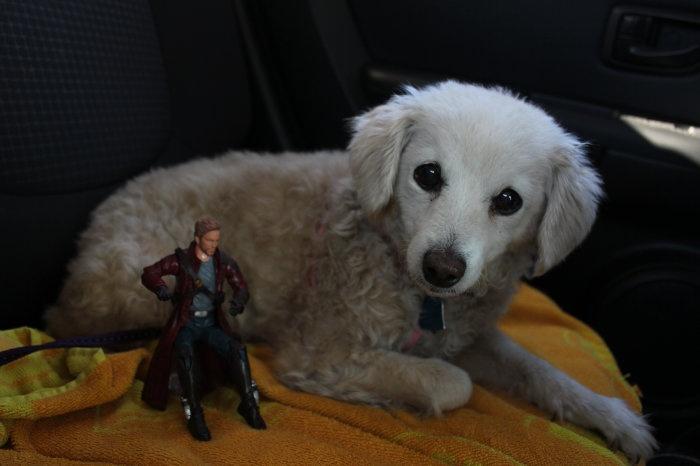 The journey continued and they sought out advice from everyone they knew - including the wise and powerful Niki who offered nothing except wet sloppy kisses.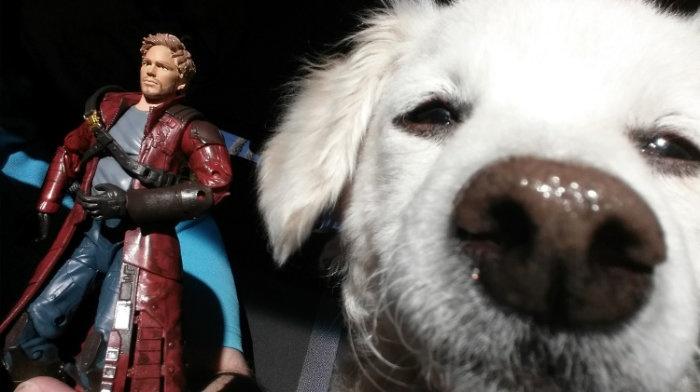 Before he could escape though, Niki broke into song, singing "I'm Not in Love ..." and the two made up after some quick dancing and pelvic sorcery along with tales of the legend of Kevin Bacon.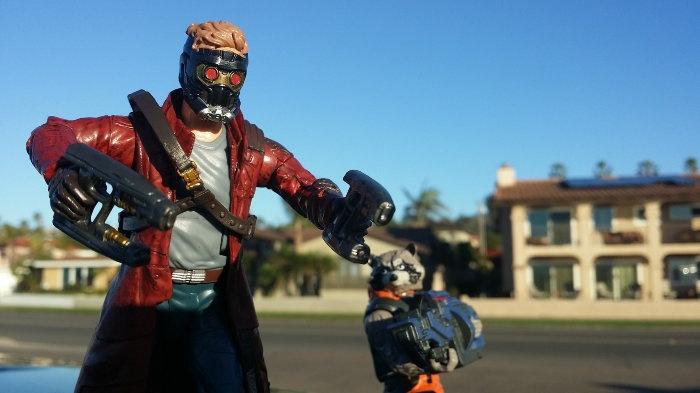 Ok, Rocky! It's time to get serious, where is Groot?
After uttering a few snide remarks and Peter rejecting Rocky's request for a mechanical foot, the team realized that no matter how hard they looked together they needed help.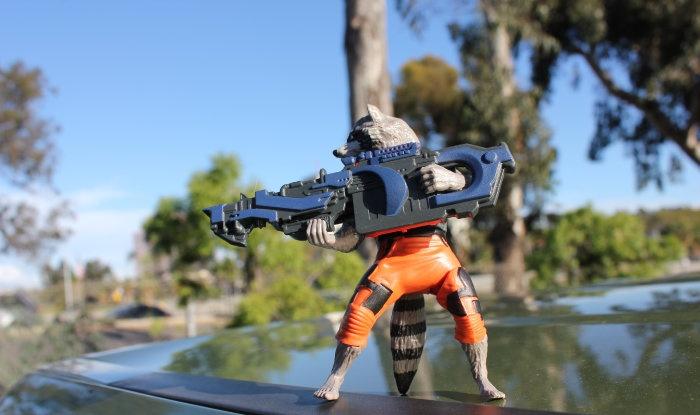 As such, the duo decided to head home and gather the team to see what advice they had for where to find the other Groot pieces so they could put him together.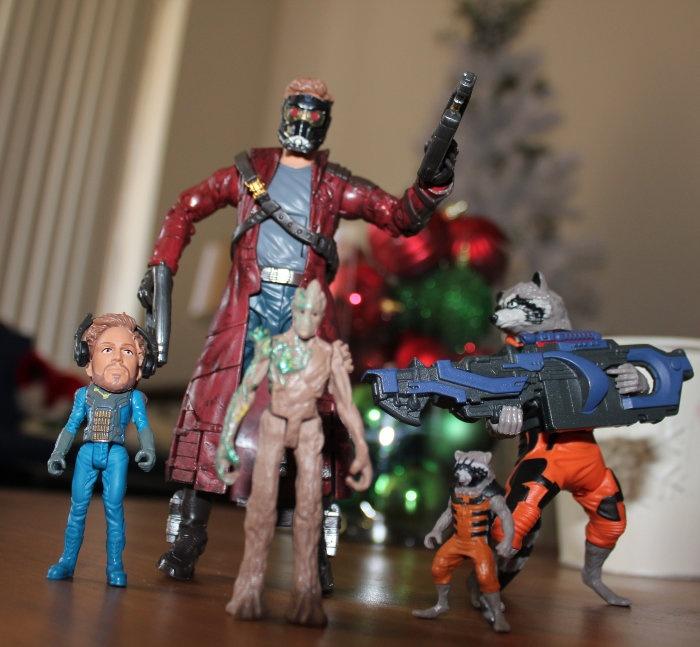 After some expert dance moves, more snide remarks, and general silliness including one of the Nova Corps officers putting a giant Peter mask on and listening to some Terran tunes, the team realized...
We need to go to Walmart ... I bet we can get the rest of the Groot pieces there as well as the DVD!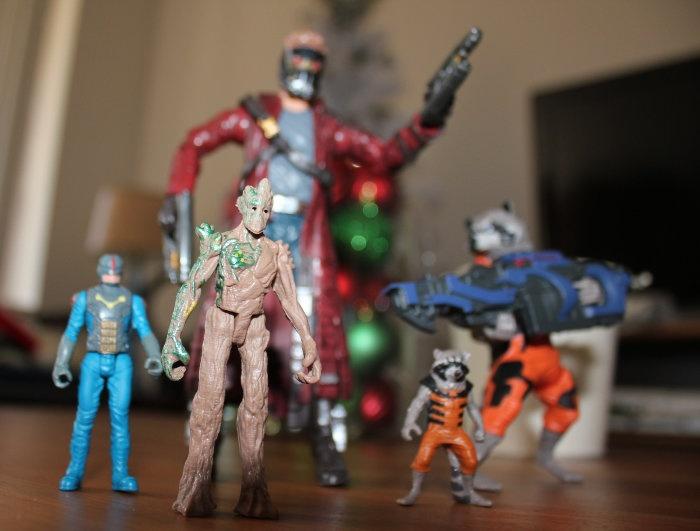 So, off to Walmart the team goes to get the DVD and more of the gang!
You can do that too and starting on December 9 you'll be able to get the Blu-Ray/DVD/HD release of Guardians of the Galaxy. There is also a $5 Walmart gift card offer when you purchase select Groot, Drax, or Rocket Raccoon figure, so make sure to go there soon and ask a Walmart associate for full details.
Still not convinced that the physical media is worth buying? If you download it you'll be missing out on exclusive features such as a Character O-sleeve, music zinepak, and 65-page magazine with cast and crew interviews, exclusive behind-the-scenes photos and trivia. There is also a custom "cassette" laptop decal.
This shop has been compensated by Collective Bias, Inc. and its advertiser. All opinions are mine alone. #OwnTheGalaxy #CollectiveBias