Poker night or a guys night out at the bar drinking and smoking ... those are usually the only two options that I hear but I have an alternative idea. How about a guys movie night?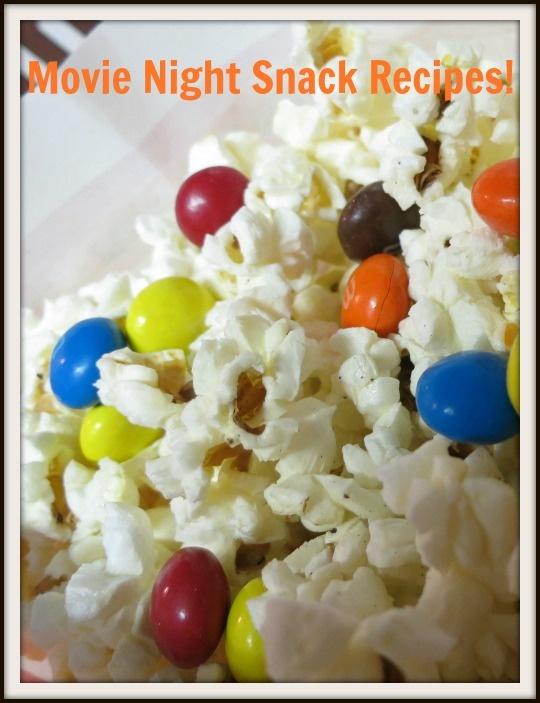 First, let's get the simple snacks out to the way ...
Popcorn is good - but have you ever thought about throwing some peanut butter M&M's® in there while the popcorn is still warm? No? Try it - true to the "Melt in your mouth, not your hand" quote, the chocolate inside the candy shell will melt and become soft but the candy shell will keep it together so it doesn't get messy and the two flavors work really well together!
Second, marshmallows are great snacks at the movies, so we grabbed some of those too.
That's when inspiration really hit ... we could combine all those things into one amazing SUPER HERO of a movie snack! Popcorn Bars with a Dark Knight theme!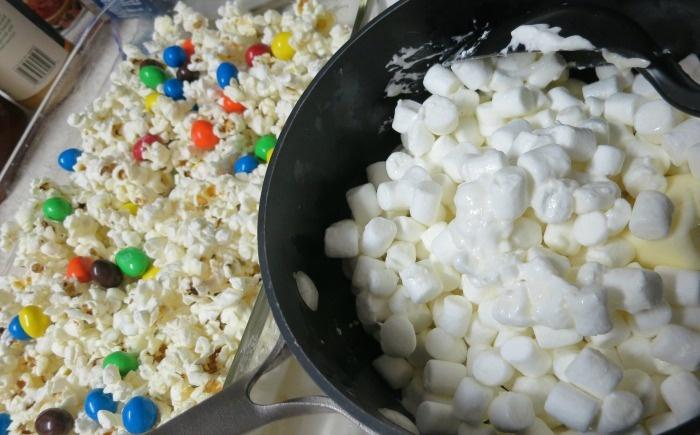 The recipe is ridiculously simple (which is good since my cooking skills are more honed for grilling and smoking instead of creating deserts and snacks.
M&M's Popcorn Marshmallow Bar Ingredients:
1 Bag of Orville Redenbacher's Salty and Sweet microwave popcorn
1 Box of Peanut Butter M&M's®
1 Box of Peanut M&M's®
4 Tablespoons of Butter
10 oz of mini marshmallows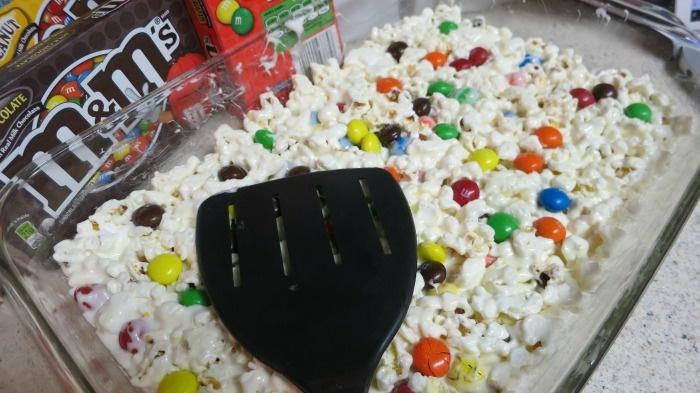 M&M's Popcorn Marshmallow Bar Directions:
1. Slowly heat the marshmallows and butter in a large saucepan till it begins to melt and make sure to watch it carefully, stirring so that the marshmallows don't burn.
2. While the marshmallows are melting, pour the popcorn into a pan that has been greased with butter so that the bars don't stick and mix with the box of Peanutnut M&M's®.
3. Once the marshmallows are fully melted with no chunks, it's time to pour that over the popcorn and fold it together so that the marshmallow gets into every piece. You'll start to notice that the marshmallow gets stringy as it cools, don't worry about that but make sure that you have everything combined together well.
4. You can never have too many M&M's®, so the next step is to sprinkle even more Peanut Butter M&M's® over the top.
5. Finally, use a large spatula to press down on the mixture so that everything is fused together well.
6. Wait about 10-15 minutes or place the pan in the fridge to cool down.
7. Once it is cool, take it out and cut the bars out and place it on a piece of parchment or serving plate.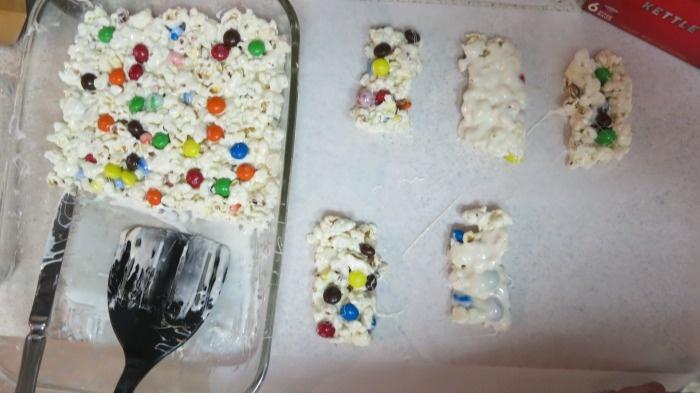 Oh No, we aren't done Yet!
This is a movie themed snack, so here's how to make it perfect and wow your friends ...
Batman "The Dark Knight" Popcorn Bars:
Take the bars above and cover in melted dark chocolate! He is the Dark Knight afterall, so this way you can have a bar that is perfectly themed for both of his personalities - Bruce Wayne being a little nutty on the inside but covered in a hard shell of Batman on the outside.
Joker Popcorn Bars:
Take the bars above and use a red icing pen to draw a strategically placed (smeared?) smile lengthwise on the bars to mimic that iconic Heathe Ledger smile from the movie.
Two Face Popcorn Bars:
Dip the bars only halfway into the chocolate and line the edge with the red icing pen.