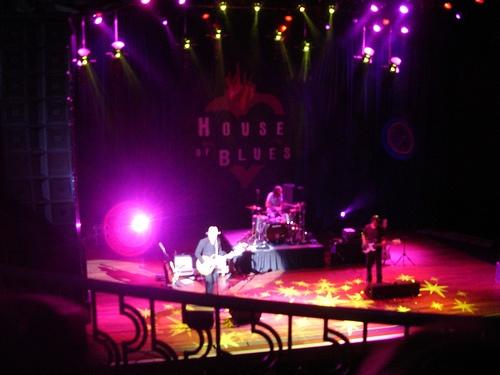 If you are a guy and you have never been to a House of Blues you must check this place out.
There are House of Blues locations nationwide and if you aren't a "blues" fan, don't worry - there is a lot more than blues bands playing at these places. In many ways, House of Blues is a perfect destination for a guys weekend because they are unbelievably cool in that sort of magical way they are decorated where everything is just perfect from the lighting to the decorations on the wall.
That's why I was excited to be invited out to Atlantic City to check out the House of Blues inside the Showboat Casino last month.
Showboat as its name suggests is a New Orleans themed casino, so blues fits in perfectly with the theme and House of Blues is the ideal entertainment venue for the casino. It also seems to be the future of Showboat according to the PR people we talked with. The management here is working hard to get away from the blue haired grannies and move to the chic blue jeans and leather jacket rocker people who want to party hard and listen to some great music between rounds of poker and blackjack on the casino floor.
Harrahs has even dedicated part of the casino floor to the ultra-chic House of Blues theme, but hidden above it is the ultimate destination for a guys weekend or mancation party - the Foundation Room.
Dinner at the Foundation Room!
This is a private club that on occasion does rent rooms to non-members for various functions such as private parties. Membership to Foundation Room is sort of like at a country club or yacht club, where you pay annual dues but also get various other benefits. At the Atlantic City Foundation Room you have access to a concierge who can help you setup anything you might want for your guys weekend, including golf, concert tickets, etc. In addition to being able to use your Foundation Room membership in Atlantic City, there are other Foundation Room clubs at cities around the country, including: Chicago, Cleveland, Dallas, Las Vegas, Los Angeles, and New Orleans. So if you are REALLY into having the ultimate rock and roll but super chic mancations around the country it might not be a bad investment. Plus, you can use it during the week too, as a place to entertain clients
In the Foundation room were prayer rooms ranging from being perfect for small intimate meetings of 3-4 people (official capacity is 8 people) to larger rooms that were outfitted with Xbox 360 and Wii game consoles! There was also a private dining room with a menu that was as delicious to eat as it was to read.
While the menu of course changes from day to day, the highlights that members of our group enjoyed included: Filet Sinatra (fillet mingon covered in crab meat), 21-day dry aged sirloin, Bershire pork chops, an amazing platter of artisan cheeses, and some of the best fried calamari I have ever tasted. Of course, the wine was also excellent and the service was suburb as you would expect when the entrees alone are above $50 per person on average.
After dinner, we were invited to take a tour of the Foundation Room and our host explained to us that the decorations on the walls are actually authentic folk art pieces. In fact, the House of Blues is actually a registered museum and all of the artifacts are actually authentic.
House of Blues Wallflowers Concert
Next stop was to our concert, Wallflowers and Salvador Santa Band. Unfortunately because our dinner ran late, we missed most of Salvador Santa, but I look forward to trying to catch them again if they come to Chicago. As a veteran of several House of Blues around the country, it is surprising that they are so different inside, despite the same general theme and decor. One of the nice things about the Atlantic City House of Blues was that it had an extensive balcony area where you could sit in stadium style seating and still be very close to the stage - or if you are looking for a more party atmosphere, you could stand on the floor level like a traditional concert.