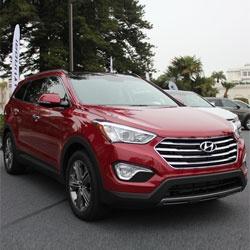 From 8,000 feet in the air to sea-level, the Hyundai Santa Fe can take you pretty much wherever you need to go and does so in comfort and near luxury style.
A few months ago we had the opportunity to be among the first to drive the 5 passenger Santa Fe Sport, and now this month we had the chance to review the all new 6/7 passenger Santa Fe.
The compact SUV market is getting crowded as moms shift from minivans as their taxi of choice and instead are starting to buy up SUVs. While the Santa Fe was a popular model for Hyundai, the Veracruz was much less so and as a result, for the 2013 model year the designers decided to make a longer and roomier full-sized Santa Fe capable of carrying 6 or 7 passengers - depending on seating arrangement.
Starting at $28,350, the 2013 Santa Fe comes with a 290 horsepower, 3.3 liter GDI V6 engine and two trim levels. Essentially you can think of the two trims simply as "Great Base Model" (GLS) and "Near Luxury" (Limited).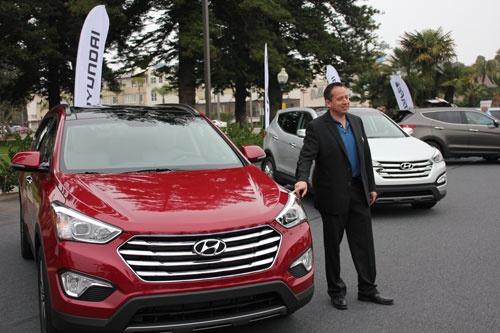 After having an opportunity to spend some quality time in both of them I have to say that the driving experience is extremely similar. While the Limited was described by other bloggers on our trip as comparable to a BMW, the Base felt more like a great "around town" car with most of the differences able to be described simply as accessories.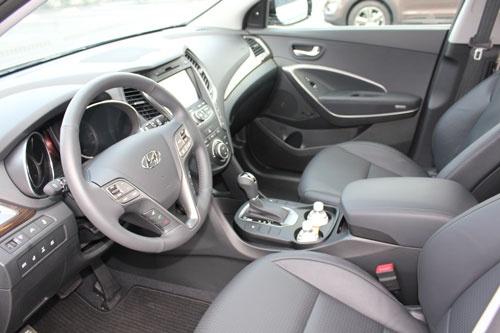 That isn't to say that accessories aren't nice and absolutely the fully loaded Limited version with features like: Heated Mirrors, Automatic Headlight Control, Side mirror turn-signal indicators, leather interior and of course the AMAZING Panoramic Sunroof makes for a near luxury experience that my associates rightly compared to what they feel when driving a BMW or Mercedes SUV.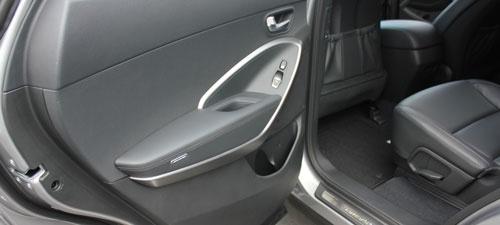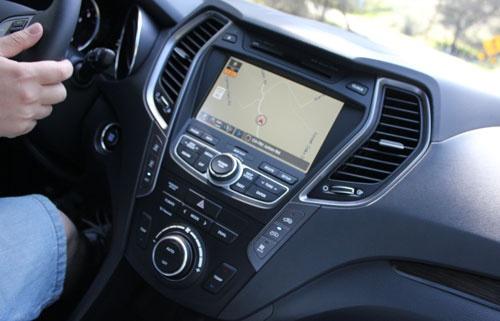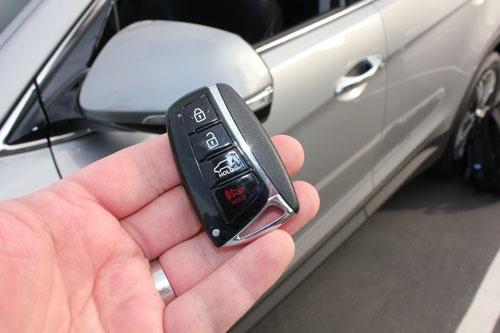 This trend of "New Luxury" even carried through to the ignition system and key fob. While the GLS has a standard "switchblade" style metal key, the Limited sports a push button ignition and a decidedly luxury feeling key fob to hammer the point home that even though you are lugging the kids around - this is a great car and you deserve to feel special while driving it!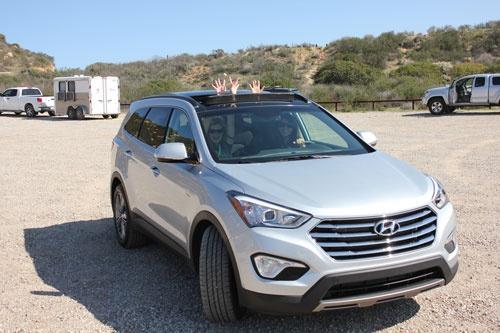 Our blogger friends who joined us on the trip seemed to agree as well.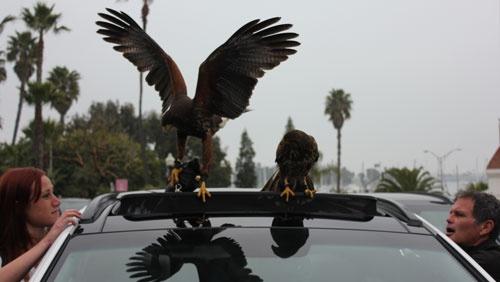 So did the falcons that are part of the Hotel Del Coronado, our base of operations for this event.
The falcons liked it so much they weren't content to simply look at the gorgeous interior from the sun roof.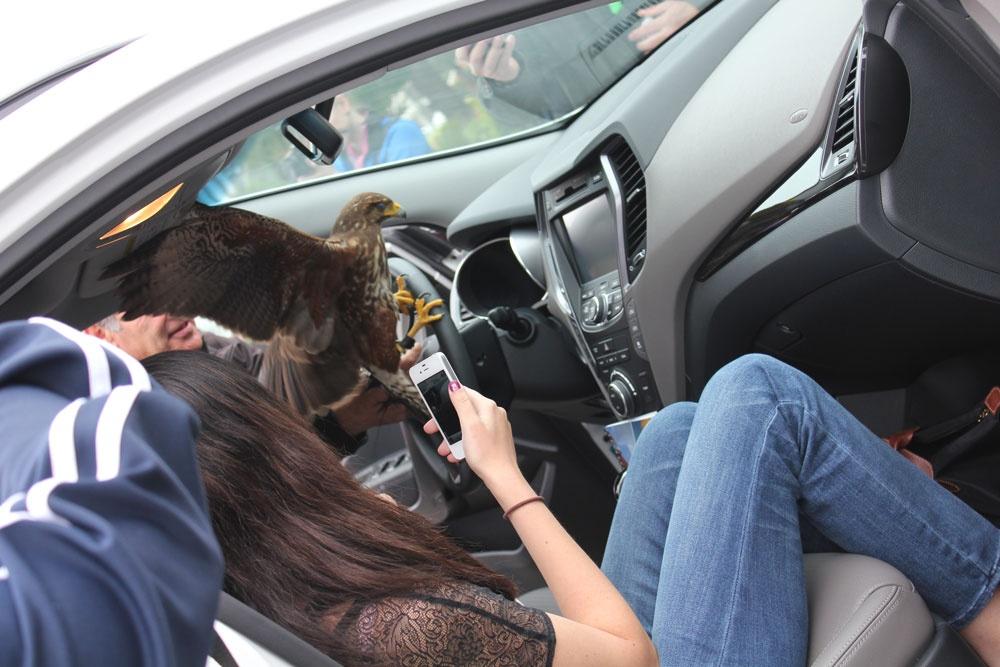 They wanted to get inside and take the Santa Fe for a spin too!
The only noticeable difference in driving experience between the two was that the Limited with its 19-inch wheels felt a bit smoother of a ride compared to the GLS with 18-inch ones.
So what about the big new feature vs the Santa Fe Sport? Extra passenger room for 6 or 7 passengers by adding a third row.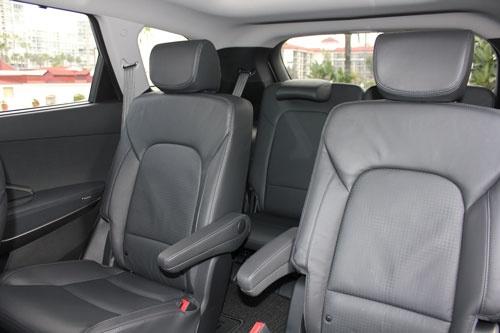 The seating arrangement above is the 6 passenger arrangement, with two captain's chairs in the middle and a 50/50 fold down in back.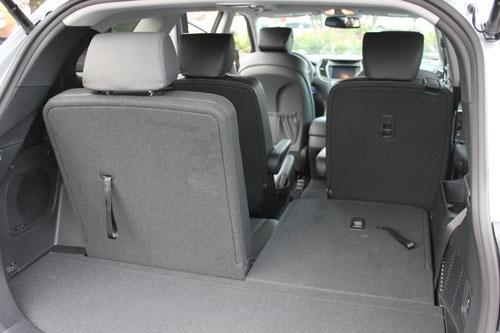 Again the 6 passenger version. It was super easy to drop the seats. All you needed to do was pull the strap and push them down.
Similarly, to get them locked into position again, just pull the straps until the seat clicks.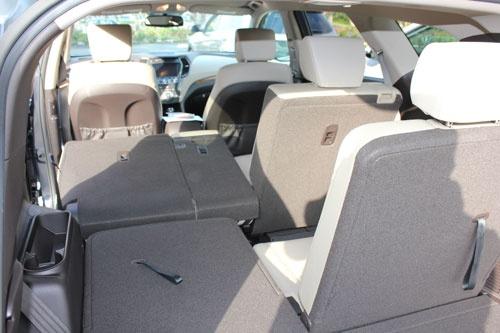 This is what the 7 passenger version looks like. Notice the 60-40 folding bench seat instead of captain's chairs?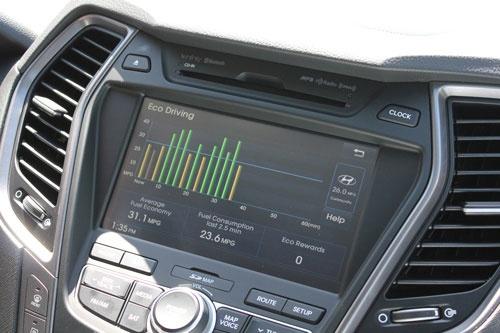 One of the more remarkable features of the Bluelink system that the Santa Fe features is the Eco Driving monitor. It not only shows you what the average consumption is but also appears to show you a baseline for other drivers in the community. For those of us concerned with hyper-mileage this is a super cool and competitive tool that can turn eco driving into a competitive sport!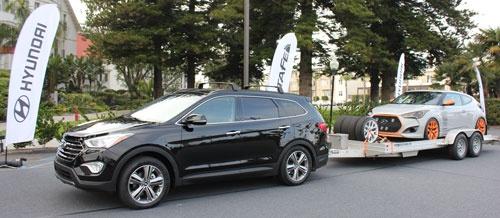 Only a few minor nits cause me to wish for more. The first was that I wish there was more ZOOM - both for climbing hills as well as just pick up to zoom out of stop lights. However, at it's core this is a FAMILY car and those of us wanting something more sporty should check out the aptly names Santa Fe Sport. The second concern was that while they lengthened the car so as to allow a 3rd row that sacrificed some cargo capacity.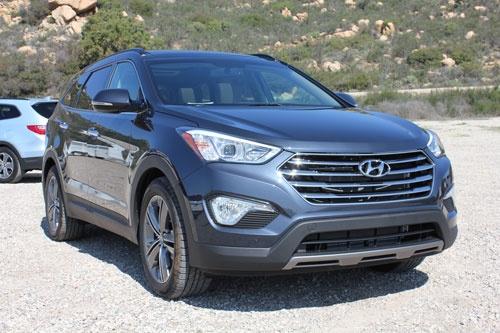 For a road trip with four guys, golf clubs, suitcases and maybe some ski's this car is excellent because you can fold the rear seats flat. However don't expect to get much more than groceries if you have it loaded up with 6 or 7 guys. Again - this was clearly designed for lugging around your 2-3 kids and a couple of their friends so the Santa Fe is great in that objective.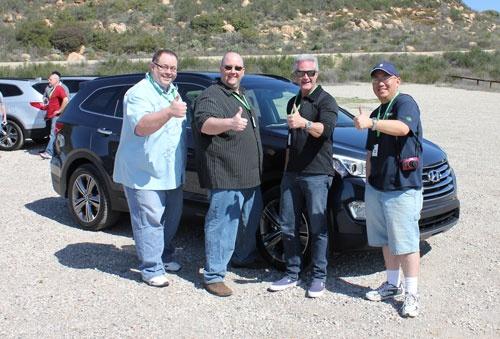 Want to read more Hyundai Santa Fe reviews from the four amigos? Check out their thoughts here Sasaki Time, Gunaxin, and Guys Gab.
However, I'll leave you with one final parting thought and this was echoed by virtually every other attendee ...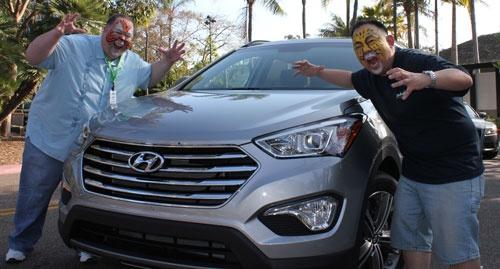 We are WILD about the new Santa Fe! (though others that reviewed it may be a little less colorful!)