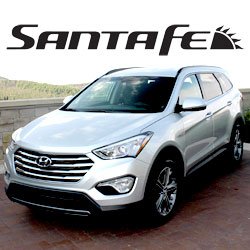 For this Road Trip Review, the folks at Hyundai invited us out to the mountains of Utah to test drive the all-new Hyundai Santa Fe Sport. As someone who looked at the Santa Fe years ago and settled on a Chevy Equinox instead, this was a chance for redemption of their brand in my eyes.
They succeeded fantastically by delivering a car that wasn't just a "great value" but was truly a great car ... and one that stands up against any competition in its class.
For those of you who aren't familiar with the Santa Fe, it is Hyundai's CUV or Compact SUV. Traditionally, this has been a 4 or 5 person vehicle, with the lesser known Veracruz taking the seven passenger market. At this launch though I learned that what we would actually be driving would be the Santa Fe Sport and the new 7-passenger "extended" version would be simply the Santa Fe.
The sport version that we drove was equiped with a 296-hp 2.0 turbo charged engine that felt perfectly matched to the car. Starting at $24,500, the version we drove was FULLY loaded and topped out at about $35,000.
While many of the guests felt "winded" after walking up a flight of stairs, the thin air at nearly 9,000 feet in the Wasatch Mountains around Park City, Utah didn't seem to phase the Santa Fe.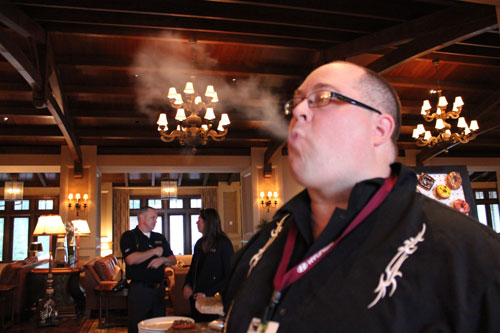 Our adventure started out with a fantastic dinner where the folks at Hyundai introduced us to a special desert - "Dragon's Breath" where rice crispy treats were dunked in liquid nitrogen and then you essentially looked like you were blowing smoke.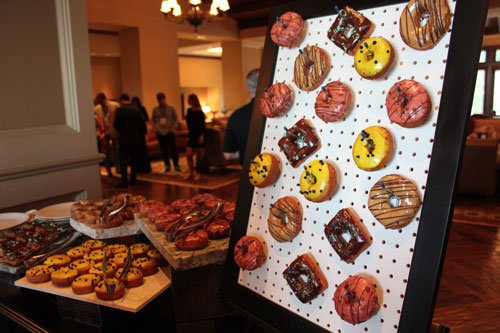 Another highlight that night was the Donut Board featuring among other things - maple bacon and bourbon flavored treats!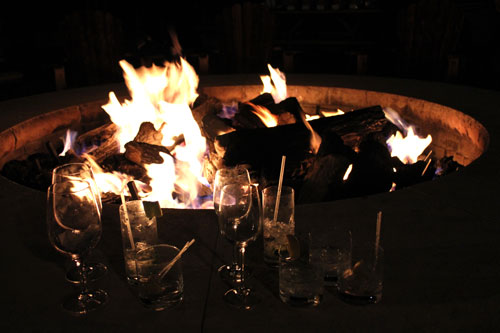 After grazing through dinner, it was time to head outside and enjoy a fire and get to know some new friends and catch up with old ones.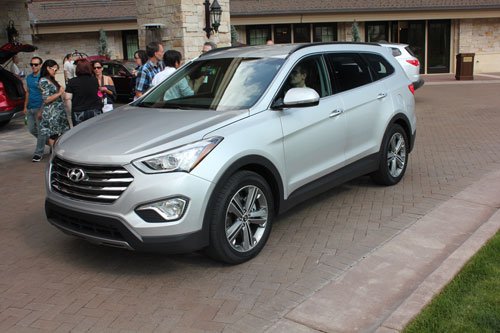 The next morning, we were treated to a first look at the 2013 Santa Fe, seven passenger version, which will be launching sometime later this year. While no photos were permitted, I was granted a "sneak peak" inside and I can share that in addition to the extra space for two or three more people, there is also TONS more cargo room for packing up extra supplies for that next camping trip.
When not in use, the rear seats fold down flat.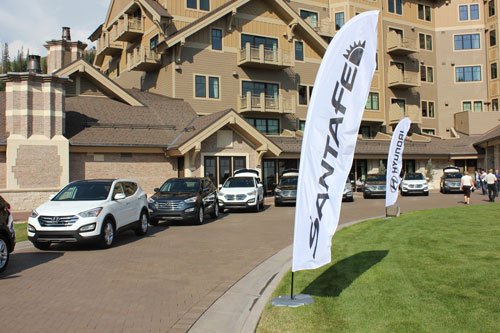 After taking a quick look at the Santa Fe, it was time to pick out a Santa Fe Sport to drive that day.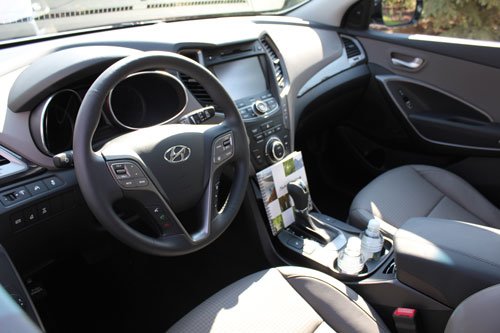 As you can see, the cockpit is very modern and stylish - with the right mixture of luxury and practicality. The Hyundai folks described their philosophy as Fluidic Precision.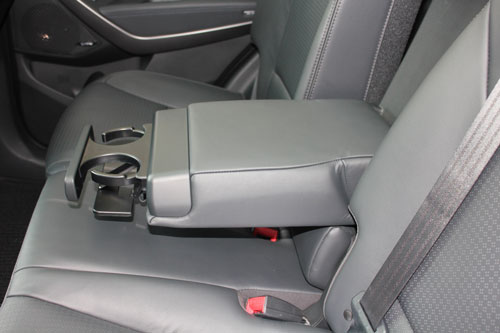 The rear seats fold down in a 40-20-40 pattern, allowing for a variety of cargo options. Suprisingly, the rear seats were extremely comfortable as well for a big guy like me!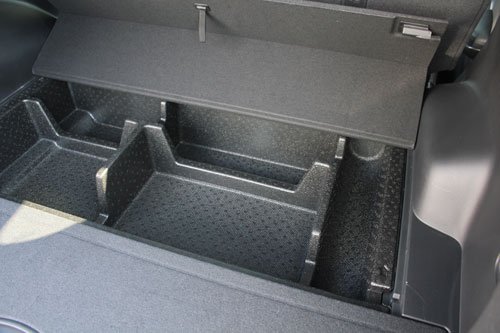 In addition to typical storage options in the trunk, the Santa Fe also features a hidden cargo compartment with molded plastic cubbies so that things don't slide around. This is intended for things like groceries but I think this is also a great spot for beer!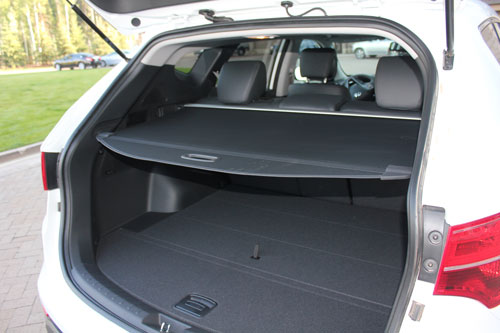 One of the other nice parts of the Santa Fe Sport is that the cargo shield is actually hidden in the compartment (notice the handle next to the hatch latch). When not in use, you can take it out completely and store it there.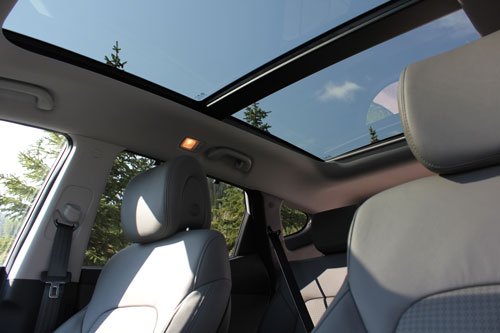 Of course, practicality isn't the only thing that the engineers at Hyundai focused on. Check out this amazing Panoramic Sun Roof!
Specifically, look at how thin the bar is separating the front and back. While driving around the mountains this was especially cool since you could look up and see the tops of the peaks from the rear seats.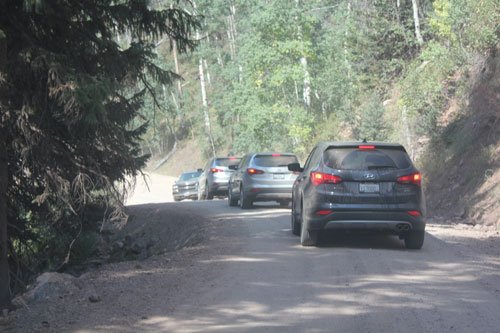 To prove how much fun the Santa Fe is, we headed off of to the Wasatch Mountains and charged up a mountain on a fire trail that was anything but the expected environment for a CUV. While lesser models might have had trouble swinging around switch backs and navigating the narrow roads and loose gravel, the Santa Fe used its AWD to stay in control.
Even when I pressed it farther than I should have by swinging around corners trying to skid, the Santa Fe handled extremely well.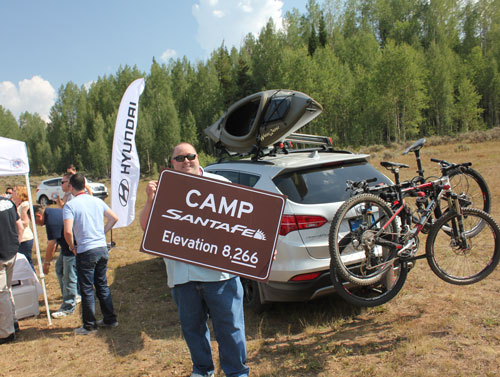 After driving up the mountain, we ended up at "Camp Santa Fe", elevation 8,266 - reminding us of the fact that Hyundai was able to remove 266 pounds of weight from the car - while making it quieter and stronger.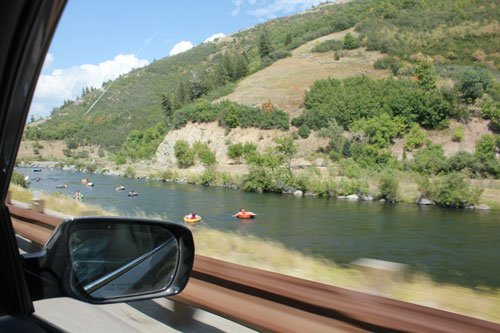 After our adventure in the forest, we headed off for a drive across a variety of terrain, including grades of up to 9%. Again, the Santa Fe performed flawlessly, despite the altitude.
The area around Park City is FILLED with fantastic summer time recreation and while passing by folks floating down the river in their tubes it made me wish we could just pull the car over and hop in and join them!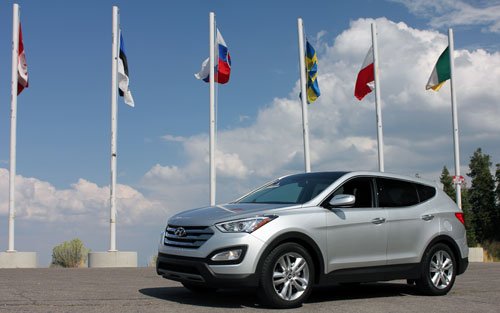 Eventually, we arrived at Olympic Park - site of the US Ski Jump, Bobsled, and Luge facilities. The Santa Fe felt at home here as well - a champion at everything we threw at it so far that day.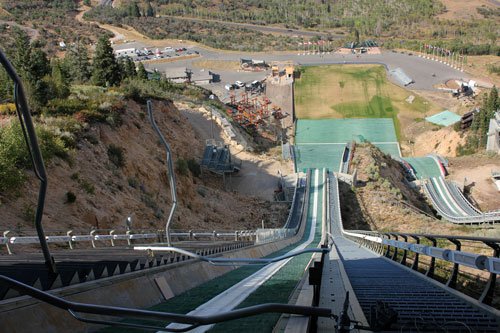 Hyundai then let us explore the area a bit, so I headed up the mountain to check out the ski jump. This is certainly not something I can ever imagine doing, but I now have much more respect for the guys that do!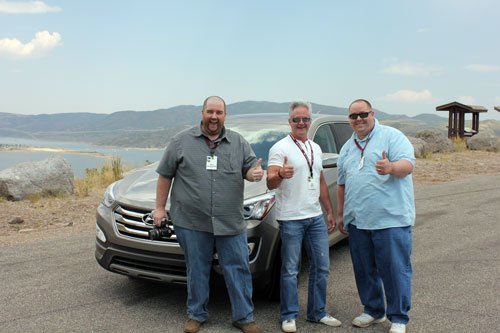 Here are the Three Amigos - Eric, Philip, and I (in the blue shirt). The Santa Fe was our chariot for this fantastic experience and as someone who is planning a new car purchase later this year, I can absolutely say that it is on my list.