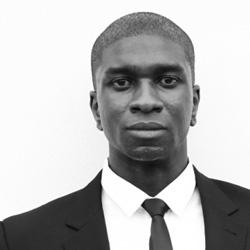 Today we were lucky to talk with actor, Ade M'Cormack about mancations and his favorite places to travel.
You may recognize Ade from a bunch of places including as "Yemi" on LOST, Blood Diamond, 24, The Unit, Heros, Without a Trace, and Gilmore Girls. He is now staring in Battle: Los Angeles coming out later this year.
What is your favorite mancation destination?
I love going back to Africa -- particularly Sierra Leone and Kenya.  My family is from Sierra Leone and I grew up mostly in Kenya. Sierra Leone has these amazing beaches and islands just off the coast that I visit all the time. And in Kenya you can hike through Hell's Gate in The Great Rift Valley and climb up Mount Longonot volcano. And if you're a little more adventurous, climb Mount Kenya. The views are spectacular.  The Kenyan wildlife is also incredible. You can go on safari to Masai Mara and see leopards and lions in their natural habitat. It's amazing.
You had the opportunity to work in Hawaii while filming Lost, what are some "must do" activities there if you are looking for the ultimate mancation?
Definitely surfing! I spent a lot of time up in the North Shore in Oahu and it had some of the biggest waves I've ever seen!  And even if surfing's not your thing, the beaches alone are worth the trip. You also have to check out Kilauea, an active Volcano on the Big Island. And an absolute must is the amazing food in Waikiki.
Can you tell us about your role in the upcoming BATTLE: LOS ANGELES?
I play a navy corpsman (basically a medic) and my job is to patch up the wounded and save as many lives as I can on the battlefield. I also get to kick some alien butt, so that's pretty cool.
What was your favorite moment while working on the movie?
Mid-way through filming, director Jonathan Liebesman showed the cast a short trailer of the scenes we had shot so far. The trailer was so gritty and real that it totally blew us away. I had never seen anything like it. Everybody got up and started cheering. That was my favorite moment--because right there on set it hit you again, how you were part of this amazing experience that people were going to get to see on screen.
If you and Aaron Eckhart went on a guys weekend, where would you go?
Hmm...good question! A friend of mine recently went camping in Lake Arrowhead in Southern California and talked about how much he loved it. He went on all these hikes and the pictures were awesome. So I would definitely give that a shot.
Can you give our readers one piece of advice on convincing their girlfriend / wife to let them go off on a mancation?
Mancation for me. Louboutins for you.
Thanks Ade, can't wait till Battle: Los Angeles comes out!