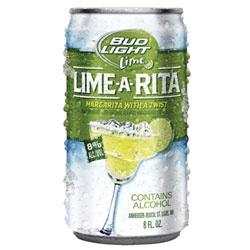 Happy Cinco de Mayo! Whether you are reading this today (May 5) or sometime else, Bud Lite Lime-a-Rita is designed to bring the spirit of this Mexican-American holiday to your party - without the fuss of multiple ingredients and a blender.
The question is, what does it taste like?
Surprisingly, it is actually pretty good! Though if you are a "beer snob" this is absolutely not your beverage, but then again what are you doing drinking Bud Light?
For the rest of us, forget that it has the Bud Light name in front of it and just pop open a can, toss it into a margarita glass with some ice and sip away.
Anheuser Busch describes Bud Light Lime-a-Rita as a "8% ABV margarita-flavored alcoholic beverage" that they created as,
"our take on the traditional margarita. Beer drinkers were already mixing Bud Light Lime into margaritas to create 'beer ritas'; Lima-a-Rita just adds a new level of convenience by providing the beverage with the perfect balance of flavors."
This may be true in certain parts of this country where hard-alcohol is difficult to find because of blue laws (rural Georgia), but I would NEVER ruin a margarita by pouring beer on top of my tequila. If you choose to, that's great though (I guess).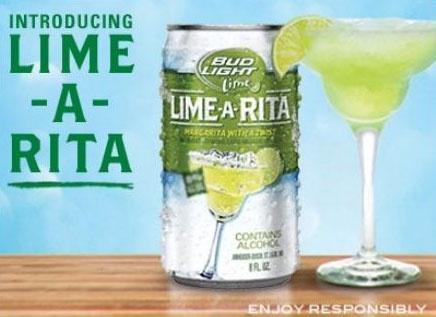 That being said though, Lime-a-Rita is pretty refreshing and does taste like a pre-mixed margarita. The first thing I noticed after popping open the can though, was that initially you can clearly tell that this is a malt beverage by the nose. Quickly afterwards you smell the strong scent of lime and realize that this is not your typical Bud Light, or even a Bud Light Lime.
AB suggests that you serve it over ice, so that's what I did. After letting it settle for a few seconds I took a sip. While it doesn't have the crisp clean taste of a traditional margarita, the flavor was quite good. A little heavier tasting and probably closer to a "hard lemonade" type beverage, but with the flavor of a margarita.
Bottom Line Review of Bud Light Lime-a-Rita:
I enjoyed my opportunity to review the beverage.If you are looking for something new and refreshing, I recommend that you give it a try.
It is absolutely not for everyone, but that's what life is about sometimes - exploring new things. Additionally, Bud Light Lime-a-Rita is also an excellent option for those of us who will be spending time cruising lakes and shorelines in a boat, fishing, or hanging out by the pool - locations where glass bottles and such are prohibited.
Lime-a-Rita is available nationwide in 12-packs of 8 oz. cans, 24-packs of 12 oz. shrink-wrapped bottles, and single-serve 24 oz. cans.