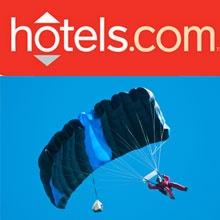 Extreme sportsman J.T. Holmes is no stranger to danger.
In fact, this young daredevil and athlete is known for his heart-stopping stunts that have appeared in numerous movies (most recently Transformers 3), TV shows, and commercials. That's why Hotels.com hired him to showcase one of their newest traveler-friendly products.
Just like Holmes, Hotels.com now has its own extreme offering with a new mobile booking app it has created allowing travelers to search for and reserve a hotel in less than one minute. It is available for iPhone and Android users and is downloadable for free. It features translations in 30 languages and access to hotels in more than 70 countries. Users enter their credit card details, billing address information, and personal in-room preferences in advance, which remains securely stored within the app for convenient use.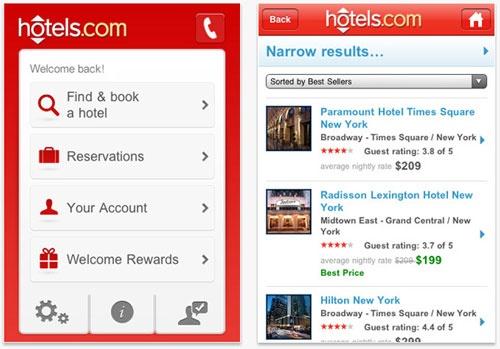 Holmes proved the app's validity as he took his smartphone skydiving and proceeded to book a hotel during his freefall plunge to Earth.
This writer was privileged to be invited to Lake Tahoe to witness the event himself. As sunbathers enjoyed the private lakefront beach of the Hyatt Regency Lake Tahoe and its striped waterfront cabanas, they were surprised to see Holmes parachuting down towards them as he made his way towards a strip of sand marked for his landing. Hotels.com prepared a special device to secure his smartphone to his skydiving suit for no fear of dropping it.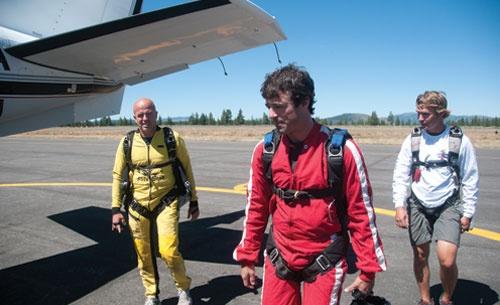 As Holmes jumped from the plane, the app spun into action using the cellular signal and his GPS location to provide a list of the closest hotels to his location and their lowest prices. In 45 seconds, he was presented with a list of hotel options, chose his room type, paid for it, and received a reservation confirmation so that when he touched down he could hit the ground running (no pun intended).
Lake Tahoe is known for its plethora of sporting activities from hot-air balloons run by Lake Tahoe Balloons (www.laketahoeballoons.com) offering the world's only balloon launch and landing point on a moving boat to parasailing and skydiving. The Hyatt Regency located on the lake's north shore is one of the more upscale lodging options providing its own private beach, a popular rustic bar and elegant dining room. The casinos are everpresent, but discreetly tucked away. It is the perfect getaway proving popular with bachelor parties or the much-needed guys' weekend away.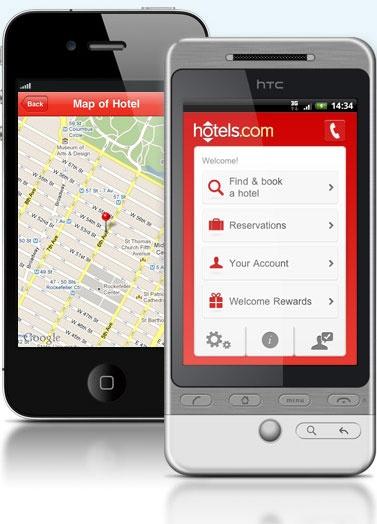 The app features more than 20,000 last-minute deals and offers reservations at more than 140,000 hotels across the globe.
Imagine facing a flight cancellation with 100 other passengers, but using this app to book a hotel in seconds rather than waiting in a long line for a limited number of rooms with other travelers. This free app is an important tool in the road warrior's arsenal helping to minimize stress and maximize convenience when away from home.
Hotels.com's loyalty program, welcomerewards, which grants a free night at any hotel after ten nights (no matter what the cost or location), is also recognized on the app. The simplicity of the this loyalty program is a favorite among travelers. Other perks of using Hotels.com include thousands of guest reviews and opinions plus a price match guarantee assuring that the site (and the app) offers the lowest price available.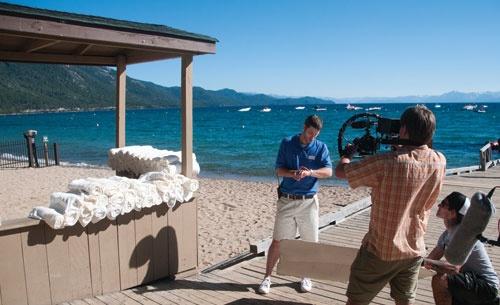 J.T. Holmes' Hotels.com skydiving jump proves the power of this clever, free travel app making it a necessary download for any guy who travels and wants convenience at his fingertips.