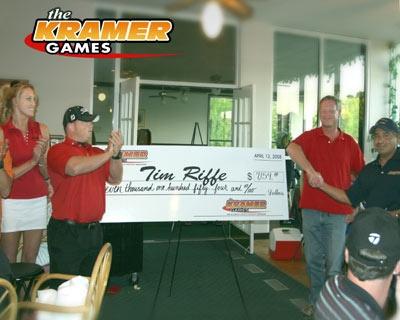 Have you ever wanted to relive your past glory days when you were the stud athlete?
The Kramer Games, a series of events all around the country might be your opportunity to shine. Don't worry if you weren't a jock in high school or college, this is an opportunity to compete against other normal guys and have fun.
Of course, if you were a jock and kicked ass in basketball, baseball, or golf, this is your chance to show the world that you still got it!
The Kramer Games is a sports weekend designed for your everday average guy that loves to compete. It consists of 5 competitions, 3 on 3 basketball tournament, 3 point shooting contest, home run derby, 18 hole best ball golf tournament and a texas holdem tournamnet. Teams of 4 compete in every event, and earn points based on where they finish amongst the other teams. The winner of each individual event wins a prize, as well as the winner of the overall competition. The prizes range from a free bat to a weekend golf package.
Having competed in the Chicago Kramer Games tournament for the past 4 years, I can assure you it is organized very well, and ran smoothly. The level of competition is very good, and is a great challenge for thoose that want to prove they can still compete at a high level. In the 3 on 3 contest, players from U of I, DePaul and NIU have all competed. Last year the winner of the 3 point contest hit 16 of 20 shots. The top golf teams will shoot 13-15 under par, and youll have to hit 5-7 home runs with only 10 pitches to stand a chance in the home run derby.
After you complete the golf tournament, you make your way to the clubhouse, where youll have dinner, drinks, and start the poker tournament. Once this is completed the scores are calculated and the winners are announced. The Kramer Games takes place all in one day, so be prepared to be physically and mentally exhausted at then end, but trust me, its worth it!
In 2009, the Kramer Games will be held in Atlanta, Baltimore, Boston, Chicago, Dallas/Ft. Worth, Detroit, Houston, Los Angeles, Miami, New York, Orlando, Philadelphia, San Francisco, and the National Championship held in Las Vegas.
For more information about the Kramer Games and to register, please visit: www.kramergames.com