La Tomatina Festival - a Tomato Party In Spain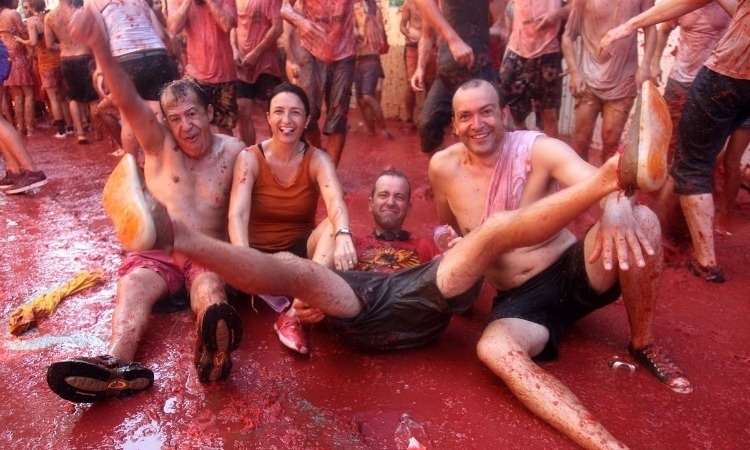 We make money from support by sponsors, advertisers, and affiliate partners. As an Amazon Associate I earn from qualifying purchases.
While I like to focus most of our articles on the great guys weekends and mancation ideas right here at home, there are of course plenty of super cool places to go and things to do outside of the US as well.
One of our readers, Roger LaPlante of Leesburg, Virginia sent this awesome account of his father and son (Joshua LaPlante) mancation trip to Bunol Spain for the Valencia region's annual "tomato party" known as the La Tomatina Festival.
My son Josh and I traveled from Washington, DC to Bunol, Spain (just outside of Valencia) to participate in the famous "La Tomatina" Tomato Festival in 2007.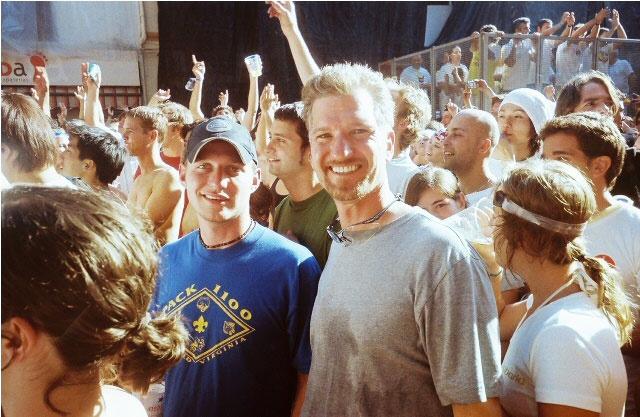 We spent a total of 4 nights and 5 days in Spain. The first part of the trip we toured and enjoyed the American-friendly beaches, bull fights and bars of Valencia. The locals are extremely friendly there; they seem to particularly enjoy practicing their English chatting with Americans. There was also an international flavor to the population of Valencia at that time because of the popular La Tomatina festival; my son and I found it easy to meet and make friends with Australians, Brits, Germans, French, and, of course, Spanish people during our stay. By the 3rd night, we felt right at home in the city with our new found friends as we smoked a couple fantastic Cuban cigars and drank marginal Spanish beer with them.
Although it was not the official bull fighting season, we attended a wine festival which included the scary combination of an endless supply of free local wine with taking your chances with very angry bulls in a local bull arena. My son--either braver or more foolish than me--had his moment of glory when he cleverly avoided getting gored by a massive bull to the eruption of loud applause and cheers from the entire audience in the arena.
The morning of La Tomatina festival we arrived at Bunol, Spain at around 7:30 AM. We were told by the locals that the most intense tomato fighting was down near the square, where they had erected a large, greased pole about the size of a telephone pole topped with a ham. My son and I made our way down to the square and watched as locals tried to climb the greased pole to get to the ham.
After at least an hour of what appeared to be a futile attempt to get to this ham, a few locals actually made it and got the ham off the top of the pole. This triggered the beginning of the tomato fight. To the sound of loud cheers, water cannons began firing from platforms on each side of the narrow street as large trucks loaded with tomatoes began moving slowly through the dense crowds. Standing in the crowded street with little room to move we watched as a storm of tomatoes moved down the street and engulfed everybody and everything in its wake. Everyone was drenched with tomato pulp long before there was the opportunity to pick one up and throw it at someone.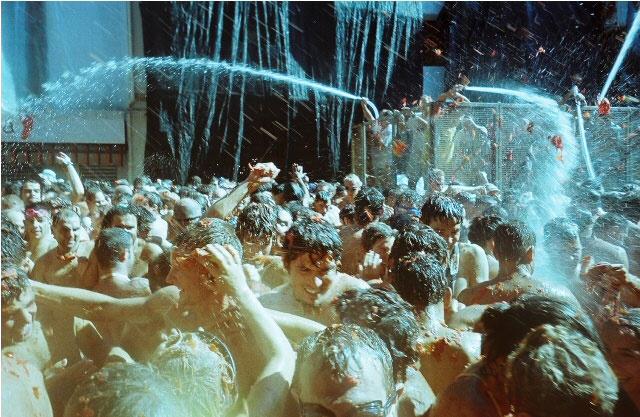 The actual tomato fight was much more violent than I had expected--it was a real fight with flying fists and elbows. Within minutes any person with a shirt had it ripped off by locals and thrown into the air--this is probably why no women were in the square when the event began. The tomato fight was reduced to a sludgy wrestling match in minutes.
I had a local guy jamming tomatoes in my face so hard that he chipped my molar, so my old Marine Corps instincts kicked in and I was considering drowning the bastard in the foot-deep tomato sauce that was on the ground at that point! The fight only lasts an hour, but most people are thoroughly exhausted in minutes from the intense fighting. My son and I were quickly separated by the mob and did not reunite until the end of the fight.
Interestingly, when the horn sounded to end the fight, the same guy that had fought me so aggressively only moments before gave me a giant hug and shouted out "I love Americans!" Rarely do you see a happier person living in the moment.
Everyone-- exhausted and covered in tomato, but with smiles on their faces-- slowly paraded out of the town while being sprayed with garden hoses by local residents.
My son and I were reunited at the outskirts of Bunol, both laughing and covered in the remains of tomatoes. We spent the rest of the trip laughing and marveling over our adventures at the La Tomatina festival.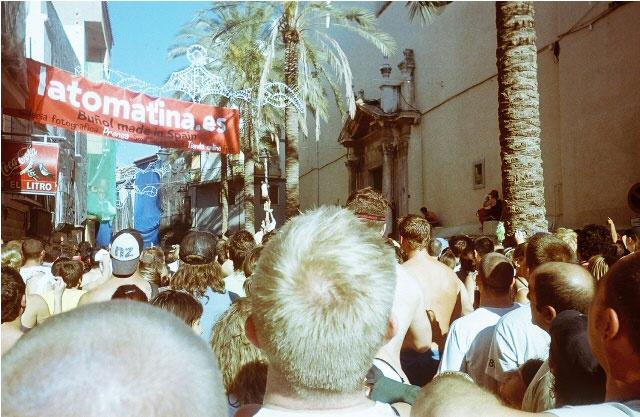 All in all I would have to say the friendly locals, the great food, beautiful sights, and of course the crazy tomato fight made it a father-son bonding experience that my son and I will never forget.
Thanks Roger and Joshua, your La Tomatina Festival mancation looks like it was a BLAST!
Written by

James Hills

Page Views: 19605