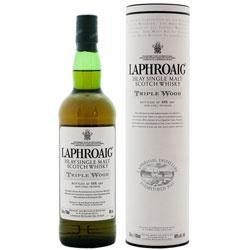 Laphroaig is one of those spirits that polarizes anyone who takes a sip - some LOVE the peaty taste that is the signature for Islay Scotches, others are repulsed by it.
Regardless of what camp you are in, Laphroaig is a scotch that will separate the men from the boys. To be completely honest I was in the "I'll pass" category but after sampling Laphroaig Triple Wood with some friends last week I am reassessing that!
Laphroaig Triple Wood goes through a distinct triple maturation process that includes ex-bourbon barrels, 19th Century-style quarter casks and specially selected European Oak oloroso sherry casks. This process creates a complex whisky that boasts a rich blend of creamy vanilla and hints of sweet fruit, while retaining the distinctive smoky peat flavor of Laphroaig. At 96 proof, this is stronger than the traditional Laphroaig at 80 proof. To earn the title Triple Wood, they first mature the scotch in bourbon barrels, before transfering into quarter casks, and finally a third maturation period takes place with Oloroso sherry European oak butts.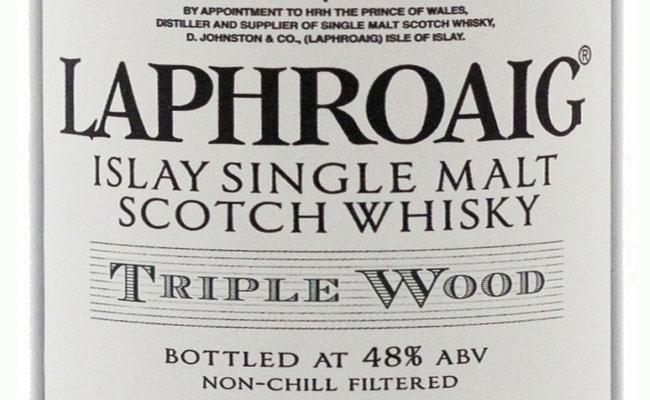 According to John Campbell - Laphroaig Master Distiller, "We are thrilled that our Friends of Laphroaig® members are just as passionate about their Scotch as we are. Triple Wood is the perfect seasonal expression for fall. Its bright gold color and bursts of peat, vanilla and fruit flavors embody the fall season and bring you back to Islay, the land that gives Laphroaig® its unique peaty notes."
Scotch is a special spirit that is always best shared with friends, so that's what I set out to do - first with some friends from work and then with some neighbors. As expected, there were some strong reactions from those new to Islay Scotches, but across the board everyone loved it. The additional steps in the maturation process have mellowed out some of the over-the-top smokey flavor to create a spirit that is truely remarkable.
How does Laphroaig Triple Wood Taste?
Unlike the traditional Laphroaig, when tasting Triple Wood, the underlying flavor of the Scotch is not overpowered by the smokey flavor. That isn't to say that the smoke isn't there - it absolutely is but the flavor changes from sweet in the front to smokey as it goes down the throat. As you breath out after your first sip the familiar flavor returns.
This layering of essentially two scotches in one makes for an exciting experience that has inspired us to do a second tasting - but this time we are bringing steaks and cigars to make for the ultimate Laphroaig Triple Wood experience.
At 96 proof, Laphroaig® Triple Wood is best enjoyed neat, allowing the powerful, yet slightly creamy consistency of the whisky speak for itself. Laphroaig® Triple Wood is available for a limited time nationwide with a suggested retail price of $59.99 per 750ml bottle