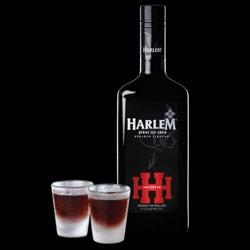 ManTripping was invited to Vegas for a reason that dates back to 1691. No joke. It's the HARLEM Kruiden Liqueur Shot Showcase at Rain Nightclub in The Palms.
Allow me introduce you to HARLEM. HARLEM comes from a town just outside of Amsterdam called "Haarlem." While similar to Jägermeister in that it is an herbal liqueur best served as a frozen shot, this one ranks far above anything like it that we've sampled.
And here is Las Vegas, we are doing some major sampling. In this "Shot Showcase," there are 14 victorious mixologists and bartenders that have already won best shot made with HARLEM in their respective regions of the country. From Chicago to Las Vegas, each of these cocktailians has a shot ready for us to shoot. Watch the footage that we shot in this video as we downed them all. Sampling the creativity of the country's most talented mixologists as well as the versatility and incredibly robust flavors of the spirit was a pleasure indeed.
HARLEM is owned by The Nolet Distillery, family-owned since 1691. That is a bloody long time to be producing fine spirits. They claim to be the oldest family owned company "father to son" lineage wise. In Vegas, I meet, interview and drink with the 11th generation Nolet son Carl Nolet, Jr. He is the man that was responsible for bringing Ketel One to the U.S. back in 1990. The Nolets have serious passion for the business with the motto of "always put the best liquid in the bottle." In addition to passion, the Nolets and the whole HARLEM Family are very hospitable and know how to have a great time!
However, for the moment, I'm sticking to the shots. Thus, the moment of truth comes as the mixologists display and sample us on their signature HARLEM shots at Rain Nightclub. They're already winners in their respective markets, so this is simply the
nation's best bartenders on showcase. I'm impressed with the variety of ingredients that compliment the HARLEM. From rosemary, Limoncello, chocolate to pumpkin, I'm trying them all because it is our assignment as journalists to capture these by video, photo and articles. I am more of "taster"and "reviewer," so while it is often that I imbibe, I'm typically not shooting. How will I hold up? Watch the video to find out.
Across the dancefloor, we see the Nolets have recently branded and taken over the VIP room at Rain Nightclub at The Palms. In this "bar within a bar," the walls are stacked high with HARLEM and ice cold serving HARLEM dispenser machines stand ready to pour shots. I do several more interviews here with with Bill Eldien, President of Nolet Spirits. We begin each interview off with a shot of HARLEM. Why more shots?
And the party continues to go on as from the Shot Showcase, we find ourselves in the club XS at Encore. The Nolets have ordered us up bottle service with their finest including HARLEM, Ketel One Oranje and Citroen. One booth over from us we spot Holly Madison. I was going to offer up a HARLEM, but she seemed quite interested in a gentleman friend.
ManTripping.com thanks HARLEM, the Nolets, Bill Eldien, Rebecca Janoff, Sally Alfis and M Booth & Associaties for their kind invitation and awesome hospitality! And here's a toast to all the bartenders and mixologists who created masterpieces of shots! All the winning recipes are below.
Look for HARLEM as it continues to be introduced to more markets across the US and worldwide.
HARLEM Shots Recipes:
#1: Chicago- Judges' Choice
Mike Miller
Delilah's
The Red Light
1 oz. HARLEM
¾ oz. Effen Black Cherry Vodka
¼ oz. Vanilla Flavored Alcoholic Whipped Cream
Cherry
Shake HARLEM with cherry vodka vigorously with ice and strain into a glass. Add topped of vanilla whipped cream and a cherry on top.
#3: San Francisco- Fan Favorite
David Ruiz
Mr. Smiths
Harlem Marmalade
1 oz. HARLEM
¾ oz. Lemon Juice
1 Bar spoon homemade triple citrus orange marmalade
Add HARLEM and fresh lemon to shaker. Add jam and ice. Shake very hard to break jam down. Double strain and strain ice cold into a shot glass.
#2: Chicago- Fan Favorite
Adam Garvanian
McFaddens Chicago
Harlem Night
1 oz. HARLEM
Chocolate Liquor
Bailey's Irish Cream
Dash of Goldschlager
Cinnamon Sugar
Add 1 oz. HARLEM, equal parts chocolate liquor and Bailey's, and a dash of Goldschlager into a shaker. Shake vigorously and strain into a glass rimmed with cinnamon sugar.
#4: Orange County- Judges' Choice
Jaren Singh
St. Regis Stonehill Tavern
Blood for Harlem
1 Part HARLEM
1 Part Johnnie Walker Black
1 Part Cherry Herring
Blood Orange Wheel for Garnish
Mix the above ingredients in a shaker. Shake and pour into a shot glass. Garnish with a blood-orange.
#5: Orange County- Fan Favorite
Chris Johnson
Heat Ultra Lounge
Harlem Sweet Heart
1 oz. HARLEM
½ oz Chambord
½ oz. Pama Liquor
Splash of Lemonade
Combine ingredients in a tin. Shake with ice, served chilled.
#7: Los Angeles- Fan Favorite
Quenten Rouse
Downtown Brewing Company Paso Robles
Dutch Pound Cake
1 oz. HARLEM
½ oz. Malibu Rum
½ oz. Frangelico Hazelnut
Sugared Lemon
Add HARLEM, Malibu, Frangelico into a shaker with ice. Shake and strain into a shot glass. Garnish with sugared lemon.
#6: Los Angeles- Judges' Choice
Dan Long
First & Hope and STK
Harlem Express
1 oz. HARLEM
¾ oz. Chilled Espresso
¼ oz. Vanilla Syrup
¼ oz. Cream
Add HARLEM, espresso & vanilla syrup to a shaker with ice. Shake and strain into a shot glass. In a separate container, shake cream until slightly whipped. Float cream on top of shot.
#8: Miami- Judges' Choice
Richie Petronzi
Burger N Beer Joint
Harlem Nights
1 oz. Apple Smoke Bacon Fat Washed HARLEM
½ oz. Fresh Pressed Apple Juice
¼ oz. Fresh Lemon Juice
¼ oz. Grade A Maple Syrup
Fresh Tarragon
Add all liquids to a mixing glass, add a few tarragon leaves and stir cocktail for 20 seconds. Double strain and Garnish with Tarragon leaves and a slice of Honey Smoked Bacon.
#9: Miami- Fan Favorite
Nick Nistico
JB's On the Beach
Harlem Night Nurse
HARLEM
Tanqueray 10 Gin
White Crème de Cacao
Homemade Orange Cacao Syrup
Orange Oil
In a small shaker tin, add the first 4 ingredients. Add ice and shake thoroughly. Twist an orange peel over the shot glass, allowing the natural oils to flavor the inside of the glass. Strain the shot and pour into the shot glass.
#11: New York- Fan Favorite
Nancy Orellana
Black Bear Bar and Grill
Harlem Nights
1 oz. HARLEM
½ oz. Grand Marnier
½ oz. Coke
Pour HARLEM, Grand Marnier and coke into a shaker with ice. Serve chilled.
#10: New York- Judges' Choice
Danna Bree Markulin
Thunder Jackson's
Harlem Bull Run
¾ oz. HARLEM
¾ oz. Ketel One Oranje
Splash of Orange Juice
Splash of Red Bull
Cinnamon Orange for Garnish
Mix the HARLEM, Ketel One Oranje, splash of orange juice and red bull in a shaker. Shake and pour into a shot glass. Garnish with a cinnamon orange. Serve chilled.
#12: Phoenix- Judges' Choice
Andrew Record
Hacienda del Sol
Harlem Renaissance
HARLEM
Lemon Cello
Rosemary Infused Simple Syrup
Soda Water
Fresh Lemon Juice
Thin Orange Zest.
Combine ingredients in a tin. Shake and strain. Garnish with a thin orange zest.
#13: Phoenix- Fan Favorite
Gail Riley
My Ole Man's
Harlem Rage
1 oz. HARLEM
½ oz. Smirnoff Vanilla Vodka
½ oz. Smirnoff Raspberry Vodka
Pineapple Juice
Cranberry Juice
Shake and strain over ice.
#15: Las Vegas
Sugar O'Brien
NOVE Italiano at the Palms Casino
Harlemween Pumpkin
Half HARLEM
Half Pumpkin Mix*
*Pumpkin Mix Recipe
1 can Pumpkin Pie Filling
Same can full of Simple Syrup (1:1)
Same can full of Apple Cider
Heaping teaspoon of Pumpkin Pie Spice
Heaping quarter teaspoon of Citric Acid
#14: Las Vegas
Lucas Swallows
Palazzo – Carnevino
HARLEM Ginger-SNAP
1 oz. HARLEM
½ oz. Gingerbread Liqueur (Hiram Walker)
½ oz. Voyant Chai Cream Liqueur
Organic Saigon Cinnamon
Organic Nutmeg
Shake all ingredients with ice and serve in shot glasses. Top with equal parts Organic Ground Saigon Cinnamon and Organic Nutmeg.