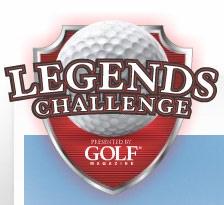 Hammock Beach Resort and Reunion Resort in Florida sends news about their The Legends Challenge UNLIMITED golf package that is perfect for guys looking for a great golf mancation and a chance to qualify for the Legends Challenge golf tournament.
This is a great opportunity for skilled and passionate golfers alike who are looking for a reason to check out these two great golf resorts.
From Sept. 1, 2009, to March 31, 2010, Hammock Beach Resort and Reunion Resort offer this per person, per night inclusive, UNLIMITED golf package for about $200!
The Legends Challenge Golf Package includes:
Spacious accommodations
Unlimited Golf Play at your chosen resort
"Grab 'N Go" breakfast
Signature amenity
Pricing starts at only $196 for the golf package at Renuion Resort, and $207 at Hammock Beach Resort, based on a golf four-some
The Legends Challenge is a seven-month event allowing golfers to stay, play and qualify for a two-day golf tournament taking place in April 2010. Guests at both resorts are invited to book the package online. An online leaderboard will allow guests to see where they rank after they leave the resort. 100 lucky participants will be invited back to play in a two-day tournament (accommodations, meals and golf paid for by the resorts). The winner will receive a grand-prize free vacation to the famed five-star Gleneagles Resort in Perthshire, Scotland.

Located just south of St. Augustine in Palm Coast, Hammock Beach Resort offers an unspoiled haven overlooking two miles of pristine Atlantic shoreline. Presenting a luxury experience nestled among nature, guests find multi-bedroom suites and villas situated between Atlantic and Intercoastal. From two signature golf courses designed by legends Nicklaus and Watson, and a 10,000 square-foot spa to multiple pools and the natural beauty of olde Florida, Hammock Beach Resort beckons to be explored.

One of only three 5-Star resorts in Orlando, Reunion Resort features a mix of full-time residences, luxury condominiums, private villas and vacation homes surrounded by 2,300 acres of lush landscape and nature preserve, three Championship golf courses, The ANNIKA Academy, full service boutique spa, multiple pools and an 1,000-foot lazy river. Just six miles from Walt Disney World and 25 minutes from Orlando International Airport, Reunion Resort is the destination for endless vacation possibilities.