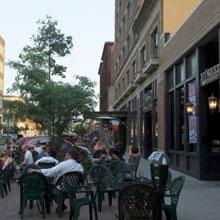 Sioux Falls, the largest city in South Dakota, is quite the surprise. Not only are the people extremely friendly and the downtown bustling, but the city boasts a long list of manly activities that will keep a group of guys happy for a weekend getaway. Here are three not-to-miss favorites.
Downtown Sioux Falls is undergoing a renaissance with new shops, bars, and restaurants that rival those of much bigger cities.
Plan an evening at Crawford's Bar and Grill where the Cordon Bleu-trained chef dishes up hearty comfort food like beer cheese bacon soup topped with crunchy popcorn or a long menu of tender cuts of beef. The leather and animal hide-lined seating areas are cozy spots from which to sample one of the many beers on tap while catching a game or two from the large, flat-screen TVs. Head across the street for an after-dinner cigar and cocktail at Stogeez Cigar Lounge.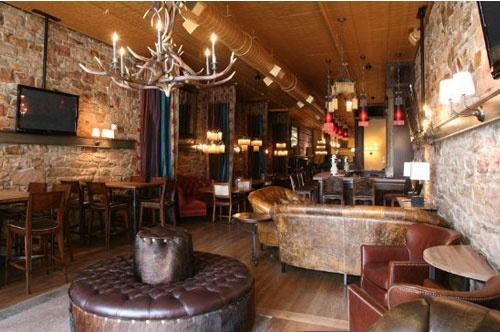 The Falls on the Big Sioux are an impressive display of nature's might with crashing water tumbling across the pink quartzite rocks that are so prevalent in this region. Climb to the top of the five floor lookout for a great birds-eye view. Witnessing this beautiful spot (the city's namesake) on the edge of town gives inspiration for plenty of other outdoor activities including kayaking, hiking, and biking.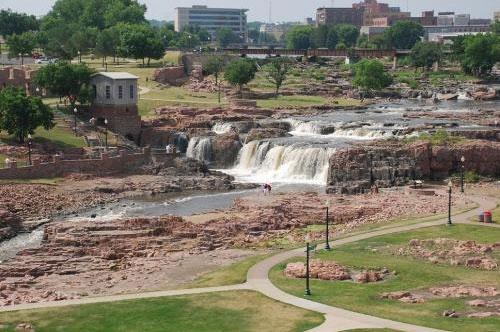 A major attraction for visitors to the area is the opportunity for hunting and fishing. The free Outdoor Campus of the South Dakota Game, Fishing, and Parks Center offers classes like basics to archery and fishing, tips for fowl and game hunting, and even bird watching. These classes can be arranged in advance or can even be signed up for on an on-the-spot arrangement if they are being offered that day. This public center even rents free cross-country skis, snowshoes, and other outdoor equipment for people to enjoy in season on its trails.
Another major attraction for visitors is the city's premier Great Plains Zoo and Delbridge Museum of Natural History, which showcases everything from rhinoceros to giraffe populations. Especially notable is the massive collection of taxidermy animals displaying their stuffed skins in their natural habitats as they would be in the wild.

As you can see, Sioux Falls offer plenty of manly, outdoorsy activities to balance off with its indoor, raucous recreation. As the biggest point between Omaha and Minneapolis, it serves as an active and vibrant nightlife hot spot that is sure to please any eager and excited visitor.