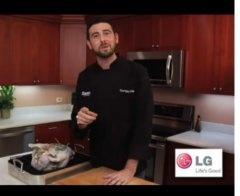 It is Thanksgiving and that time of year means that it is also time to give back to those who are less fortunate.
That's why we are helping Sears and LG Appliances to promote this video of Chef Billy Parisi sharing some of his Thanksgiving Tips and Tricks. Why? Because those two companies are combined providing $1 per view (up to $5,000).
So let's help them out and view the video below as well as share this with friends and family to help the Greater Chicago Food Depository get their maximum donation!
Want to learn more? Click Here
Want to help spread the word?
Here are some suggested tweets that they have provided ...
@SearsBlueCrewHA I just watched the #LGcooking video to help raise money for @FoodDepository you guys are awesome http://bit.ly/9ua2mV
@SearsBlueCrewHA & LG Appliances are donating $1 / view to the @FoodDepository check out the video here http://bit.ly/9ua2mV #LGcooking
Want to help hungry people? @SearsBlueCrewHA & LG are giving $1 / view to the @FoodDepository view the video http://bit.ly/9ua2mV #LGcooking