We do a lot of coverage of other sports, but football soccer is a great excuse to grab your guy friends and take an awesome trip to an exotic destination. Recently Lionel Messi of Argentina - widely considered to be one of the best players in history - in his Saturday match against Jamaica marked the 100th time he donned national colors. While the Jamaicans aren't the most illustrious opponents out there, Messi is still celebrating the record -- and focusing on winning the Copa America.
History-making games like this are just another excuse to celebrate with an awesome mancation adventure!
"Hopefully I can celebrate another victory," he told the Argentine daily La Nacion, but added that he was hoping to "once and for all lift a cup."
Argentina hasn't won any trophies since their 1993 Copa America victory. They've come close, to be sure -- Germany beat them 1-0 during last summer's Rio World Cup final. A Copa America might help ease the pain of that loss a little, and Argentine fans are stocking up on tickets to the Copa America 2015 final just in case. (Get yours here.)
A victory would also validate the talent-studded generation: Argentine coach has plenty of soccer talent at his disposal, from Messi up front to Serguer Aguero from Manchester City and Carlos Tevez from Juventus. It's telling that Gonzalo Higuain (Napoli) and Ezequiel Lavezi (Paris Saint-Germain) hardly ever get onto the field.
Instead, those players just follow behind Messi. His 2005 debut was notable in a Manichean way: he came on as a substitute in the second half against Hungary, and marched off a minute later having gotten a red card because he elbowed the opposition defender Vilmos Vanczakis.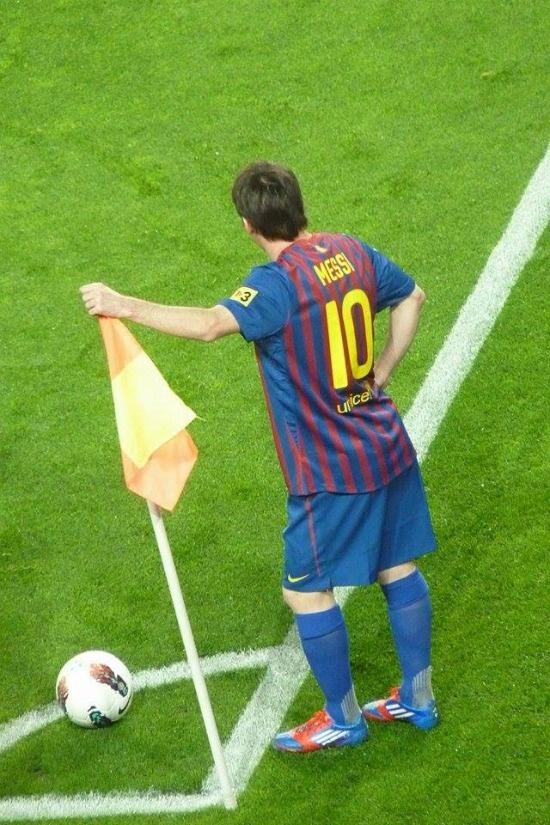 (photo credit OWTK.com)
Since that time, Messi scored a total of 46 goals for Argentina. But while Argentine triumphs have stayed just outside his grasp, he's been able to compensate for that more than enough with a Barcelona trophy haul.
A record of 412 goals scored in 482 different games have brought Barcelona seven titles in the Spanish league, 3 Copas del Rey, and four UEFA Champions league titles -- plus a few FIFA Club World Cups. He's been named World Player of the Year four different times.
Last season, Barcelona won not just one but three titles: the Spanish league title, the UEFA Champions League, and the Copa del Rey. They last achieved this in 2009 under Pep Guardiola.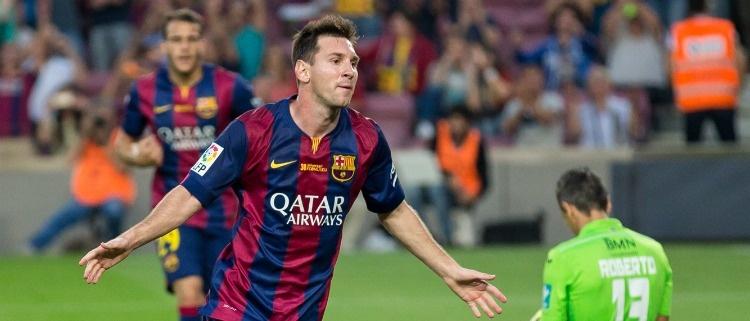 On the way to that 2015 triple cup, Barcelona played against Guardiola's FC Bayern Munich during the semi-finals. In the run up to the first leg, Guardiola had only praise for his former team, telling reporters defense against Messi was impossible.
Messi proved him right: the match reached a deadlock after 80 minutes, but then Messi came in, scoring not one but two goals in minutes.
Some people feel that, for all Messi's excellence with Barcelona, he will never reach the status of an eternal great like Pele or Diego Maradona until Messi is part of a World Cup victory run. On the other other hand, Maradona never won a UEFA Champions League or European Cup.
Commentators have similarly noted that, while Pele had physical power which Messi may not have, Pele too might not have been able to cope with elements of modern soccer.
Still, while debates over who is the greatest exactly will rage on in lounges and bars until the end of time, Messi seems destined to earn a crown in a few different areas. He will likely beat Zanetti's 145 cap record for Argentina and Gabriel Batistuta's 56 goal record -- in both cases, not