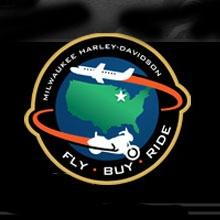 Harley dealers are among some of the most amazing entrepreneurs that I have ever met. They take what one would would think is a simple sales transaction location and take it to a whole new level. When I heard about the Fly, Buy, Ride program in Milwaukee I just knew it was something worthy of Man Tripping!
Milwaukee Harley-Davidson has just announced the launch of a bold, new program that turns the motorcycle buying experience into a pilgrimage. The Fly, Buy, Ride program will fly new Harley-Davidson owners to the brand's hometown of Milwaukee, Wisconsin and provide them with an experience as raw as the bikes themselves. Complete with a Harley-Davidson Museum Tour and a ride with Chaz Hastings, Milwaukee Harley-Davidson owner, through nationally famous Holy Hill to break in the new bike, the time spent in Milwaukee will truly connect man and machine.
"Harley owners are the most passionate riders around," said Hastings. "I felt compelled to create a special experience for riders to take delivery of their Harley where the legend was born. This is something every Harley rider should experience once in their lifetime."
One of the most progressive dealers in the country, Milwaukee Harley-Davidson makes the experience of owning and riding a Harley the wild adventure the brand is known for. Fly, Buy, Ride includes a slew of perks, such as accommodations at the Iron Horse Hotel, a boutique hotel specifically designed for motorcycle enthusiasts and an unveiling of the newly purchased bike at the replica Harley-Davidson wooden factory shed, all at no extra cost than the price of the bike.
"It's the kind of program where you read the fine print twice, stand up and yell, Why not?" said Hastings.
Milwaukee Harley Fly, Buy, Ride Adventure Includes:
One-way air fare to Milwaukee, Wisconsin
Airport pick up in a bad ass, Hummer limousine that will take you to your hotel
Accommodations at the Iron Horse – a boutique hotel that caters to motorcycle enthusiasts through décor, bars, and bike amenities. It features covered motorcycle parking, on-site bike wash, and designated space in each suite to store boots and hang leathers.
Behind the scenes tour of the Harley-Davidson Museum and over 100 years of history
Steel Boot Factory Tour of the Harley-Davidson manufacturing facility
Delivering of the newly purchased motorcycle in a replica of the original Harley-Davidson wooden factory shed
Break-in ride on the nationally famous Holy Hill 50 mile route
Celebration dinner at the historic Tally Ho Restaurant and Tavern
Walk-through of Parts and Accessories options along with the latest in gear and motor clothes
A one of a kind care package featuring some of Milwaukee's hometown favorites
Map and suggested route for your ride home
Another great way to experience Milwaukee Harley's Fly, Buy, Ride program is with a few extra friends. For those who prefer to travel with their posse, Milwaukee Harley-Davidson offers groups of four or more to receive a discount on the price of the motorcycles.
Those interested in booking the Fly, Buy, Ride experience should call Jason Harrison at 414-461-4444.
Milwaukee Harley-Davidson is one of Milwaukee's original Harley-Davidson dealers. The company's 36,000-square-foot facility features new and used bikes, general merchandise, parts & accessories, service department and sales and finance. The company is one of the most active dealers in the country, bringing in more than 10,000 people to its dealership through events and general sales every year. For more information on the dealership and Fly, Buy, Ride program, visit www.milwaukeeharley.com.