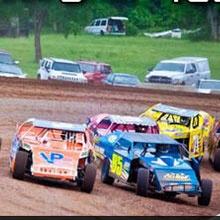 Can you hear it? Can you smell it? Do you have the need . . . the need for speed? Well, you're in luck; summer is auto racing season in Missouri. There are no wimpy little motors here. Real race cars don't have motors, they have engines—big, powerful engines that push with the force of hundreds of horses, creating a roar that can be heard miles away.
At the track, the aromas of hot dogs, barbecue and popcorn mingle with the smells of high-octane fuel, smoking tires and overheated brakes. Dirt track racing offers competition and excitement, the likes of which you'll never see on a hard surface track. What's not to like?

Springfield Raceway is a 1/4 mile, medium banked, clay oval which does not have concrete walls in the corners. Races are run Saturday evenings. Gates open at 5 p.m.; hot laps at 6:15 p.m.; racing begins at 7 p.m. A new attraction at this raceway is the "Dirt Car Driving Experience." Get into a specially prepared, two-seat car and experience the thrill of driving a dirt track race car. Several types of cars are available for you to strap in and satisfy that need for speed. Before the race, you can even go to the Dickerson Park Zoo, Missouri's third largest; home to 450 animals representing 160 species.
Lucas Oil Speedway offers Saturday night racing in Wheatland, on a 3/8-mile, semi banked clay oval. The track has 21 reservable tower-suites with indoor and outdoor seating, refrigerators, kitchen sink, countertop and cabinets, plus cable TV. Facilities include: a full service bar, a restaurant, a go-kart track, and campgrounds. Family passes are available. Gates open at 5 p.m.; hot laps at 7 p.m.; racing begins at 7:30 p.m.
Make it a weekend getaway and enjoy the activities at Pomme de Terre State Park, which offers campsites, beaches, boat ramps, a marina, trails, picnic sites and a shelter. In Pomme de Terre Lake, you can try for Missouri's big-game fish, the muskie. Race fans have their pick of two tracks in Lebanon. On Friday nights, Midway Speedway offers the bump and grind only a dirt track can supply. Season passes, family passes and pit passes are available. Gates open at 5 p.m., hot laps at 7 p.m., racing at 8 p.m. Special events on some Saturdays may include motocross, lawn tractor pulls, and/or 4-wheelers.
Also in Lebanon, on Saturday nights enjoy the high speed action of a 3/8-mile, high banked, asphalt track at I-44 Speedway. Gates open at 5 p.m., hot laps at 6:30 p.m. and races start at 7:30 p.m. Pit passes are available. You can rent this track for private driving practice. Also, Lebanon is home to Bennett Spring State Park, where you'll find some of the best rainbow trout fishing in the Midwest. The park includes lodging, camping, dining, a fly-fishing school, a nature center, a swimming pool, float trips, hiking trails, a store and picnicking.
On Friday nights, Doe Run Raceway in Doe Run, south of Farmington, is going at full throttle. This is a 1/6-mile dirt track with a full slate of races, including Caged Karts. The Gateway Vintage Association races vintage cars there once a month. Pit passes are available. Gates open at 6 p.m.; hot laps, 7:30 p.m.; races at 8 p.m. Southwest of Doe Run, off-road vehicle (ORV) enthusiasts can zoom along trails in the 2,000 acre St. Joe State Park; one of the largest ORV areas in the Midwest (permits are required). Camping, equestrian camping, lakes for fishing and swimming, picnicking and hiking, equestrian, backpack and bicycle trails, and a radio-controlled airplane field are features of the park.
For ATV and mud truck racing on a twisty, curvy dirt track, take in the excitement at Sikeston Race Park. Check their website for scheduled races. Gates open at 4 p.m.; practice at 6 p.m.; racing at 7 p.m. When visiting Sikeston, don't pass up a chance to eat at the world famous Lambert's Cafe, home of the "Throwed Rolls," generous portions and a constant stream of "pass arounds."
Callaway Raceway, Fulton, is a 1/4 mile, high banked, dirt oval track. Pit passes are sold. Spectators are allowed to carry in a cooler, no larger than 14"x 10"x 8", for an additional $5. No bottles or hard liquor of any kind will be permitted. Gates open Fridays at 5 p.m.; hot laps at 7 p.m.; races start at 7:30 p.m. Before the races, pay a visit to the Auto World Museum, in Fulton. The 18,000-square-foot facility houses a fantastic collection of vintage cars and automobile memorabilia.
If you're near Pevely, south of St. Louis, spend some time cheering for the drivers at I-55 Raceway. This 1/3-mile, high banked, clay oval always offers a full Saturday evening of thrills and spills. Start times vary, so check their website for schedules. Just north of Pevely, in the town of Imperial,Mastodon State Historic Site is where Paleo-Indians hunted the American mastodon during the ice age. The museum displays artifacts, fossils and a replica of a mastodon skeleton. Open for day use, the site offers picnicking and hiking.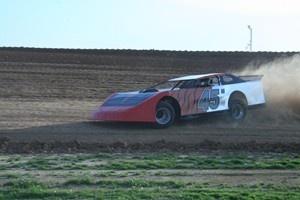 In Missouri's Bootheel, Malden Speedway is a 3/8-mile, dirt oval track where races are held on Friday evenings at 7:30 p.m. Also in Malden, take the family to the Bootheel Youth Museum, featuring 22,000 square feet of hands-on exhibits for kids of all ages. Allow plenty of time because the kids (and you) won't want to leave.
On Sundays, catch all of the action at Monett Speedway, a 3/8-mile, low banked, clay oval. Season passes are available. Some special events may be held on other nights, so watch their website. Gates open at 5 p.m.; hot laps at 6:30 p.m.; races start at 7 p.m. A half-hour drive west brings you to Neosho, home of the Fort Crowder Conservation Area. The 11-mile trail through the area is open to hiking, bicycling and horseback riding. Hunting for all major game species is permitted in season. Primitive camping (no amenities provided) is allowed.
The 3/8-mile, clay oval at
West Plains Speedway
runs a full schedule of racing action on Saturday evenings; but, special events may be held other days. Gates open at 5:30 p.m.; hot laps begin at 6:30 p.m.; and racing action gets underway at 7 p.m. About six miles south of West Plains, enjoy the great outdoors at the
Tingler Prairie Conservation Area
. This area contains prairie and forest, Tingler Lake, and the Spring River.
As you can see, it is quite easy to satisfy that need for speed and enjoy a relaxing day or weekend in the process. You and your family can always find a good time in Missouri.
We'll have more race track reviews coming up over the next few weeks from our tour this fall, so stay tuned!