How does European culture, the world's largest party, world class food, girls in dirndls and the best beer you have ever tasted sound? Welcome to A Guys weekend at Oktoberfest in Munich. This is an experience of a lifetime and Ludus Tours looks forward to helping make it the best experience possible.
This is a guest post by Ludus Tours.
It is that time of year again, the weather is changing, kids are going to back school, breweries are releasing fall ales and Oktoberfest celebrations are starting all over the world! Last year, I went to Oktoberfest in Munich, for work! I couldn't believe my luck. I had heard of the reputation – the epidemy of beer drinking, the rumored ultimate beerfest. What I found during those16 days was a perfect mix of culture, history and of course debauchery…
The German's do it right! They have been celebrating Oktoberfest since 1810 when Prince Ludwig married Princess Therese von Sachsen-Hildurghausen.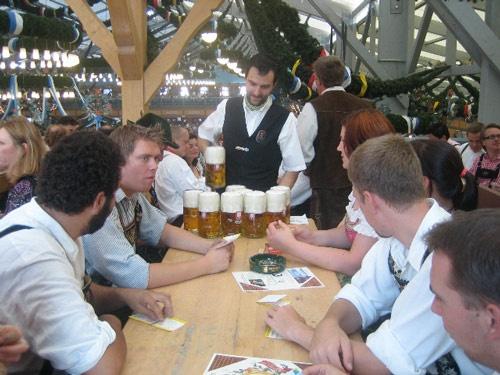 Today, Oktoberfest in Munich is the largest festival in the world! More than six million visitors take part each year and consume more than 1 million gallons of brew! And yes, for those of you who couldn't wait to ask, most Bavarian women wear traditional dirndls – though the Halloween style (aka lower cut and shorter skirts) are becoming more and more common. And men, for those of you looking for an excuse to wear leather pants… this is the place! All jokes aside though, Lederhosen look really comfortable…
Yes, the festivities center around beer but there is so much more… to do after having a couple beers!
The perfect Guy's Weekend at Oktoberfest in Munich: Arrive in Munich Friday afternoon and head to a beer garden! The Chinese Tower in the English Garden is a perfect first stop for an outdoor beer garden experience – cruiser bikes are my recommended mode of transport. Use the bikes for a scenic tour of the city on your way to dinner at a traditional Bavarian restaurant – try Paulaner Im Tal. It is a great way to end or start the night – depending on the jet lag.
Saturday morning is a great day to get out of the city for some fresh air and amazing German countryside views, head to Neuschwanstein Castle, just outside Munich. It is best not to have any plans on Saturday night and just explore the Oktoberfest grounds with your buddies. Enjoy the beer, strictly only made from three ingredients: water, barley and hops. You are guaranteed to have a good night when the beer is only served by the liter!
Sunday will no doubt require a sleep in (did I mention beer is only served by the liter?). Munich is great to explore by foot so spend some time wandering the city or (more likely) head right to the Oktoberfest grounds. Weekends are very busy so secure a beertent reservation before hand! Once you enter a beertent the rest of your day will no doubt be spent there ;). Ludus's website site provides a description of all 14 Oktoberfest tents.
Inside the tents is my favorite Oktoberfest experience. Dress up, drink beer, let loose and dance and sing with the locals. Before you leave home learn the words to Ein Prosit, you will be glad you did.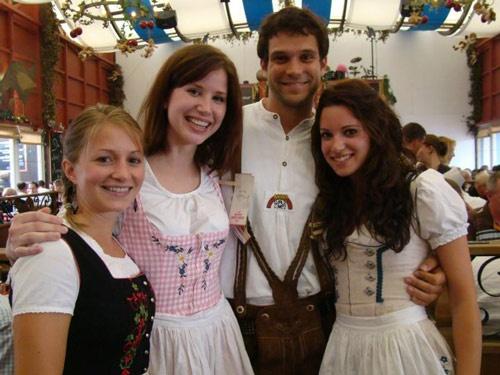 Monday morning will be rough, but you have the flight to sleep it off. I returned home, as you will, amazed at what I had witnessed and experienced. You will no doubt start to plan next years trip.
This year it is the 200th anniversary! There will be an exhibition showcasing the festival's history and transformation from the original Royal Wedding celebration that started it all in 1810. Also a historical reconstruction of the event will take place on September 17th. Passion Play will also be performed this year in near-by Oberammergau, this only happens once every ten years.
These two events promise to deliver the biggest (and I'm sure the craziest) Oktoberfest yet!
Will you be there?
Stay tuned for updates from the 200th anniversary of Oktoberfest in Munich. Our Oktoberfest correspondent Victoria, is a tour guide for Ludus Tours. She has been training (lifting and drinking liter beers requires practice) since leaving Munich last year. Victoria will be braving the crowds and beer gardens for ManTripping updates and pictures!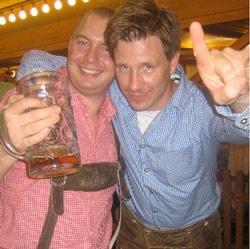 Don't want to wait for updates? Are interested in attending the 200th Anniversary of Oktoberfest in Munich? Contact Ludus Tours for more information at 1-866-343-6133 or visit www.oktoberfesttours.com/greatrates
Prost!