Looking for a fun and exciting way to spend Father's Day this year? How about taking dad to a NASCAR race - or if you have kids, take them. If you are on the West Coast, you might consider a visit to the Infineon Raceway in Sonoma. The course is one of only four tracks in the Sprint Cup circut that is not oval, so this makes it an even more unique experience.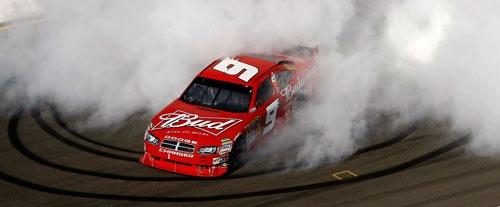 The Toyota/Save Mart 350 is a 350 kilometres (220 mi) NASCAR Sprint Cup Series event held annually at Infineon Raceway at Sears Point in Sonoma, California. This race is one of only four Sprint Cup races each year that is run on a non-oval track.
Celebrate Father's Day in the Wine County at the Toyota/Save Mart 350 NASCAR Sprint Cup Series weekend. Why give dad a necktie when you can give him the gift of Jeff Gordon, Dale Earnhardt Jr. and Tony Stewart swapping paint on the twisting road course.
Kasey Kahne made history last year, posting his first-ever road-course win and taking his team owner, Richard Petty, to the Winner's Circle for the first time since 1999. Plus, there's a spectacular 25-minute air show on race day, Sunday, June 20, that has quickly become a must-see event in just three short years. Don't forget the driver Q&A sessions, Infineon Raceway girls, bustling vendor midway and more!
For more information visit: http://www.infineonraceway.com/
Infineon Raceway Track Facts:

The Infineon Raceway road course features more than 160 feet of elevation change from its highest to lowest points. The highest point at Turn 3a reaches 174 feet, while the lowest point at Turn 10 is just 14 feet.
The property on which the raceway was built was a working farm called Sears Point Farm in the early 1900s.
Drivers who complete the Toyota/Save Mart 350 NASCAR Sprint Cup race will make 1,100 turns around the road course.
The Toyota/Save Mart 350 NASCAR Sprint Cup event is one of the few on the Sprint Cup schedule measured in kilometers. This event is 110 laps, or 218.9 miles or 352.21 kilometers.