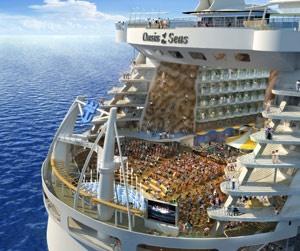 Things have changed a lot in the past 20 years since I first stepped onto a cruise ship and now with the December 2009 launch of Royal Caribbean's Oasis of the Seas the industry is about to change again.
Oasis of the Seas will be sailing out of Ft. Lauderdale, FL starting in December 2009, with 5 and 7 day itineraries in the Eastern and Western Caribbean.
So why does Oasis represent the Ultimate Floating Mancation?
Some Facts about Oasis of the Seas:
When it launches, Oasis of the Seas will be the largest cruise ship ever made, 220,000 Gross Tons. It will feature 16 decks, 17 bars, 2,700 staterooms, 37 cabin classes, and able to carry 5,700 guests at double occupancy.
To put this in comparison, Titanic was only 46,000 tons and could carry 2,500 passengers!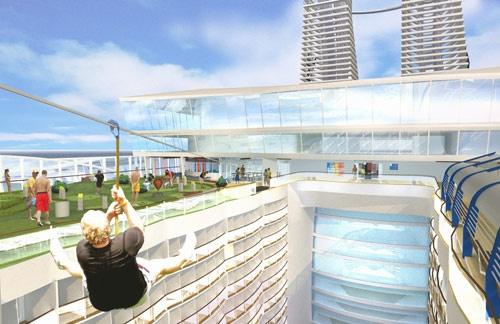 Dining Options
Not looking for a stodgy dining experience sitting at a table with a bunch of people celebrating honeymoons or even worse - families on vacation? Well Oasis of the Seas has the most specialty restaurants on board of any other cruise ship.
This includes Johnny Rockets, Seafood Shack, Boardwalk Bar, Sorrento's Pizzeria, Chops Grille (great steaks!), 150 Central Park - upscale dining, and an Italian trattoria, Giovanni's Table.
That all being said however, Royal Carribbean does also feature wonderful food at the main dining room and also at the buffets as well. It is all up to you and how you want to spend your trip!
Entertainment
Oasis will feature a wide variety of entertainment venues from Boleros - a Latin dance club, Blaze nightclub, Jazz on 4, Comedy Live featuring family friendly shows during the day and lake-night adult comedy in the evenings, the sing-along piano bar, Schooner Bar, and even the On Air Club featuring karaoke and "interactive music gaming".
Of course, that's just the beginning as Oasis also features a casino with 27 table games, a poker room, an entire theater dedicated just to ice shows, a traditional theater with Broadway-style shows.
Of course, that says nothing about the amazing sounding new AquaTheather that features acrobatics, synchronized swimming, light shows, and a fountain similar to what you might find at the Bellagio in Vegas.
Rooms
Most cruise ships are limited to either inside cabins, balconies, ocean view, or suites, on Oasis there will be 37 different categories of rooms!
Since Oasis of the Seas features the central boardwalk, they actually offer balconies on the inside as well as ones facing the ocean directly. I am told that these inside balconies can all still view the ocean as well, but obviously you would see it through the ends of the ship instead of just by looking down at the water.
For the budget conscious, Oasis still offers the traditional "no windows" inside cabins, but I am told that even these are among the largest afloat.
Additionally, they are introducing a new suite type, Loft Suites that actually have two levels, 2,000 feet of space, and feature a "spa like" feel in the bathrooms. While this is probably not in the budget of most of you, it is nice to know that if you were planning a bachelor party that this might be a great option compared to getting an expensive suite in Vegas at the Palms or something like that.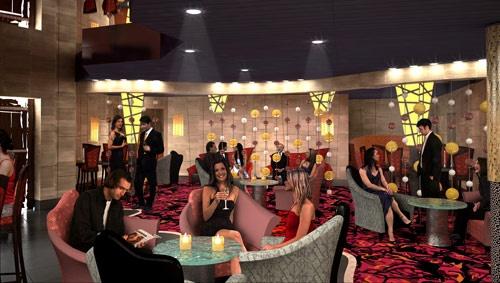 Bars
Among other "firsts" Oasis of the Seas will also feature the first bar at sea that is also actually an elevator!
The Rising Tide bar will actually move up and down between three decks, including outside and inside the ship. Vegas has nothing on Oasis as far as this bar is concerned!
Of course, there are other bars on board, 17 in total, including a Latin bar, champagne bar, pool bar, and others.
Enjoy the Beach at Sea
Despite the fact that you are in the middle of the Caribbean, surrounded by and visiting ports with fantastic beaches, you no longer need to get off the boat to experience the beach (sorta).
While Oasis of the Seas features the first "beach pool" it is more of a zero-depth entry type pool styled like a beach than the sandy ones you will find on land. Even so, this means you can literally spend every day of your trip relaxing in the sun at the beach.
Extreme Sports at Sea
If your idea of a great mancation is to go rock climbing, zip-line down the middle of a cruise ship, and then go surfing then this is your ship! While others have a rock wall, no-one else can boast of a zip line and certainly not one where you can fly over the heads of people below on the Boardwalk.
Also, Oasis actually has two flow riders and is designed with plenty of spectator room so you can watch your buddies. There is even a Flow Rider bar where you can sit, sip a margarita, and watch others wipe-out and fall on their asses surf.
Don't worry, if you aren't into extreme, there is a 9-hole mini-golf course on the sports deck too!