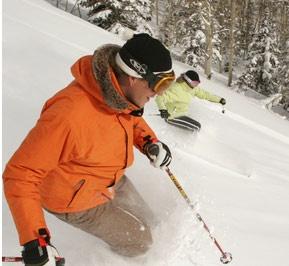 There are lots of great ski resort towns that offer a chance to rub elbows with celebrities, enjoy great steaks, drink a few locally brewed beers, and enjoy fantastic powder, but one in particular that stands out is Park City, Utah. Park City might be best known for the Park City Mountain Resort ski area, but the town also features two others - Deer Valley and The Canyons Resort.
Combined, the three resorts plus downtown Park City offers a fantastic destination for your next ski mancation.
| | |
| --- | --- |
| Runs: | 108 |
| Vertical Drop: | 3,100 feet |
| Skiable Acres: | 3,300 |
| Lifts: | 16 |
| Peaks" | 8 |
Park City Mountain Resort
Park City Mountain Resort is the one most people think of when they visit. It opened in in 1963 and originally skiers were carried up the mountain on a mine train and then hoisted up with another piece of mining equipment. Today though, it is a lot more glamorous than that, but the resort's mining heritage is still visible nearly everywhere you look.
Snowboarders will be happy to know that Park City also features an Olympic-sized half pipe, from the 2002 Winter Olympic Games!
| | |
| --- | --- |
| Runs: | |
| Vertical Drop: | 3,190 feet |
| Skiable Acres: | 3,700 |
| Lifts: | 17 |
| Peaks" | 8 |
The Canyons
The Canyons, formerly known as ParkWest or Park City West is actually the largest ski and snowboard resort in Utah with 3,700 skiable acres. Additionally, it has a fantastic "urban" themed terrain park.
| | |
| --- | --- |
| Runs: | 100 |
| Vertical Drop: | 3,000 feet |
| Skiable Acres: | 2,026 |
| Lifts: | 21 |
| Peaks" | 8 |
Deer Valley
Deer Valley is the smallest of the three resorts in Park City in terms of vertical drop, but that doesn't mean it doesn't also offer some great experiences. Instead of competing in terms of vertical drop or skiable acres, Deer Valley has positioned itself as the more elite and upscale of the three resorts. It is also the oldest resort, having attracted the first skiers in the 1930's when the Works Progress Administration carved out the first trails on the mountain.
Targeting a more upscale crowd also means that the most luxurious accommodations can be found here, and also it features a lift capacity of 46,500 skiers per hour, approximately 50% greater than its neighbors.
Of course, we all know that skiing isn't the only reason to pick a place for your next mancation! The following are a few places that help make Park City a great place for every
High West Distillery
Utah's first whiskey distillery since Prohibition opened its doors this November 2009 at the base of Town Lift on Park Avenue. The High West Distillery building, a historic livery stable, was renovated to create a restaurant and saloon with distinct Old Western flare. Each room (the sitting room, the saloon, the dining room) is small and intimate and decorated in various contemporary Western art. It's the world's first and only ski-in gastro whiskey distillery.
No Name Saloon
The No Name Saloon is a local watering hole on Main Street, this place is always a hot spot. It has a very colorful Western flare (despite the loud rock music over the speakers) with lots of random decorations hanging on the walls – moose antlers, women's bras and panties, old Western photographs – and has one of the only shuffleboard tables on Main Street.
Wasatch Brew Pub
Probably most known for its playful take on beers (like the Polygamy Porter, "bring some home for the wives."), the Wasatch Brew Pub is located at the top of Main Street and brews some of Park City's tastiest beers. Most out-of-state people are surprised that, yes, you can actually get a GREAT drink (specifically beer) in Utah. Some of their beers have won awards at the Great American Brewing Fest, and the bottled beers will knock your Utah knickers off!
The Prime
A local's favorite steak house on Main Street. This very ambient restaurant features a piano bar area (a less formal, but more fun, dining area) and over a 200 selections of wine. It's hard to describe a steak house without it sounding like every other steak house in the country, but The Prime has a large locals' draw, so there's something about it that keeps us coming back! Maybe that it's right across the street from Town Lift, a chairlift at Park City Mountain Resort, that comes right onto Main Street.
Spring Gruv at The Canyons
The Canyons Resorts hosts a great 10-day spring event called Spring Gruv. The annual festival includes 4 free concerts by large acts (past shows have included The Wailers, Slightly Stupid and other ski town favorites to jam out to), pond skimming, 80s dress-up day, the Canis Lupus banked slalom race and more. It's a great way to wind down the season, and The Canyons usually offers some amazing lodging/lift ticket package deals. This year's Spring Gruv will take place March 26-April 4, 2010.
Park City Powder Cats
Powder Cats offers 40,000 acres of privately-owned back-country skiing/snowboarding for individuals or groups who want to experience untouched powder turns via snowcat. Located about 40 minutes outside of Park City in their own ranch, they provide a full day of riding and lunch. It's a very affordable deal considering how much vertical and powder you could potentially ride in one day.