Las Vegas is constantly changing and it was pretty obvious a couple years ago when the T-Mobile Center opened that Monte Carlo's days were numbered. It simply didn't fit sandwiched between the fantastic new arena and The Park on one side and Aria on the other. Thankfully though, instead of imploding the towers and starting from scratch, they decided to transform it into an interesting and unique property. We got a quick tour of it during a press event last month, but I can't wait to come back and experience it as a guest sometime soon!
While the old Monte Carlo was classic Vegas, evoking the glamour of the "real" Monte Carlo, Park MGM works to bring a fresh breath of air to the strip. Frankly, the design doesn't feel Vegasy at all and I'm not sure that's a bad thing. Instead of chrome and glamour, it features bright colors that pop with high contrast with a clean white background and include natural accents where possible. This includes flowers in the room and colors inspired by nature to the ornate wood sculpture in the lobby.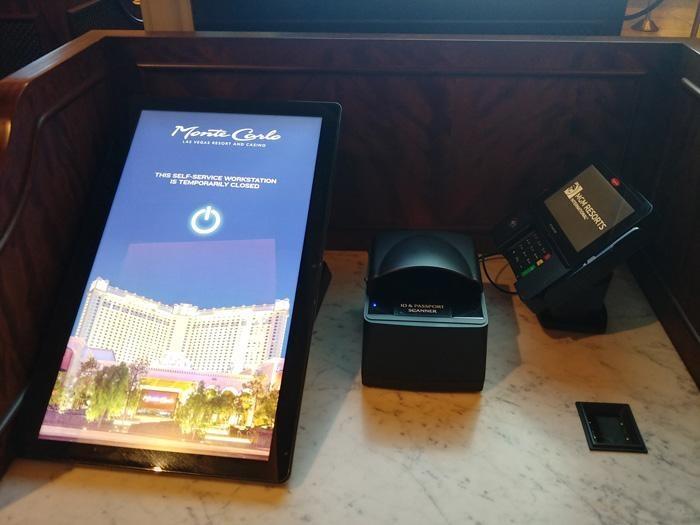 This sense of fresh carries through to the use of technology as well. Aside from the acres of games on the casino floor, the most iconic part of Vegas resorts is the LONG lines and check-in counter experience. Check-in can be hellish any day of the week and the folks at Park MGM have worked to (hopefully) eliminate that by filling the lobby with self-check-in kiosks capable of doing everything the guest services agent would normally, including printing your room key. While this completely eliminates the practice of sliding a $20 across the counter and hoping for a room upgrade, I'll take efficiency any day.
Another nice feature of this automation is that you can check-in any time and it will text you when your room is ready. There's no more waiting till 3 pm for the whole inventory block to be released. Instead, rooms will be available as they are released by the housekeeping staff.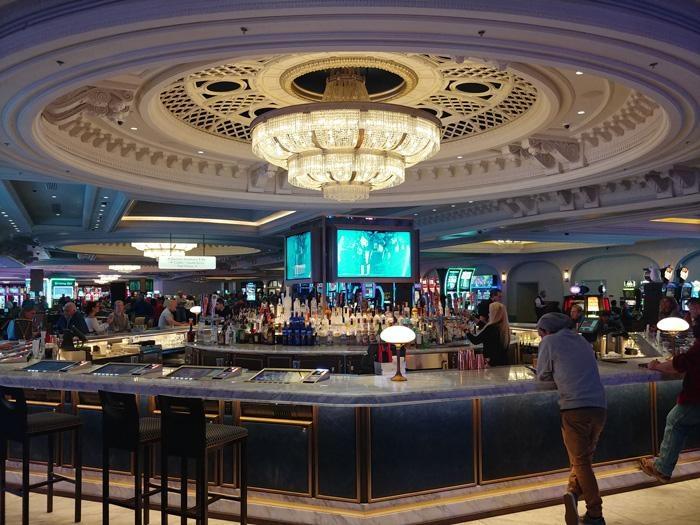 Inside the casino floor, the cool crisp white motif continues. One challenge with a resort like this is that while you can paint and replace carpet, the decades of smoke is a huge challenge to completely eliminate. Despite the challenge though, they've done a great job at mitigating the odor. While not completely gone, it's much better than many other properties on the strip. I'm fairly sensitive to smoke and so while obvious it was obvious when first walking in the door, after a few minutes I barely noticed it at all.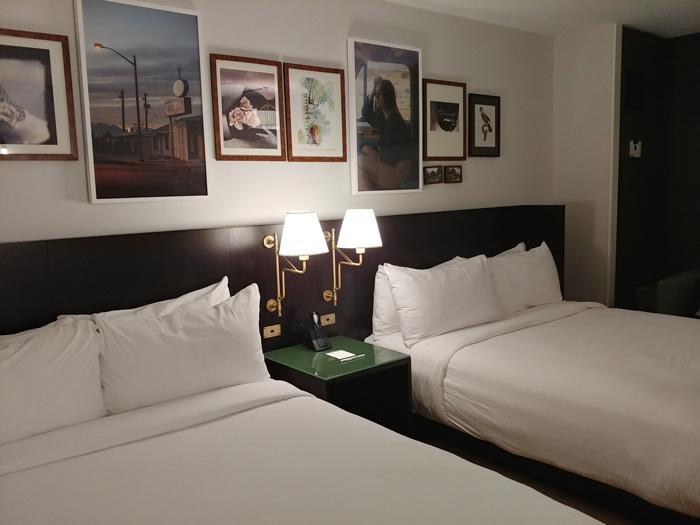 Up stairs, we had a chance to check out a couple of the rooms to see the direction they are going. Again, the design is very clean and white but punctuated with bright colors, fun portraits on the wall and interesting decor. It's clearly something that won't be for everyone, but I liked it and it felt very "Kimpton". Standard guest rooms are approximately 400 sq feet and feature accents of red and green - hues inspired by cati blooms and succulents found in the Nevada desert.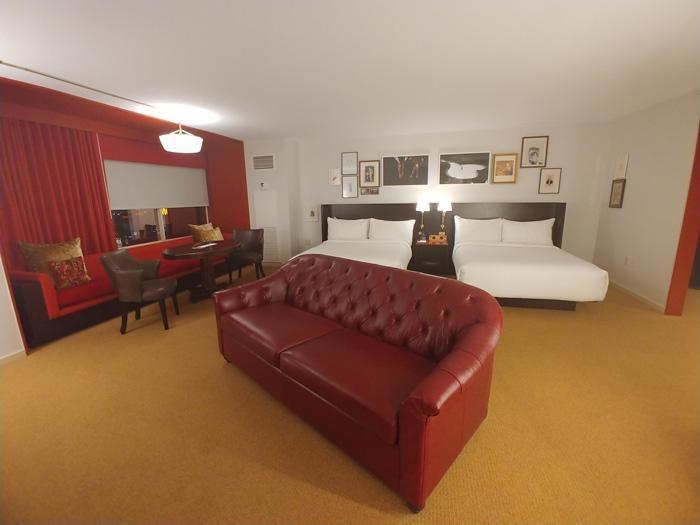 There are some suite options here that I think would be a great choice for a bachelor party. For instance this Nightengale Suite spans 700 sq feet and has two queen beds and a pull-out couch so it can easily sleep three guys. It also has a big 55" TV in front of the couch as well as table and chairs. Pair that with the fact that you're only a few feet away from concerts and sports at the T-Mobile Arena across the street and you've got a great crash pad.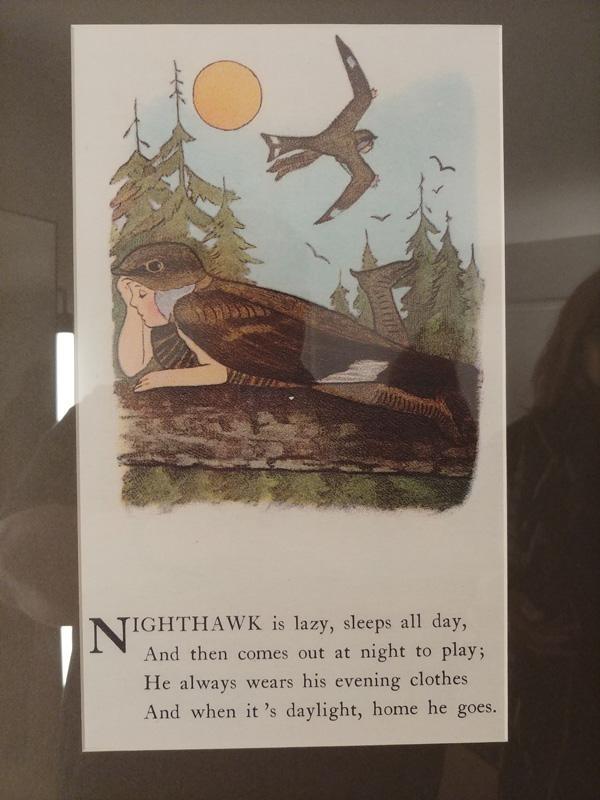 There's also a Nighthawk suite with it's own story as well, and includes a king bed, two 50" TVs, and likewise included a table and chairs. With it's hunter green color, it also felt very masculine.
All the rooms were excellently equipped with USB charging ports as well as regular wall outlets and media plugs for the TV as well. Additionally, I'm told that since Park MGM is positioned as a conference hotel that they've made extra care to ensure superfast Internet connections coming into the property - as well as wifi infrastructure to guarantee that each room has excellent connectivity too.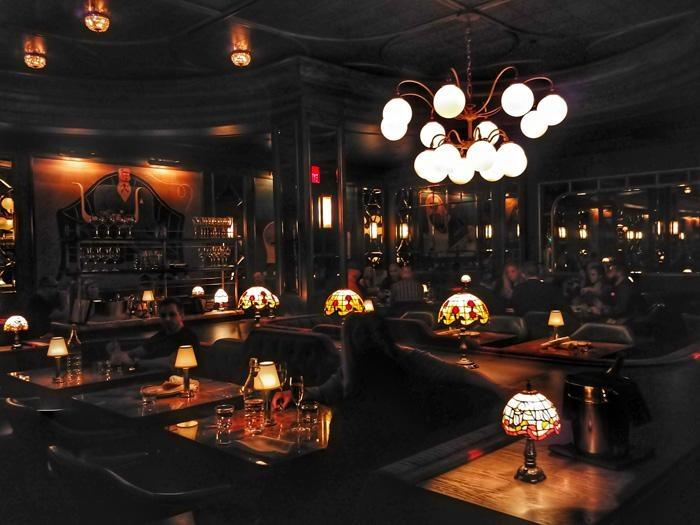 The dining program is still coming together here to transform it to a premium hotel experience. We visited Bavette's Steakhouse and had an amazing experience. It's the sort of old school place that's so cushy and dimly lit that you sort of imagine that there could be a mobster or celebrity at the next table since there's no way anyone can see you. However, the food here is fantastic - as it their drink list. While every bar in Vegas has "Old Fashioned" variations, I was impressed that it was more than just swapping out one bourbon for another.
The Tokyo Old Fashioned I had included Hibiki Japanese Whisky and simply syrup made from a Kokuto (a Japanese brown sugar with hints of molasses). There were several other creative concoctions there that you'll just have to visit and try yourself!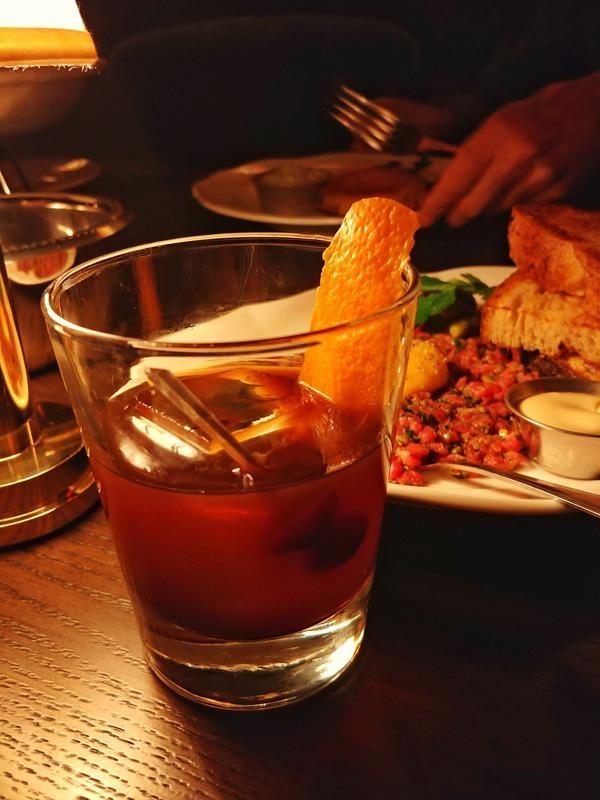 We're hoping to head back later this year after it's offical opening in just a few months. In addition to what we experienced, several new restaurants are slated to open including a "soon to be named" Koreatown-inspired concept by Chef Roy Choi (Kogi BBQ) and of course the renovated pool deck that will be opening in the spring.