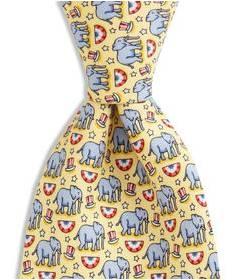 Looking to get all jiggy with it and party like a Republican? Or maybe Party like a Democrat is more your style? Check out these cool political party themed ties and belts from Vinyard Vines.
Perfect for any policy wonk or maybe you are heading out with the guys to do some last min voter registration. Either way I thought these were cool and that you might enjoy them too.
From the manufacturer: "Vote Yes" for vineyard vines ties and accessories this Fall, where the political accessories are liberal in color selection and conservative in their price range ($49.50 - $75.00). With the 2012 political conventions in full effect and the election just months away, vineyard vines is launching a capsule collection of accessories to support your political party. Whether you are a Democrat or a Republican, vineyard vines is your go-to retailer for ties and belts during this upcoming election season. The Donkey Silk Printed Ties are available in Navy and Green, while the Elephant ties are offered in Green, Red, Yellow, and Pink. Complete the look with a Leather and Canvas political belt in red or navy.
Please visit www.vineyardvines.com for more information.