Pilot Flying J invited me to the NASCAR spring race at Bristol Motor Speedway so we could learn more about the Pilot Flying J #BattleAtBristol. The cool thing about this is we were granted some pretty cool access to things things most NASCAR fans dream of! We were also able to meet Michael Annett, the driver of the #46 Pilot Flying J car. Not only that but we got to watch the race from his pit box!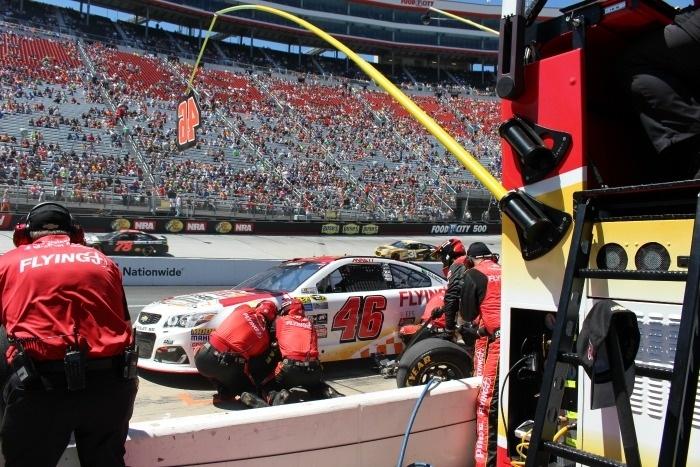 Bristol Motor Speedway is billed as "last great colosseum", so what better place to hold a football game? The University of Tennessee and Virginia Tech will play in the Pilot Flying J #BattleAtBristol on Sept. 10th 2016. The Bristol Motor Speedway has a seating capacity of around 150,000 for NASCAR races. They plan on adding seating on the front and back stretch to get that up to north of 155,000 for the college football. They should set the record for attendance for a college football game which is currently held by the University of Michigan when the hosted Notre Dame in Ann Arbor.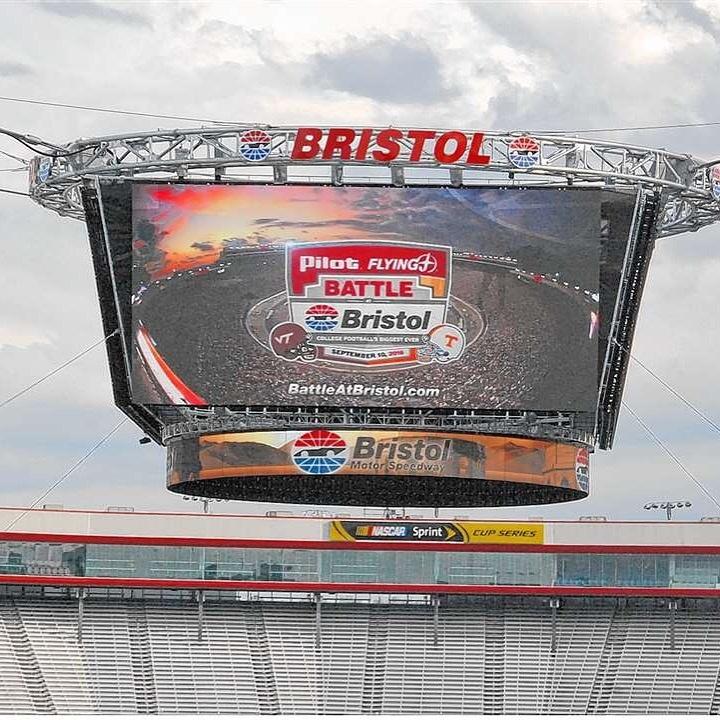 Colossus also has a state-of-the-art, 540,000-watt audio system powering 380 3-way loudspeakers and 48 stadium subwoofers. By contrast, the current system has 2,400 watts of power, with only 10 2-way loudspeakers and 8 subwoofers. Bristol Motor Speedway has also updated the rest of their audio system . They have 450 speakers all around the speedway so that no fan will be farther than 90 feet away from one. This should make the Pilot Flying J #BattleAtBristol an experience to remember for all those who are in attendance.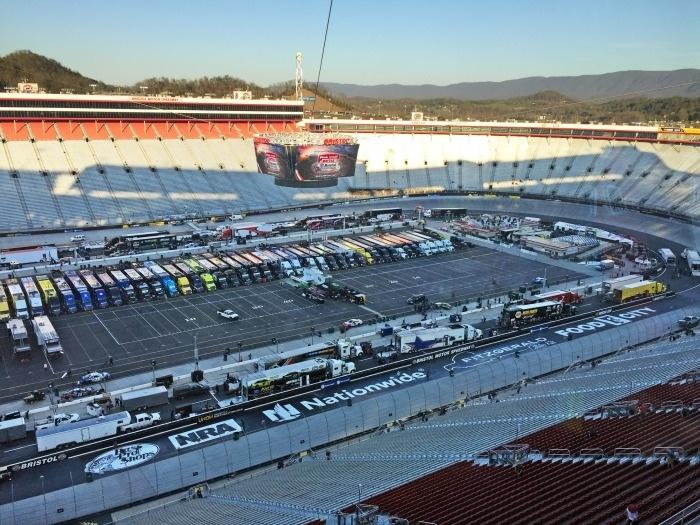 Speaking about those in attendance, the way Bristol Motor Speedway is configured there should not be a bad seat at the game. The seats go more up than they do out. Everyone should have an unobstructed view of the game. We went up to the suites to watch the last half of the race and the view from there is amazing. So matter where you watch the game you should be able to see all the action.
If you are wondering how they are going to transfer the Bristol Motor Speedway into a football field, the answer is by working working around the clock for 2 weeks. Here is the timeline according to BristolMotorSpeedway.com:
Immediately following the August 2016 NASCAR race at Bristol Motor Speedway, approximately 400 workers will immediately begin bulk cleaning, and then detailing, the Speedway
Next an estimated 10-12 crews will begin pressure washing - a process that is normally done in February prior to the March NASCAR weekend
Separate crews will clean all suites in seven days - a process that normally takes four-to-six weeks
Turf and field build will be completed in eight days
Approximately 8,500 tons of rock will be used to build the base of the field
The rock will be brought in by approximately 400 truckloads. The complete haul-in process will take three, 10-12 hour days
The base rock will be 3'-6" deep in the middle of the infield tapering to 1-1/2' on sidelines to create the proper sloping effect for drainage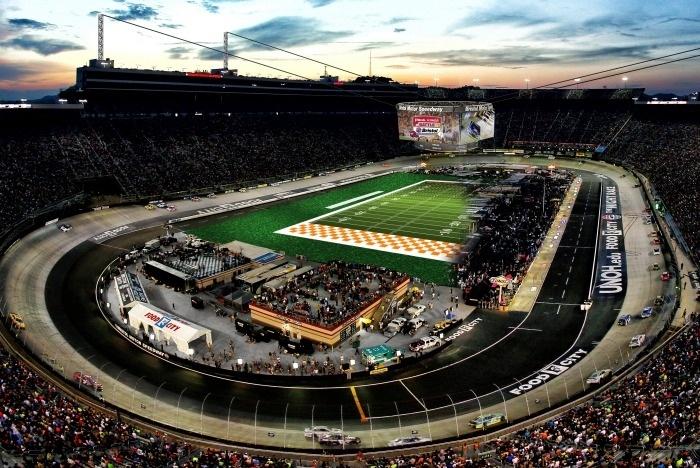 ESPN/ABC are going to broadcast the game, so make sure to tune in on Sept. 10 2016 to witness history. If you want be a part of history being made you can get tickets at BristolMotorSpeedway.com
This should be a college football experience to remember. They are also going to divide the parking lots by teams. So the tailgating should be epic! They are also planning concerts to help keep people entertained! This game is definitely a must see, no matter what team you follow.
On a side note... Just to make sure they can get the most out of the football field, they are going to have a game the next weekend between two local teams. That privilege will go to East Tennessee State and Western Carolina. How cool will it be for those two schools! Something they can tell their kids about.
Disclosure: Pilot Flying J provided travel and NASCAR access for my trip to Bristol Motor SpeedWay to learn more about the Pilot Flying J Battle at Bristol. As always the thoughts and opinions are mine.