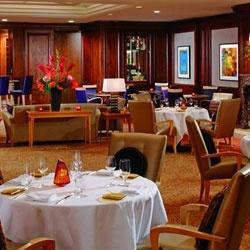 In the previous piece we shared insight into Cleveland's FAMOUS West Side Market, but most hotels and other places to stay wouldn't really do you any good if you wanted to make your own meal or experience the full impact. So, if you are a foodie, or just love awesome fresh food and want to stay in Cleveland, here are some tips provided by our awesome friends at Positively Cleveland.
Cleveland Hotels:
When we're talking about great places to stay overnight AND cook your freshly-made purchases from the West Side Market, a couple of locations immediately come to mind.
First and foremost, I immediately thought of the J. Palen House, an "urban" bed and breakfast located in Ohio City (just around the corner from the West Side Market – walking distance). Okay, I know what you're thinking, "Really, Lexi? You're suggesting a bed and breakfast to a guy who directs his writing at men?"
Welp...stop right there. In addition to its main B&B located on the corner of West 28 and Bridge Avenue, J. Palen offers an additional offsite apartment available for rent. These apartment comes fully equipped with a full kitchens and several bedrooms. Visit www.jpalenhouse.com for more information.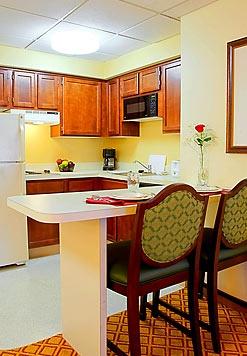 Also, just across the bridge from Ohio City, you'll find yourself in downtown Cleveland. Right off East Fourth Street Entertainment District is the Residence Inn Downtown Cleveland. This Marriott-branded hotel is conveniently located between the major entertainment area in Cleveland (East 4th) and the Gateway District, which is home to Progressive Field (Cleveland Indians) and Quicken Loans Arena (Cleveland Cavaliers and Lake Erie Monsters...along with a host of additional concerts).
All the rooms in the Residence Inn come fully furnished with a full-sized kitchen. So, besides being located in the ultimate location for entertainment, the hotel also offers you the ability to prepare your own food. For more information visit, http://www.marriott.com/hotels/hotel-rooms/cleri-residence-inn-cleveland-downtown.
In addition to a deluxe stay in one of the 206 spacious rooms at a legendary luxury hotel, The Ritz-Carlton Cleveland offers a "Fresh Market" package. Visitors enjoy breakfast with the hotel's Chef de Cuisine from their signature restaurant MUSE and are treated to a chef-guided exploration of the West Side Market. Guests also dine on a customized lunch featuring items purchased at the market and a bottle of Ohio wine, cheese and more. Check them out here: http://www.ritzcarlton.com/en/Properties/Cleveland/Default.htm.
Cleveland Food Tours:
Also, there are some food tours you can take through the market, as well. Check them out below:

NEO Food Tours allow visitors to learn about multiple restaurants from the chefs themselves, and interspersing these "courses" with guided tours of historic neighborhoods, noting history, architecture and stories along the way.
There is no better way to experience the almost 100-year-old West Side Market, considered to be a culinary Mecca by foodies from across the world, celebrities and locals alike, than to be guided (and fed) on a food tour. Last year, NEO Food Tours offered the Market District Harvest Happy Hour Tours, which explored Ohio City, one of the oldest and most culturally rich neighborhoods in Cleveland. The tour included an extensive look at the West Side Market and a stop at Light Bistro for a special dish and provided by Chef Matt Mathlage.
Taste Cleveland Food Tours offers tours, culinary events and corporate team-building events that bring together history, architecture and cuisine in a variety of different venues and historic neighborhoods. Upcoming tours will take visitors through Tremont, Little Italy or the West Side Market. The West Side Market Tour takes place on Wednesday and Fridays and features samplings of apple turnovers, Iron Chef Michael Symon's favorite beef jerky, handmade desserts, olive oil, peanut butter, Cambodian specialties, artisanal cheeses and much more. Customizable dine-arounds and pub crawls are also available. The cost of these tours is $40-$50.
Cleveland Cooking Classes:
Loretta Paganini School of Cooking – From cooking Thai cuisine to learning basic knife skills, the Loretta Paganini School of Cooking located in Chesterland (southeast of downtown Cleveland) offers the perfect addition to a culinary getaway. Classes are offered almost daily covering a variety of cooking topics including opportunities for kids, teens, tweens and couples.
Cuyahoga Community College Hospitality Management / Culinary Arts Program – Cuyahoga Community College (Tri-C), located in downtown Cleveland, offers a culinary arts sequence for students seeking certifications in cooking, professional baking and cooking as a personal chef. The new program provides basic and advanced skills for students of all levels, while also providing practical industry experience. Later this year, the program welcomes the addition of a $6.5 million location to house its new Hospitality Management Center. Located on Public Square, the 25,000-square-foot street-level center will play home to a new culinary area, classrooms and a demonstration studio. And, just recently, they started cooking classes for the average guy.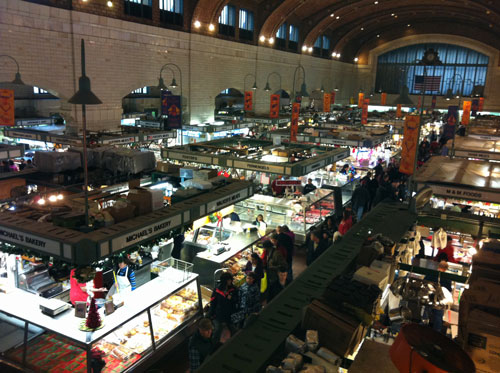 And, if you haven't been reading up the Centennial of Cleveland's West Side Market is THIS YEAR! Lots of really fantastic events occurring in coordination with the celebration.
Thanks Lexi and the rest of the team at Positively Cleveland!