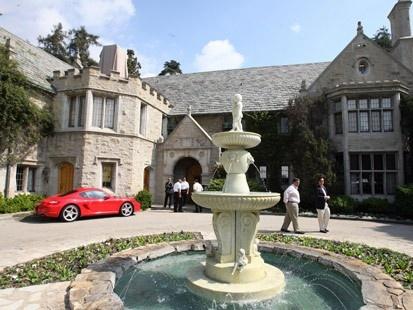 If there is a single place in the world that it is safe to say that every guy has dreamed of visiting at least once, it has got to be the Playboy Mansion.
Now is your chance with this awesome sounding Summer Fling Party.
While the "Girls Next Door" are no longer there, there is plenty more to keep your eyes wandering including a tours led by Playmates, the Pool and Grotto, an Open Bar, and even special packages to make this the ultimate mancation.
The Summer Fling Party at the Playboy Mansion, produced by ellemés internationale, Southern California's premier event producer of top-tier jet-set lifestyle experiences and escapes, has been announced for Saturday, July 18, 2009.   The Summer Fling Party at the Playboy Mansion, hosted by Playboy Radio's Jessica Hall and Brandie Moses, is a weekend escape unparalleled in its decadence and grandeur.
Partygoers from around the globe will converge on the Playboy Mansion to experience it as only an elite few ever have - with an all-day-into-the-evening Pool Party with beautiful Playmates, models, some of the best-known Hollywood entertainment industry personalities, and unlimited food and open bar.   All-in-all, 8 hours of breath-taking and star-studded revelry unparalleled in its grandeur at the Mansion.   And just when the daytime fun starts to simmer down, the sexiest after-party in LA begins at 10 p.m. at a to-be-announced premier venue.
VIP King-for-the-Weekend Package

The VIP King-for-the-Weekend package includes two nights at the Beverly Hilton Hotel in Beverly Hills, limo transportation to and from Playboy Mansion, full tours of the Mansion grounds by Playmates, and gourmet BBQ meals, and full open bar all day.   Also included are specialized spa treatments, full access to pool and grotto (towels will be provided, but swimsuits are not required), and a shared cabana, photos opps with Playmates, special commemorative gift, and access to the VIP after-party with open bar.
VIP Cabanas

For those seeking to have a one-of-a-kind bachelor or bachelorette party (or maybe a divorce celebration) of a lifetime, why not splurge on a VIP Cabana for you and seven of your closest friends?   The VIP Cabana Package for a party of eight includes all of the above, VIP Cabana with rotating Playmate hostesses, premium bottle service with server and security, special commemorative gift, VIP access to exclusive after-party with bottle service, open bar, and more.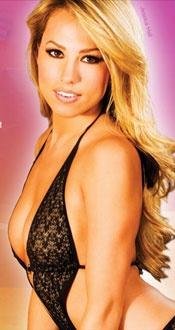 Not only do you get a chance to visit the Playboy Mansion, but the All Day General Admission Ticket includes tours by Playmates, full access to the pool and grotto, gourmet BBQ buffet, open bar, and admission to the after-party too! I am told there are some other special things too, but do you really need more of an excuse?
In addition, participate in the live and silent charity auctions that run all day and night.   Not only will ellemés internationale deliver an unforgettable Playboy Mansion party , but they've also partnered with the TJ Martell Foundation, so you can also do a good turn while having a great time.   Items to be auctioned off during the Summer Fling include one-of-a-kind music and sports memorabilia, trips, electronics, and other desirable products, and experiences.   A large portion of the auction proceeds will go to the TJ Martell Foundation to support their efforts in Leukemia, Cancer and AIDS Research.
To order tickets, please visit: http://www.summerflingparty.com - If you use order code: TJM0718 – A portion of the ticket price will be donated to the TJ Martell Foundation.
More Details about the Summer Fling Party at the Playboy Mansion
Where: Playboy Mansion, Los Angeles, California
When: Saturday, July 18, 2009
Time:
Pool Party: 2:00 p.m. to 10:00 p.m.
VIP After-party: 10:00 p.m. to 2:00 a.m.
Cost:
VIP Admission – Whole day Mansion Admission
and Weekend Hotel Package: $2,500.00 per person
VIP Cabanas (Party of 8 guests) - $25,000.00 per party with Weekend Hotel Package for Eight.
General Admission: $1,500.00 per person (includes after-party with cash bar, does not include hotel accommodations)
Age: 21-years old and over only
Tickets: Please visit: http://www.summerflingparty.com