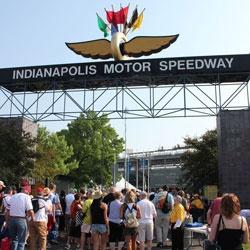 While not for everyone, attending a world-class sporting event is an awesome excuse to round up the guys and head off on an adventure. Visiting the Indianapolis Motor Speedway is one such opportunity and certainly one that EVERY race fan should attend at least once in their lives.
Indy 500 History
Last year was the Centennial and I was there to celebrate 100 years of the race. It has been billed as "The Greatest Spectacle in Racing" and my experience last year certainly lived up to that hype - and I am returning this year for more!
The race track was opened in 1909 and held the inaugural Indianapolis 500 in 1911. Originally, the race track was opened as an automobile testing ground to support Indiana's automotive industry, but it rapidly re-focused and became a leading racing destination. The fastest lap at the track was by Arie Luyendyk during practice on May 10, 1996 when he clocked in at 239.260 mph! The fastest official lap was recorded 2 days later at 237.498 (also by Arie).
The tradition of drinking milk on Victory Lane was started in 1936 by Louis Meyer because he liked to drink buttermilk. It was then supported by an executive with the Milk Foundation who vowed to make sure it was repeated. That continued since, except from 1947-1955.
Today, the Indianapolis 500 draws nearly 500,000 people between those in the stands, infield, and those outside the track tailgating. This is truly a HUGE event that has to be experienced to be appreciated.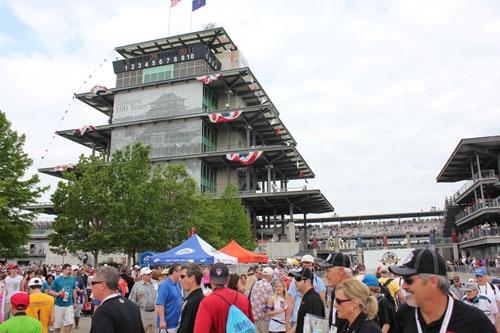 Buy Indy 500 Tickets
The Indie Motor Speedway has Indy 500 tickets available online, ranging in price from $30 for General Admission to $90 for a Paddock Box. Higher ticket levels are sold out.
Tickets for other special events and options at the Speedway during the Indianapolis 500, are also available, including Parking, starting at $20, Camping, starting at $30.
If you have trouble walking, don't worry there are also scooter rentals available.
Indy 500 Hotels
There are a variety of hotels available across the city and most of the hotels downtown and out on the interstate have shuttles available. Official Indy 500 Travel Packages range in price from $1,000+ to $535
2012 Special Events
While the Indy 500 is held on May 27, the special events go on almost all month long. This includes the May 10, Indy 500 Golf Outing (did I mention that the track actually has a golf course in the middle?), Opening Day on May 12 featuring the Celebration of Automobiles that includes a preview of the latest EV technology as well as an EV Rally. Opening Day also marks the start of Indy 500 practice, so this is a great opportunity to watch as the drivers get accustomed to the course too.
Armed Forces Bump Day: Sunday, May 20, featuring a display of Military Equipment
500 Festival Community Day: Wednesday, May 23 more info
Miller Lte Carb Day: Friday, May 25, featuring a concert by Lynyrd Skynyrd, the Pit Stop Challenge, Firestone Freedom 100, and final Indianapolis 500 practice session.
Legends Day: Saturday, May 26, featuring autograph sessions and the public drivers meeting as well as vintage racing on-track.
On May 27, of course, the race begins!
Man Tripping will be there again this year and if you will be too, I would love to meet you and share Indy stories!