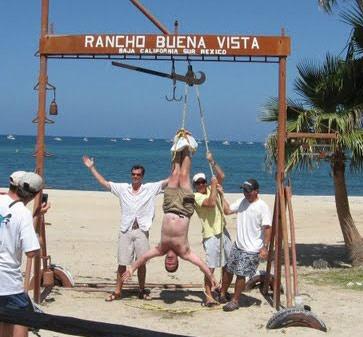 To many Americans, the only Mexican resorts they think of are the overly commercialized parts of the Yucatan around Cozemel and Cancun, but shocking as it may seem, there is another side to Mexico. Rancho Buena Vista is located less than an hour north of Los Cabos airport and is situated right on the beach, originally founded as a fishing resort in 1952.
Rancho Buena Vista represents a much classier side of Mexico, off the mainland and at the tip of Baja California, Los Cabos is surrounded by fantastic fishing, gorgeous water, white sandy beaches, great food, and wonderful Mexican beer. At Rancho Buena Vista, you will be surrounded by history as the resort has hosted such Hollywood celebrities as Bing Crosby, Desi Arnez, and even John Wayne.
The resort is not your typical tourist mega resort, and intead consists of thirty-eight private suites, twenty of which are thatched-roof bungalows that form the center piece of the resort. Don't be fooled by the thatched roofs though as each room at Rancho Buena Vista is designed for maximum comfort, including newly purchased beds, air-conditioning, ceiling fans, and modern showers. If you are looking to relax in your room and watch football, this isn't the place as there are no televisions, radios, or alarm clocks. This is a beach and fishing resort after all, so why waste time in the room when there is so much outside to enjoy!
Rancho Buena Vista dining options include three meals daily and are searved in a family-style dining room. If you are going fishing, the resort will even provide packed lunches to enjoy at sea. When you come back the kitchen will happily prepare your catch upon request.
Mancation Activities at Rancho Buena Vista:
Rancho Beuna Vista is located right on the Sea of Cortez, which Jacques Cousteu called the "largest aquarium in the world" is home to more than 3,000 marine vertebrates and averages 80 degrees all year round with sunny blue skies being the norm here. As such, the area offers some of the best sport fishing in the world and the tropical waters are home to blue, black, and striped marlin, sailfish, dorado, wahoo, yellowfin, tuna, roosterfish, and many other varieties. Fishing charters leave directly from the dock at the resort.
If you enjoy the sport of fishing, but aren't into killing and eating the fish, don't worry, Rancho Beuna Visita is well respected for encouraging catch-and-release.
If seeing marine life in their habitat is more your style, nearby Cabo Pulmo offers spectacular scuba diving and snorkeling. Cabo Pulmo is one of only three living coral reefs in North America and is a nationally protected marine reserve.
Back at the resort there are tons of activities available too, including kayaking, swimming, sailing, beach vollyball, tennis, windsurfing, and kite-surfing.
If you prefer dryer activities, the Sierra de La Laguna Mountain range behind the resort offers some great mountain biking and hiking trails.
Of course, you will probably be able to find a poker game or a spot to play that and other games around the resort at night too!