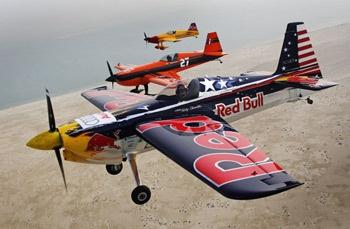 What could be more exciting than watching some of the best pilots in the world fly as fast as they can, less than 20 meters from the ground at speeds of up to 250 miles per hour!
For you non-racing geeks, that is even FASTER than NASCAR! (NASCAR usually averages about 200 mph) While the Red Bull Air Race is truly an international event, this year the US stops include San Diego (May 3-4) and is in Detroit , May 31-June 1. Tickets for the San Diego Red Bull Air Race are on sale now, Detroit Red Bull Air Race tickets go on sale, April 15.
Tickets are Now Available for the Red Bull Air Race in Windsor / Detroit .
Man Tripping will be there, will YOU? Ticket prices for the Detroit 2008 race have not yet been posted, but we can guess what they will probably be based on the cost of the
San Diego Red Bull Air Race Tickets
: $30 per person for both days, or $15 for the first day and $25 for the second day. At the San Diego air race, there is also a party for an additional $50 fee that included food, drinks, and music. I assume that the Detroit Red Bull Air Race will also have a similar event.
From the Red Bull Air Race Press Release:
The Red Bull Air Race World Series features the world's best pilots in a motor sports competition based on speed, precision and skill. Using the fastest, most agile and lightweight racing planes, pilots navigate a low-level aerial race track made up of air-filled pylons, flying at speeds reaching 400 km/h while withstanding forces of up to 10 Gs. Touching down in ten cities worldwide in 2008, each Red Bull Air Race is unique. From the heart of the city to the open countryside, over land or water, a Red Bull Air Race can take place almost anywhere. Spectacular backdrops and jaw-dropping action guarantee that spectators experience one of the most innovative and exciting new sports competitions around today.
A race of speed and skill
The objective is to complete the course, navigating the 20-metre high specially designed inflatable pylons known as 'Air Gates' in the fastest possible time. But it's not just about speed. Pilots must pass between the Air Gates in the correct position (either knife or level flying) taking care not to touch them with their wings. They have to be precision-perfect because any mistakes incur penalty seconds which are then added to the pilot's time. The pilots compete for points at each race and the one who accumulates the most at the end of the season is crowned Red Bull Air Race World Champion.
The world's best pilots
Twelve world-class pilots have qualified to compete in the Red Bull Air Race World Series in 2008. Flying low to the ground at breakneck speed, attempting difficult turns and Air Gate crossings while coping with the high G-forces requires immense skill that only a certain number of pilots in the world possess. A rigorous selection process ensures that the most skilled and experienced qualify to take part. These pilots are at the top of their game – they have to be as the Red Bull Air Race puts huge demands on their flying abilities. They are constantly being pushed to their limits in a contest where hundredths of a second can be the difference between winning and losing.