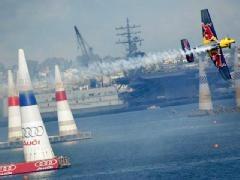 Yesterday I talked a bit about my trip to Detroit next month for the Detroit / Windsor Red Bull Air Race, but I didn't mention much about the Red Bull Air Race in San Diego that is coming up in just a few short weeks, May 3-4.
I watched the 2007 San Diego Air Race on tv and that was what got me hooked on this awesome sport in the first place.

So if you are in the Southern Califormia and looking for an awesome guys weekend, you can't get much better than watching the 2008 San Diego Red Bull Air Race and some of the most talented pilots in the world. After all, this is the worlds fastest motorsport (Formula One and NASCAR are just a bit slower).
So if you are heading down to San Diego for the Red Bull Air Race, here are some important details that you will need to know:
Where to Buy San Diego Red Bull Air Race Tickets:
You can buy Red Bull Air Race tickets online. For the San Diego air race, tickets are $30 for both days, $15 for May 3 and $25 for May 4. There is a terminal party on May 3 that features food, music, and a cash bar, but it does say that it includes at least one drink ticket. The price for that is $50.
Where will the San Diego Red Bull Air Race be Held?
The San Diego Air Race will be held in San Diego's Big Bay area, with viewers watching it from the Embarcadero North Island and Embarcadero South Island, right next to the San Diego Convention Center and Sea Port Village.
What to Expect at the Air Race:
In other countres, the Red Bull Air Race has drawn up to a half a million people, but so far in the US cities that have hosted the air race, the attendance is more in the 10's of thousands, but this year may be different as I think last year's races in San Diego and Monument Valley, UT both got a ton of press and there seems to be a lot of excitement about both San Diego and Detroit as Red Bull Air Race locations this year.
The nice thing is that San Diego is a great city with some great hotels and restaurants as well as other sites to see so you should have a blast. I wish I could attend the air race there, but I'll be heading to Detroit in a few weeks to watch the Red Bull Air Race there instead.