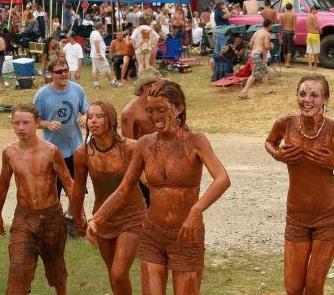 Ok, so the Olympics aren't coming back to the US for at least another 10 more years. That doesn't mean you have to be sad. Since 1996, radio station, Y-96 has been holding the Redneck Summer Games featuring internationally celebrated sports such as dumpster diving, hubcap hurl, and everyone's favorite the mudpit belly flop!
Does this sound like fun?
Then head on down to East Dublin, GA or read on for more information about this mancation worthy festival!
Now in its 15th year, the Summer Redneck Games is held every July and if you are looking for an awesome opportunity to drink, party, and test your skills at a variety of non-traditional sports then this might be just the excuse you need to head on down south.
East Dublin is located on I-16, about half way between Savanah and Atlanta, and July is always a hot and sweatty time in rural Georgia.
Events at the 2009 Redneck Summer Games included:
Redneck Horse Shoes
Bobbin' for Pigs Feet
Seed Spittin'

Rob & Rawni's Big Redneck Wedding
Mud Pit Belly Flop
Redneck Idol
Armpit Serenade
Miss Redneck Competition
Fireworks
Music
Not convinced this is a great mancation destination? Watch these videos ...

Ready to check the event out? Head on over to the Redneck Summer Games website.