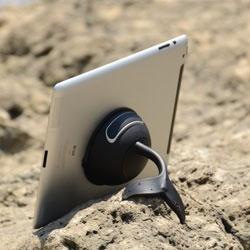 Like many of you, I travel quite a bit and over the past year my tablet has replaced my laptop when it comes to watching movies on the plane and sometimes in my hotel room. Even for listening to music, it is unsatisfying to lay your tablet flat on its back. That's where the awesome folks over at Octa come in, with their Tablet Tail product line.
Specifically today I am sharing my experience with their Whale Tale kit that they graciously sent me for review.
While there are various cases that offer a grove in the keyboard so the tablet can stand up, or the option to fold the case back to allow for that, Octa's solution is TabletTail, a compact vacuum mount with a funky looking whale tail that acts as the kick stand.
The thing I like about this is that it works on any tablet I have - tested on my iPad 2 and my Nexus 7 and it also works in any screen orientation.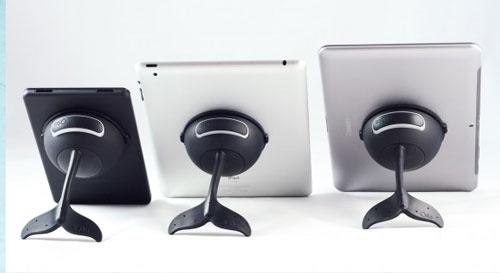 As long as the back of your tablet (or maybe even smart phone or other device) has a smooth back, Octa can lock-on through its vacuum seal.
Simply press the button you see on the round mount a few times and it is connected.
To release, simply lift the rubber tab on the bottom of the mount and that breaks the seal.
Unlike other "kick stands", Octa's Whale Tail can hold the tablet in a variety of different positions. This was one of the features that appealed to me, so I decided to test it out on a cross country trip!
Review Senario One: Airplane Seat!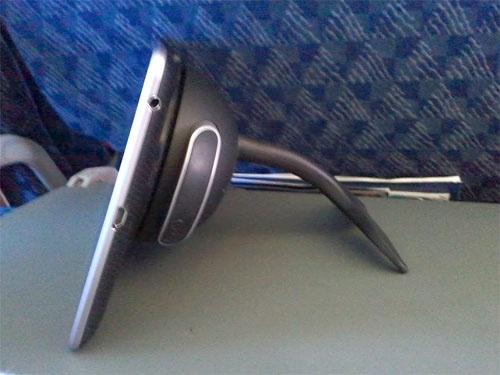 One of the things that frustrates me is that it is difficult to angle a tablet so you can watch a movie on a plane. It seems like any bump or movement of the chair in front of you will cause the tablet to slip, and of course, who wants to hold their tablet for 2 hours while watching a movie?
In my review test, I found that Octa Whale Tail / TabletTail worked great with my Nexus 7 and actually fit into the "dead space" so I didn't actually lose any precious space. Plus, because of the ability to adjust the angle, I could see the screen even with the seat in front of me fully reclined (bastard!).
Review Senario Two: Hotel Nightstand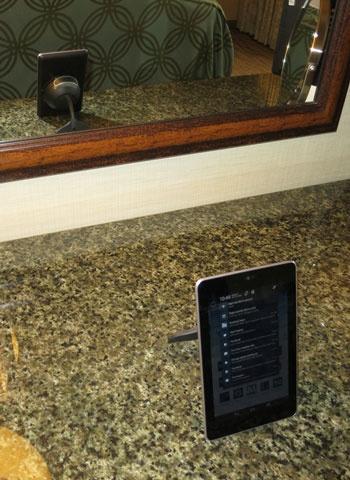 Once in my hotel, I set the tablet up as an alarm clock. Normally, I would have just set it on the nightstand flat on its back, but this way I could actually see the time.
Of course, I could have similarly used it to watch a movie, but the 50" HDTV with HDMI inputs was much more conducive than a 7" tablet for that!
TabletTail Review: Final Thoughts
For $49, you really can't go wrong if you are looking for a cool add-on that works with multiple of your devices. It seems robust enough to outlast the lifespan of an average tablet and adaptable enough to do whatever you need it to do.
The packaging also includes a handy carrying bag, so you can put the mount and the tail in there and carry it around in your backpack without having to worry about leaving it attached to your tablet.