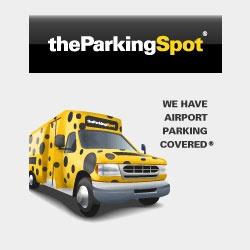 There is no shortage of ways to get to travel to the airport - you can take a cab, bribe a friend to drive you, or drive your own car and park in the official airport parking lots. Over the past few years, a new option has emerged - off-site airport parking. The Parking Spot is one such vendor that I had a chance to try out a couple weeks ago for this review.
What follows is a review of my personal experience at the Chicago, O'Hare location. I am told by the PR rep that this is NOT typical since this particular location was actually operated by Avistar and is one of only two locations that are not "typical".
In preparation for the review, I was told that the Parking Spot offered features including: Friendly shuttles, luggage assistance, complimentary newspaper and chilled bottled water. Also, other blogger friends of mine shared that at their locations the staff had their car running and warmed up and ready for their arrival.
My experience wasn't bad by any means but it was exactly what the Parking Spot markets themselves as the alternative to. On their website it says, "Expect More than Cheap Airport Parking" and that is exactly what I got.
Before you book, I do advise that you should check if location is listed as a "Network Location" or as an official airport parking location. They have 34 facilities at more than 22 major airports across the country, but currently, four locations are listed as "Network".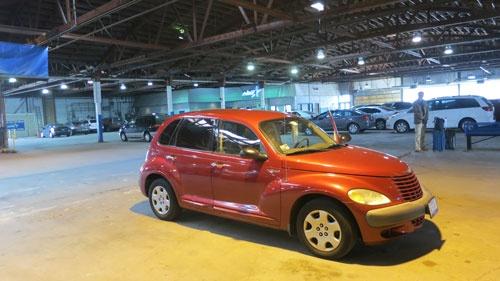 Making the Reservation:
This was one of the cool features that I sort of which O'Hare's official parking would offer an option for. Simply visit the Parking Spot's website and select your travel dates and options such as Car Care (so your car will be spotless when you come home!).
This process was super easy and I was excited to start my trip.
O'Hare Parking Rates Comparison:
O'Hare Economy Parking - Lot E: $17 / day; Lot F: $9 / day; Lot G: $13
The Parking Spot: $11.95 (open air) or $16.95 (covered)
Ease of Use:
To be fair, the Parking Spot offers valet parking and you drop/pickup your car in a covered building so that is really nice in snow, rain and cold. Then you take a shuttle to your gate which runs every 5-7 minutes and takes about 10 minutes.
From Lot E though you take the tram which also drops you off at the gate so it is pretty much a wash convenience wise for the start of the trip.
On the way home though, you have to walk a considerable distance to the shuttle pickup vs a quick walk from the baggage claim to the official tram.
Would I Use them Again?
For most of my travel, taking a taxi is simply faster and easier.
However compared to the economy parking options at O'Hare, if I was less resistant to cold temperatures, being rained on, or had kids then suddenly the benefits of the Parking Spot become very nice. When you add in the benefits such as cold water, newspaper, car warmed up, and the option to have your car detailed through their Car Care option, suddenly the equation changes.
This is especially true for longer trips when the $5.05 per day difference adds up.