River Surfing on Germany's Isar River
We make money from support by sponsors, advertisers, and affiliate partners. As an Amazon Associate I earn from qualifying purchases.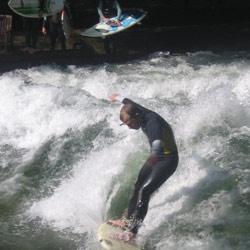 Munich, Germany is known for its beer. This year was no exception as millions of visitors flocked to Munich for the 200th Anniversary of Oktoberfest .  If you are able to drag your self away from the frenzy and excitement of beer tents and dirndls, Munich has another Mancation worthy attraction – Surfing!
I work for Ludus Tours and every year in September I head to Germany for my favorite event: Oktoberfest.  While the insanity of the beer tents is the major draw, nothing beats seeing a client's face when they hear there is world-class surfing in Munich – they laugh and think we are kidding. But this is no joke, landlocked Germany has amazing surfing.
The English Garden in Munich is a large public park in the centre of the city.  Even bigger then NYC's Central Park, the English Garden provides an oasis away from the none-stop activity of Oktoberfest.  The Garden's main attraction is not the near-by Haus der Kunst art museum, the famous Chinese Tower beer garden or even the well-established nudists community that lines the river, it is the surfers! Of course it wouldn't be Germany, or Ludus Tours' style if we didn't stop for a beer at the beer garden, but it is the surfers that cause locals and tourists alike to stop and stare.
A small man-made arm of the Isar river, known as the Eisbach, runs through the English Garden.  In the early 1970's concrete slabs were put into the mouth of the river to break up the strong current.  Due the to shallow depth of the river this inadvertently caused the famous standing surf wave seen today.  Over the years surfers have worked to improve the wave's break by attaching other foreign objects like submerged planks.
River surfing is essentially opposite to ocean surfing.  Instead of fighting to move forward on a wave, a river surfer must fight going backwards.
I have visited the river surfers on gorgeous sunny and miserable rainy days and without question the banks are always lined with surfers eagerly waiting their turn.  Locals have assured me that even during the winter months, when the riverbank is covered in snow, everyday there are surfers braving the ice-cold temperatures to catch that perfect wave.
This wave is not for beginners.  One particular local told me that because the river is so dangerous the regulars will not let novices surf.  If someone gets hurt, the city and police crack down and ruin everyone's fun.  River surfing in Munich has only been 'legal', rather than just ignored by authorities, for a couple of months.  A few years ago a man died when he hit his hard taking a bad spill. Still, eager beginners often arrive at the river at 5 am to avoid the wrath of experienced regulars.
Want to check it out? Join Ludus Tours next year in September when we head to Munich for Oktoberfest!
Prost! Auf Wiedersehen.
About the author: Victoria Whyte works for Ludus Tours, as the PR and Social Media Manager. She is based out of Vancouver, Canada.  While she enjoys the other events, she waits patiently every year for September when her favorite event, Oktoberfest, takes place.
About Ludus Tours:  Ludus Tours is a tour company that specializes in packages and hospitality at the world's biggest cultural and sporting events like the Olympics, World Cup, Running of the Bulls and Austin F1 among others. The Ludus Oktoberfest package includes: private airport transport, 3 or 4 star accommodation within walking distance of the Oktoberfest grounds, Bavarian welcome dinner (including beer and food), daily breakfast, one Beertent reservation (including beer and food), a day trip to Neuschwanstein Castle, a bike tour of Munich, and Ludus guide assistance throughout the stay.
Written by

Ludus Tours

Page Views: 6212