While we are privileged to be able to play with some amazing cars, sometimes it is good to remember that the best car for a mancation is the one sitting in your garage. Yes, the one that is as fun to drive as it is practical and affordable for everyday use. On our recent trip to the Biltmore Estate in Asheville we asked around for a car that was 1) fun to drive 2) as fuel efficient as possible and 3) could perform equally well on the plains of Indiana as the mountains of North Carolina.
The car we picked was the Nissan Altima and Nissan was nice enough to provide us with one to test out.
Just the Facts:
The 2010 Nissan Altima 2.5L is rated at 32 mpg highway and 23 mpg city. According to the on board computer, we averaged close to 40 mpg on the plains of Indiana, and even in the mountains we were solidly in the low 30's. Our average fuel economy for the trip was 34 mpg! It is always a nice thing when a vehicle exceeds the rating.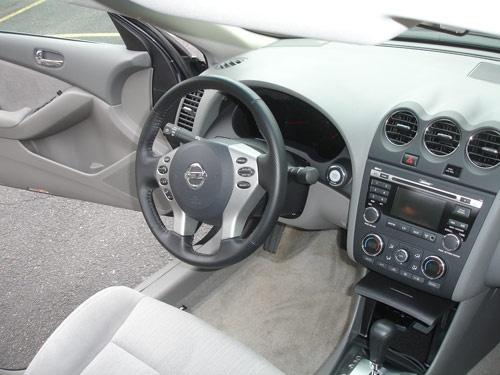 The interior of the Altima is pretty standard as far as functions, but seemed to have more luxury and sporty feel than your typical sedan. I realy liked the fact that it had tons of cubby holes to store stuff, including a multi-function center console where you could store a map or phone in the top part and bulkier items (like my AC converter) in the deeper compartment.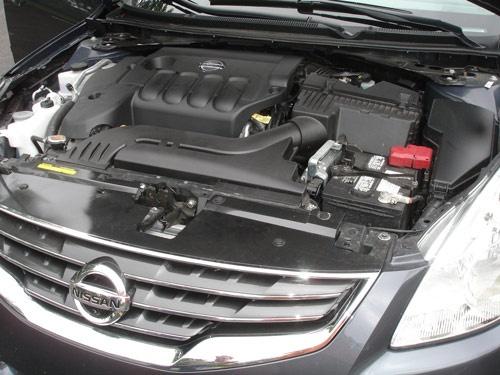 The Altima that we drove was the 2.5 S. With <how many> horse power, it was just fine for typical "around town" performance, but the overall look and feel of the vehicle made me want just a bit more power to match how I felt while driving. Luckily there is a 3.5 version with 270 hp and also a coup that is a bit more sporty as well.
Fair Oaks Farms Dairy
Our trip began late at night after work, on road trips heading south, one of my favorite stopping points is Fair Oaks Farms. This one of the largest commercial farms in the United States with 30,000 dairy cows on 17,000 acres.
While their gas station is typically overpriced compared to others around, I really don't care. Their ice cream is amazing. Simply put, it is worth the few extra pennies per gallon.
If you have time, they also do educational tours and have a bunch of other dairy products in the main building.
It's late though and so we need to continue heading south!
Indianapolis
We finally arrived at our hotel just south of Indianapolis about 3 a.m. local time. This was my first experience at a Best Western in more than 10 years. I am not sure if the brand has improved, or if this was an anomaly but it was super clean and while spartan it was perfect for a quick night's rest. The warm breakfast the next morning was good as well, but I had to augment it with one of my Bear Naked fruit and nut bars.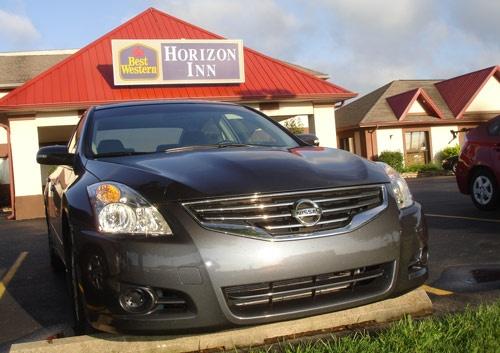 North Carolina Mountains
This is where I was expecting the amazing gas mileage to disappear and to have the car struggle up the hills. Luckily I was disappointed. The Altima handled the curves and grades like a champ. Even in the rain when I pushed it a little bit, the car felt sure footed.
While it would have been nice to have a little extra engine power, Nissan does offer a 3.5 liter version of the Altima that should eliminate that concern.
Asheville and the Biltmore Estate
Asheville recently became "Beer City USA" having taken the title away from Portland. One of the jewels of Asheville is the famous Biltmore Estate, a mancation destination full of awesome things for guys - fly fishing, Land Rover Off-road school, rafting, hiking, bike trails etc.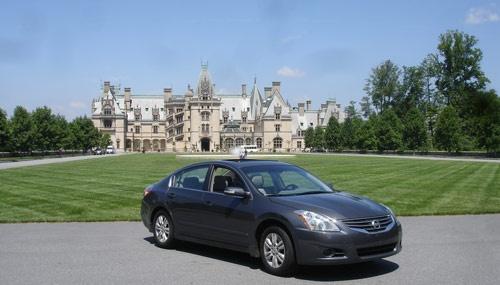 While there is tons of cool stuff at Biltmore, the town of Asheville has even more great stuff - brewery tours, a great music scene (Orange Peel is a must visit!), and of course, the LaZoom tour where you will see the "other side" of Asheville, including naughty nuns, ghosts, fortune tellers and more.
Asheville also offers some of the BEST food anywhere in the country. While it might not be as fancy as a 5 star restaurant in NYC, this food is fresh, and the restaurants know just how to prepare it. A great example of this would be the Tupelo Honey Cafe, where it took the waitress almost 5 min just to describe my omelet. It wasn't that she was slow, it was just that she knew what farm each ingredient came from. HOLY CRAP! That is just a completely different level of being a foodie than I had ever experienced on any of my previous trips.
Unfortunately, as much as I love this fantastic city set in the mountains of North Carolina, all great things must come to an end. So we packed up our bags and got back into the Altima for our trip back to Chicago.
Don't worry, we still have some more stops on the way home!
Frankfort KY - Final Resting Place of Daniel Boone
Frankfort Kentucky may not be a destination that is at the top of your list. However, Frankfort is home to Daniel Boone's Grave, Buffalo Trace distillery, and only minutes from Four Roses and Wild Turkey distilleries.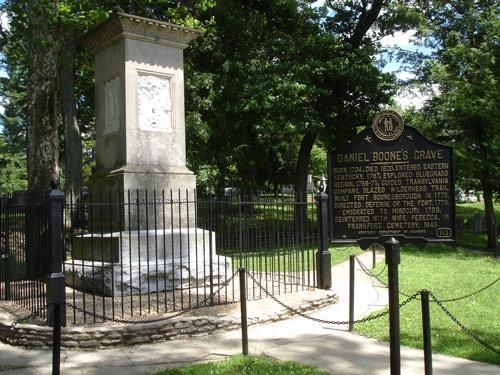 Four Roses Distillery
Four Roses is a hidden gem (at least to us US bourbon drinkers). Most of its product is designed for export to Germany and Japan, though it is also the bourbon used in Crown Royal. They have a great distillery tour and lots of really friendly staff.
While it isn't the easiest product to find, Four Roses is currently my favorite distillery. Between their Small Batch and Single Barrel they have two of the best tasting bourbons on the market. This sentiment was confirmed this evening when I held a mini tasting at a friend's house and he came to the same conclusion.
My only debate about Four Roses' bourbon is trying to figure out which one I like better from one day to the next. Tonight I prefered the Small Batch though!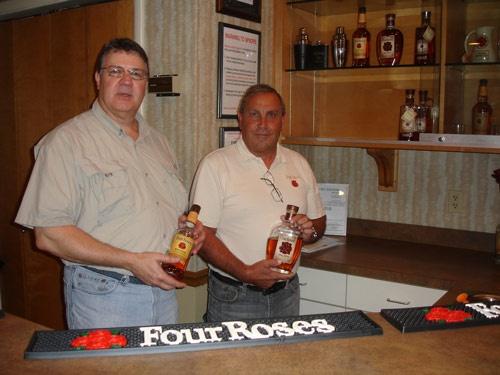 Buffalo Trace Distillery
While Four Roses was a fantastic example of a smaller, craft distillery, Buffalo Trace is an example of an industrial distillery spanning many many buildings and a product line ranging from Rain Vodka to a whole slew of different brands of bourbon.
I have to say though that they offer a fantastic tour that will give you a great understanding for both the history of the bourbon industry as well as that of Buffalo Trace itself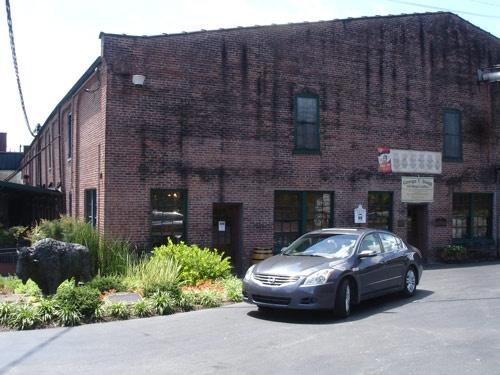 Returning Home to Traffic in Chicago
The rest of our trip went pretty quickly until we approached Chicago and the inevitable traffic that comes with this wonderful city. An auto reviewer once said that the true measure of a great car isn't how much fun you can have with it on an open road, but how do you feel just sitting in it in traffic.
The answer luckily for the Altima was pretty good!
Unlike some of the more exotic or luxurious cars that we have tried recently, the Altima is a car that pretty much anyone can afford and is as practical for a short trip to the store as it is for a nice long road trip with the guys.