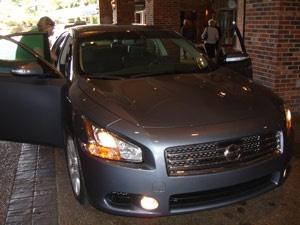 On our road trip from Chicago to Nashville, we were fortunate to have Nissan provide a fantastic car for the journey.
The 2010 Nissan Maxima is being promoted as the Return of the 4-Door Sports Car, and it is a great car for any guy who is looking for a car that is luxurious enough to impress any client, looks sexy enough to impress the ladies, and has enough power and sportiness to make it a heck of a lot of fun to drive!
Our route was pretty simple and involved a lot of highway driving, but we also took the Maxima around town, and on some country roads in Dayton, OH as well to test the handling.
Chicago to Nashville:
This was the longest leg of our trip and was a good test of the long drive comfort of the 2010 Maxima. We were in the car for approximately 8-hours and as the primary driver I have to say that the Maxima - unlike other "cars" stayed very comfortable. I think this was in large part due to the support below my legs that I haven't experienced in other cars and is why I normally prefer to drive vans or trucks for long drives. Our journey began at about 5 a.m. and the Maxima handled Chicago commuter traffic like a champ - accelerating when I needed to jump from one lane to the next and breaking promptly when needed too.
On the highway, the Maxima performed well but seemed to want to go faster than the posted limits. The Maxima was surprisingly quiet and unlike my PT Cruiser or Equinox, you could hardly tell by vibration or sound if you were going to fast.  The only disapointment was that the Maxima didn't reach its posted 26 MPG highway - even on flat roads, at 70 MPH, with cruise control, and little traffic. The onboard computer only reported an average of about 24 MPG.
Our route took us south on I-57 to I-24 and we stopped at Metropolis, the home of Superman! After seeing what is probably the largest statue of Superman ever made and having a big bowl of Dippin' Dots at the Planet's Largest Dippin' Dots store, it was time to head on out and continue our trip to Nashville.
Exploring Nashville:
Once in Nashville, we got a chance to drive around the streets and up and down some hills. Once again, the Maxima performed very well and it looked very sharp sitting next to BMW's and Mercedes at the valet parking area of the Gaylord Opryland Hotel.
Nashville to Dayton:

While on the trip down, we didn't get to spend much time looking at the sites (and frankly, Southern Illinois is sort of boring!), on the road back there were tons of opportunities for things that would make up a fantastic guys weekend or mancation road trip. In fact, I am going to declare that I-65 in Kentucky is the official Mancation Highway. If you are a guy and can't find something cool on this road then you must be sleeping.
On the road down to Nashville, we mostly listened to a variety of musical channels from Hair Nation, 70's, and 80's on Sirius XM radio as well as MP3s we brought along on USB drive that plugged right into the Maxima. On the way back though, it was Outlaw Country and The Highway. Thanks to our new friends at the Grand Ole Opry, we've Gone Country!
The sound system on the Maxima was fantastic and it really helped complete the driving experience of a mancation road trip.
Bowling Green, KY
Home of the Corvette, Bowling Green's Exit 28 is also home of the National Corvette Museum.
Mammoth Cave National Park, KY
On a longer trip, Mammoth Cave would have been another stop on our road back to Chicago. If you haven't been here, Mammoth Cave National Park offers a ton of opportunities for fun. From cave tours to hiking above ground, and camping, there is tons of great stuff here. Sadly this will have to wait till next time to see more than just the sign on the road.
Bardstown, KY
We visited Bardstown, last month for the Kentucky Bourbon Festival, but the Bardstown area is always a great stop if you are wanting to visit bourbon distilleries like Maker's Mark and Jim Beam, explore the KY Railway Museum,
Louisville, KY
Once again, we visited Louisville last month but if you are planning a road trip along I-65, this is a great place to visit as well. Louisville is the home to the Urban Bourbon Trail, Louisville Slugger Museum, and the Muhammad Ali Center.
Once again, through this leg of the trip, the Maxima performed very well, including traffic, bumps in the construction zones, and accelerating quickly up hills and around bends.Another thing I liked about the Maxima was that its seats reclined almost entirely flat so it made for a great car to take a nap in!
Dayton to Chicago:
As the last leg of our trip, it was time to start making our list of things we loved about the new 2010 Maxima that we unfortunately would have to return shortly.
Trunk Space -
Unlike your typical sports car, the 2010 Nissan Maxima has plenty of room to hold bags for four guys and even space for a cooler full of beer!
Reclining Seats -
While this is really only going to work if there are only two guys on a trip (the rear seat pretty much has to be empty), the fact that both the passenger and driver side seats reclined all the way was a very nice feature.
Hands Free Mobile Phone System -
While this was great for chatting with buddies while driving (or calling asking for directions), it also means that when your wife calls to ask how you are doing, where you are, or when you are coming home that all the guys in the car will also hear her nag you :)
Rear Seats -
While the front seats were fantastic - even for a big guy like me, the headroom in the rear was a little cramped for taller guys. However the rear seats were still pretty comfortable and had a nice arm rest with drink holders.
Conclusion and Overview of the 2010 Maxima -
This was a great car that reminded me a lot of the things I like about my parent's Toyota Avalon but in a spiffier, younger, more fun package that combines the best elements of a luxury car and a sports car!