Some road trips are short and some are cross country. In those cases you need something special - a car that is smooth to drive for several hours a time, has super comfortable seats, and plenty of room to spread out and relax (or even sleep over night).
When planning for a recent trip from Chicago to New Orleans, I looked around and considered a variety of vehicles but none would do. Full size sedans get uncomfortable after a few hours of driving, most SUV's don't have the ability sack out in the back and the big ones tend to be bulky to drive and hard to fit into urban parking spaces.
So, after talking with some friends (who all said "mini vans aren't cool!") and a few brand reps who said "you really want to try a mini van?" I ended up getting a loaner Chrysler Town & Country. This is the descendant of the Plymouth Voyager that my parents used to take me and my sister on cross country road trips with as a kid, but aside from that heritage this is nothing like that road machine of 30 years ago.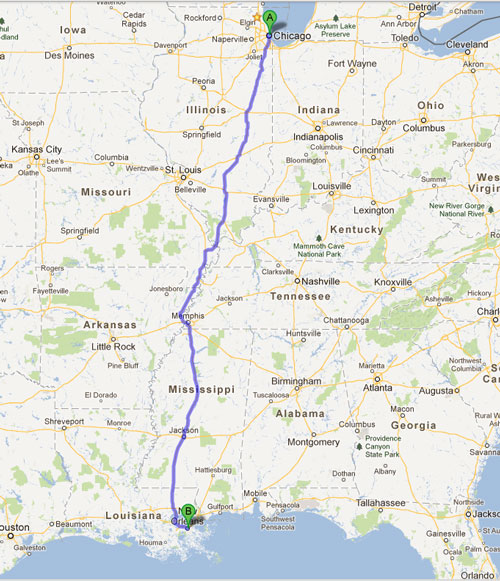 Today's Chrysler Town & Country is the absolute perfect vehicle for long road trips - just as it is for hauling kids around town. Our trip was just under 14 hours and for a trip like that you need something special. We need to get over the "but it's a mini van!" nonsense and look at what it really is and what it can offer in comparison to today's top SUVs.
The version we used for this Road Trip review was the 2013 Chrysler Town & Country Limited. With a Starting price just over $40,000, it is the least expensive of its similarly equipped peers, including the Nissan Quest LA, Honda Odyssey Touring, and Toyota Sienna Limited.
Despite this, it has the most horsepower at 283, though that leads to a slight drop in Fuel Economy, 17/21 compared to Honda's leading 19/23 (with only 248 hp).
However, where the Town & Country begins to pull away is things like the fact that it has luxury features for more than just the driver. This includes: heated rear seats, 8-way front passenger seat direction control, power height adjustment, and cushion tilt, where others may only offer manual adjustments or not at all. Chrysler's entertainment system also offers Blue-ray and digital media support compared to others that only offer DVD.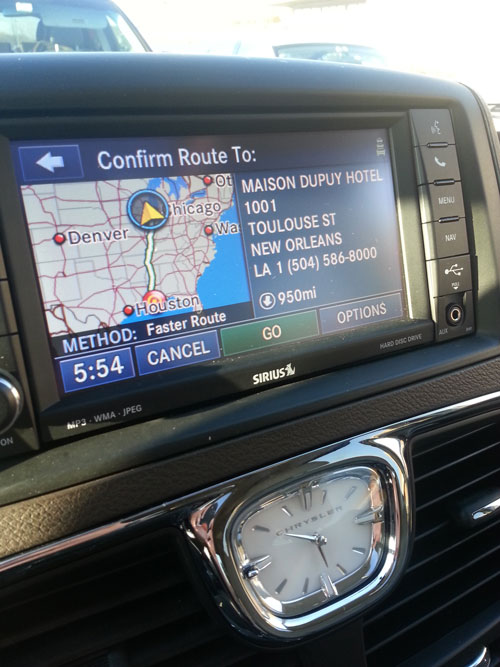 Comfort:
Like an SUV, the seats sit up like a chair so a good posture is maintained and the front seats especially cradle your body in a way that allows you to drive comfortably for hours at a time. With the leather interior it also looks and feels as luxurious as any SUV I have had the opportunity to demo.
Beyond seats though, it was astonishing how wel designed the space was with plenty of cup holders where you needed them, places to store extra bottles of water, and cubbys to hide misc. stuff from our cameras to bags of chips in the center console.
Configuration:
While many cars offer "folding seats" these seats somehow fold away completely. The rear seats even fold down automatically which was pretty darn cool.
In preparation for our trip, we actually lowered the middle seats and had almost infinite leg room to spread out, while the other person drove. This still left plenty of space in the trunk for our bags - though the cooler rode with us in the middle.
Technology:
Both rows of seats have separate video screens so in theory you could watch two different movies. In the back, there was even a built in flashlight.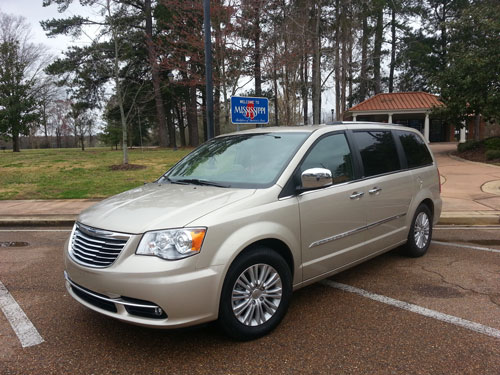 Additionally, the navigation and hands free systems worked just as you would expect from a luxury SUV.
Style:
Ok guys, YES it is still a mini van but it is the coolest, most luxurious mini van you can buy. Compared to cross-over offerings by companies like Buick (Enclave) and Lincoln (MKT), the Town & Country felt just as stylish, the interior was just as posh, and it was several thousands of dollars cheaper for comparably equipped vehicles.
Power and Handling:
With 283 horsepower it leads its class and this gives the Town & Country the feeling of "get up and go" that I personally crave. I don't want to screw around leisurely driving around town - I want to GET THERE. Similarly, the car handles extremely well for admittedly a pretty large vehicle. Despite its size it turned, cornered, and even parked in cramped parking spaces extremely well.
Not only did it handle well on the highway after 14 hours of non-stop driving, but upon arrival in New Orleans it also handled cobble stone streets.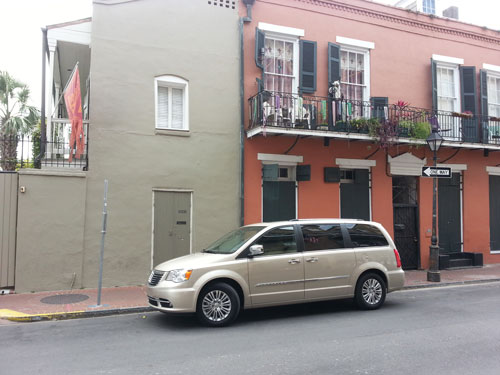 So, what can I say except that if you haven't checked out a mini van in a while and think it is just for "soccer moms" then you should take another look. This class of car and in particular the Chrysler Town & Country Limited that we reviewed here, has come a long way in 30 years.
Yes - it can be cool. Just swap out that SpongeBob DVD and throw in a copy of Predator, kick back, relax and enjoy the road trip!