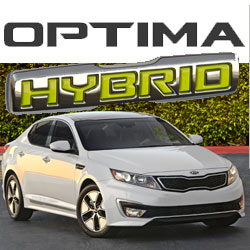 Kia has been very good to me this summer and provided me with a fantastic Kia Optima Hybrid to test out a few weeks ago for another of our Road Trip Reviews.
This was the first time I have driven a hybrid, so it was a bit of a learning experience, but the car itself is TOP NOTCH.
This review was delayed a bit because I was trying to figure out how to best write it. On one hand I ABSOLUTELY LOVED the Kia Optima. It is a fantastic car - sexy as hell, comfortable, and priced right. My wife even loved it and received one woman's words of lust for the car while shopping, "that car looks great, how do you like it? I am stuck in this mom van ..."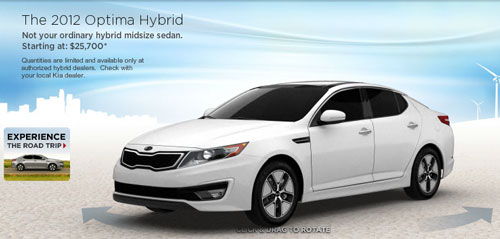 Hybrids Drive Differently!
On the other hand, initially, I HATED driving the car. The car seemed to lag off the line, it was jerky between where the electric and gas engines kicked in, and overall while it had plenty of power at the top end, the bottom (90% of driving in the city or suburbs) just wasn't satisfying. So, I talked with my friends at Kia as well as friends of mine who are more "car buffs" than I and said what's gives? The answer was pretty simple - hybrid cars drive differently.
The contact at Kia explained that typically the consumer for a hybrid model is more concerned with fuel economy than they are with a satisfying roar of the engine and speed off the line at a traffic light. They also pointed me to the "Hybrid Road Trip" on the Kia website that helps explain more about the hybrid. That site also included tips about how to maximize fuel economy like cleaning out the trunk, keeping the car clean etc.
My friends who drive hybrids confirmed this and also that there is typically a "transition" between electric motor and the gas engine kicking in. Their solutions all were to "drive it for a bit and you'll get used to it".
While I only had a week to drive the Optima, their reasoning made sense and ultimately it was accurate. By the end of the week it was "A OK" and the only negative aspect of the experience was resolved.
The good news though is if you DO want a traditional engine and a quick ride, Kia offers the Kia Optimia SX and SXL trim levels with a 2.0L 274 hp at 6,000 rpm GDI model with a 6-speed "Sportmatic Overdrive" to keep you happy.
In comparison, the hybrid model features a 206 hp engine at 6,000 rpm - that isn't bad either and frankly after the initial acceleration with electric the car was a blast to drive. On the highway it was super smooth and had no trouble with passing, though zooming into traffic or crossing a road from a stand-still (i.e. leaving a gas station) does take a bit more planning because the acceleration is not instant.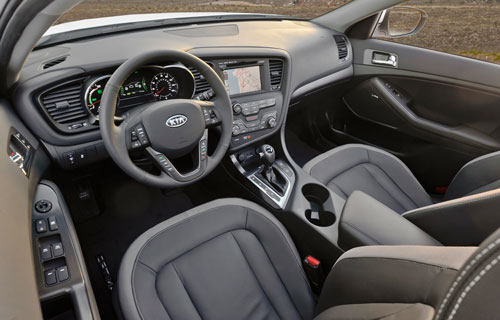 One thing that you will notice first about the Optima is that the styling is fantastic. It has a sort of modern-chic-sport look with a touch of luxury.
The car is absolutely not for people who want pretentious luxury, but if you are looking for luxury in an affordable package then this is a great option for you to consider.The version we tested had headed and cooled front leather seats, a panoramic sunroof, power folding mirrors, navigation, hands free etc.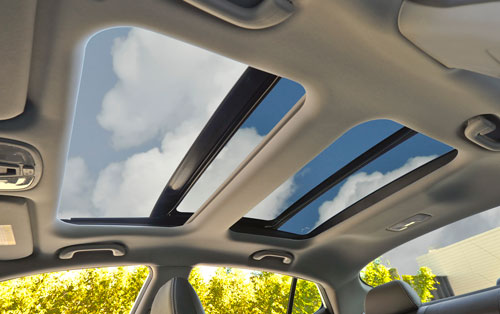 The panoramic sunroof was one of the nice features that we enjoyed during our Road Trip Review. Natural light is a really nice thing to have and while driving around Chicago, it was nice that our passengers in the rear seats were able to look UP and see the tops of the buildings as well as OUT the side.
Bottom Line to our Review:
With a fuel economy rating of 35/40 for the hybrid and 24/35 (LX/EX) and 22/34 (SX/SXL), you do get a considerable bump in fuel economy in the city by going with the hybrid Optima. That mileage difference was noticeable during our test drive as well. However, it all comes down to your personal driving style and what's important to you, your family, your pocketbook, and ultimately your feelings on environmental stewardship.
If you are looking for a hybrid sedan I unconditionally encourage you to put the Kia Optima Hybrid on your shopping list. It is a great car featuring tremendous visual appeal and comfort - with the only major issue being personal preference on hybrid vs standard engines.
For those of you who's idea of fun is sport-style driving, I would absolutely put the Kia Optima on your shopping list as well. While I didn't have an opportunity to review that model personally, I can only assume that the comfort, styling, and technology that I loved in the hybrid model will stay the same and give you a fantastic petrol-powered driving experience that will make your friends and family jealous of your awesome new car!