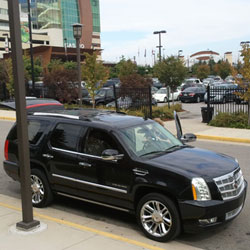 For over 100 years, the name Cadillac has brought to mind images of over the top luxury and a car packed with gadgets that are useful - and others that you didn't know you ever needed (cup cooler / heater???). In many ways, this makes a perfect brand to consider when thinking about what to take with you on a mancation road trip.
The awesome folks at GM let me borrow an Escalade for a week when we went down to St Louis last fall - here are my thoughts on the adventure!
When they told me that the car for this trip would be an Escalade I was immediately excited. I have had the pleasure of working with a variety of other brands and models, but never had the opportunity to experience what I was told is the epitome of luxury. From the outside, the Escalade is a beast of a vehical - it is HUGE, gorgeous, and immediately makes you understand that this is not "just an SUV, This is a Caddy!"

Truth be told though, the Escalade isn't a perfect car for everyone, but for a guys weekend where you want a beast of a car that makes you feel like King of the Road, and is packed to the gills with gadgets it is about as good as you can get.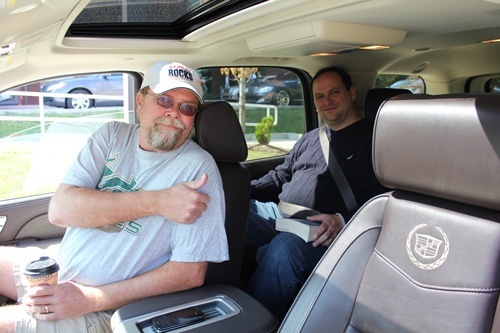 Some quick Escalade details from Cadillac:
"The 2012 Cadillac Escalade. It is the standard by which all other luxury SUVs are measured, thanks to its luxurious interior, impressive technology and powerful presence. The stunning interior, trimmed in elegant brushed aluminum accents and polished chrome, accommodates up to 8 adults comfortably. Luxurious details include supple leather-trimmed, 14-way power-adjustable front seats with memory settings and elegant French-stitched seams, a premium 10-speaker Bose® 5.1 surround sound system and a leather- and wood-trimmed steering wheel that's power-adjustable. A heated steering wheel option is available.
With luxury also comes commanding power in the form of a 6.2L 403 HP V8 engine mated to a 6-speed automatic transmission. A comfortable ride is ensured by available Magnetic Ride Control—a class-exclusive suspension system. It incorporates computer-controlled real-time damping that reacts in the blink of an eye to changing road conditions. Plus, Escalade is available with All-Wheel Drive (AWD) to help you power through some of the worst road conditions with confidence. When luxurious comfort and spaciousness are required, the 2012 Escalade is the one."
A tour of the Escalade: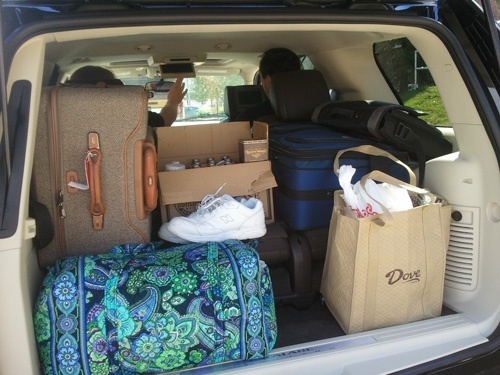 As you can see, the Escalade has plenty of room for everything ranging from suitcases to cases of beer. It even has space for three guys (and my wife - yes, Heather from Chick Vacations tagged along (that is her Vera bag - NOT mine :) ), but don't worry, we dropped her off in St Louis and she enjoyed a weekend of quiet in the hotel while we explored the city!)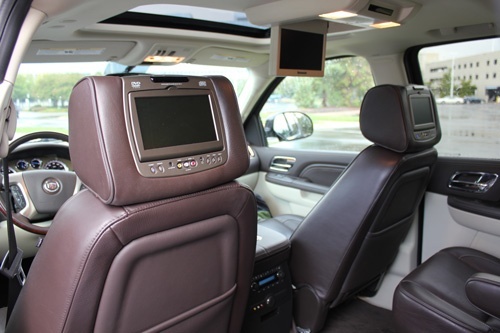 If you are concerned that there might be a fight over who gets control of the video screens, don't worry - the Escalade is LOADED with them. In theory, you could even have a System Link game of Halo in the back while you are traveling to your destination - WOOT!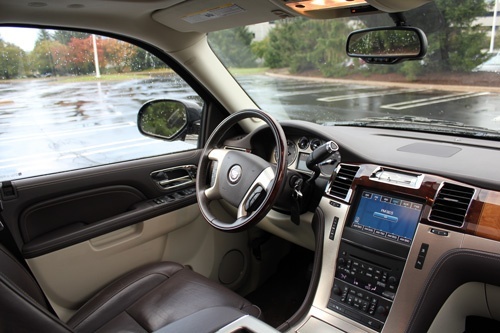 As you can already see from the other shots, the Escalade is a gorgous vehical inside - as well as out. It is one thing for OTHER PEOPLE to think you are King of the Road ... but it is an entirely better thing to feel like it while sitting behind the wheel. My only concern though was that while the seats are AMAZING for short distances, the way it sits made my legs tired for a long drive with no stops. Eventually I played with the plethora of controls and managed to angle my seat so it was better, but that's about the only negative thing I can think of :)
One of the other really nice things about Cadillac (and most of GM's higher-end cars now) is On Star.
While I LOVE Ford's Sync, On Star is just so much more simple. It is easy as pressing a button and your own personal concierge is available to do anything from finding directions to helping you locate a place to eat. In the "Navigation War" it all comes down to style and preferences and On Star "fits" a luxury vehicle very well.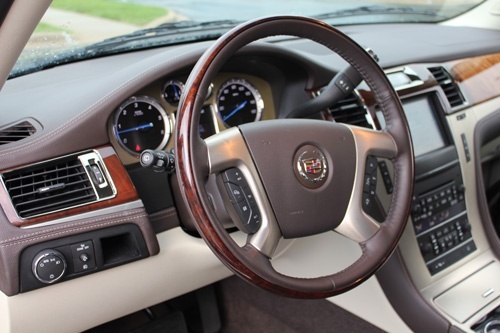 Here is a closeup of the steering wheel which is fairly standard in layout except that you can once again see the extra attention to detail with the wood-grain trim and leather wrapping.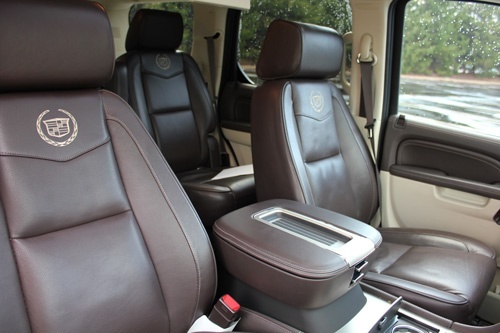 The Cadillac logo itself makes things feel more luxurious, and this held true to the seats as well. When you step into the car you just know that it is a Cadillac and that you are about to have a great experience.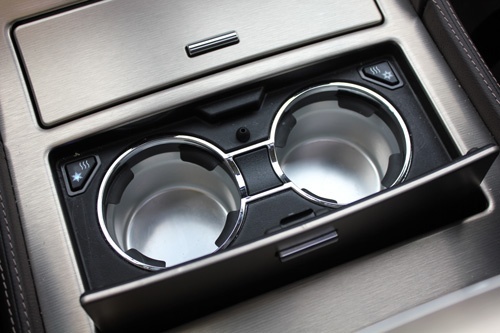 One of the great things about Cadillac is that they find ways to cram gadgets into spots that might not be that practical or effective but it is DAMN COOL to have. After all, you ARE the King and you deserve the best. One example of this is the cup warmer / cooler. For me, it had virtually no impact because with hot drinks the insulated cup that was designed to keep the contents warmed also likely mitigated any benefits and similarly, with a 32 oz cup of pop only the bottom would be kept cold. Regardless though it is a cool feature :)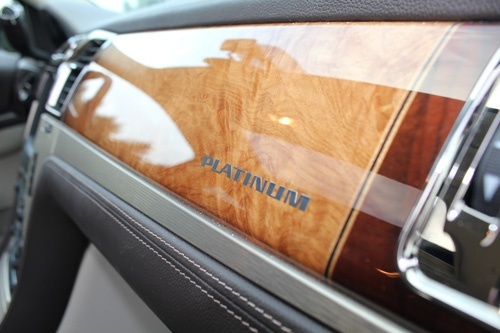 The version we had a chance to review was the Escalade Platinum. This included a variety of features like the above mentioned cup holders, 22" chromed alloy wheels, lowered grille, full leather seats, etc.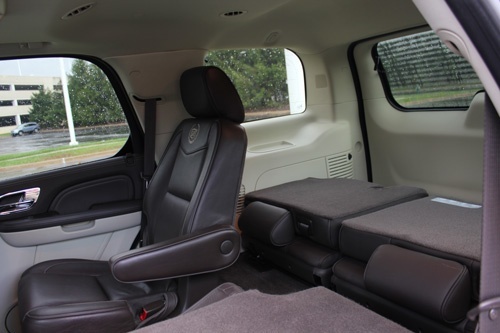 As you could see before with bags packed, the Escalade has tons of room - or you can fold the seats up and have room for 6 guys. However, with the seats up, there was almost ZERO room for bags in the back. If you need six seats PLUS cargo room, Cadillac makes an ESV version that is longer.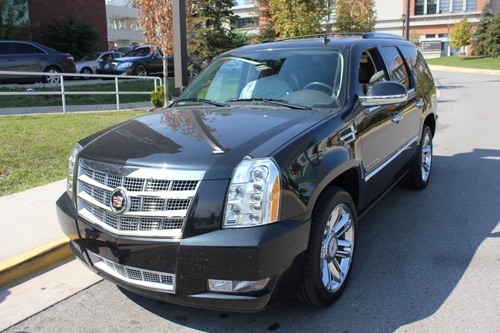 We had a great time driving the Escalade around St. Louis. It handled wonderfully on the highway with it's big powerful 408 hp V8, and it also was more maneuverable than expected in city streets.