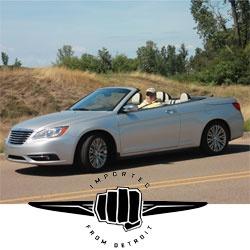 In Chicago there is unfortunately a very small window of time that we can enjoy the full value of a convertible, so it had better be a great one to pique my interest and it needs to be as practical as it is fun to drive.
Does the Chrysler 200 match up? Let's find out ...
The short answer is that yes - with the optional hard-top it is a practical car, AND it is fun to drive, but there were things I loved and things I was disappointed in too so my opinion is somewhat mixed.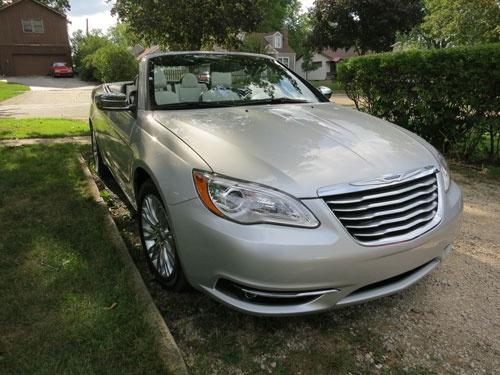 Priced at $35,485, the Chrysler 200 Convertible Limited that we tested gets 19 city, 29 highway mileage and features a V-6 3.6 Liter Pentasar engine that cranks out 283 horses.
If you are looking for a full-sized convertible, one that will comfortably fit four adults, there really aren't many options out there. Most convertibles are designed to be toys to be enjoyed by no more than two people. The 200 is the exception and while it is never easy getting into the back seat of a coup, there was enough leg room that it was a legitimate back seat if you need to bring four people on your trip.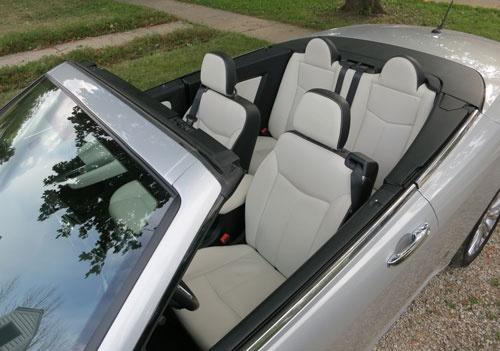 Unquestionably one of the first things anyone notices when looking at the car is that it is super stylish with plenty of chrome and two-toned leather interior. While the 200 is spiritually close to the Sebring convertible of the past, it is clear that Chrysler is aiming for an older or at least more sophisticated consumer. From the marketing to the look and feel of the car, it is evident that the 200 is trying to compete with Mercedes and other imports but with a distinctly American feel.
Honestly I don't want a Mercedes or a BMW. What I want is a great American car and the 200 comes close but it isn't perfect.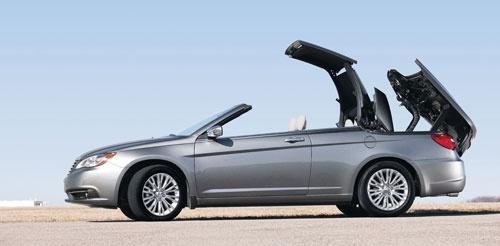 One of the best features of the 200 convertible is the optional hard top. I was suspect of this initially as I have only experienced the standard rag tops in the past.
Shockingly though, the hard top was super smooth in going up and down and when locked in place the car felt like I was driving a normal car - wind noise that one normally expects with a convertible was gone too.
Unfortunately, like with any convertible, you have to store the top somewhere and with the top down there wasn't much room in the trunk.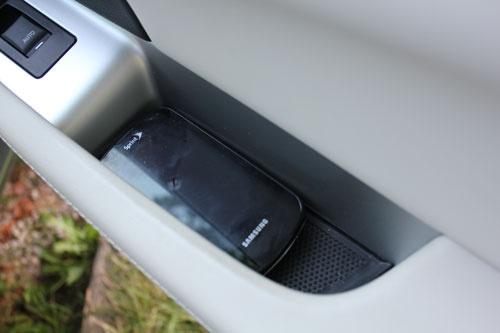 The things that the Chrysler 200 did well, it did REALLY WELL. One example of this was the extra large arm rest pockets.
While many cars I have tested have space I can fit my phone in sideways, the 200 actually allowed me to lay it in flat!
Another thing that the 200 did really well was the driver's console. Initially I cursed at it because I couldn't find basic things - until my father-in-law told me that Chrysler puts buttons on the BACK of the steering wheel. Then things made perfect sense and the experience was fantastic.
While some luxury cars have buttons everywhere, the Chrysler 200 was refined and elegant. Similarly, the hands-free system while not flashy worked extremely well and connected to my phone extremely easily.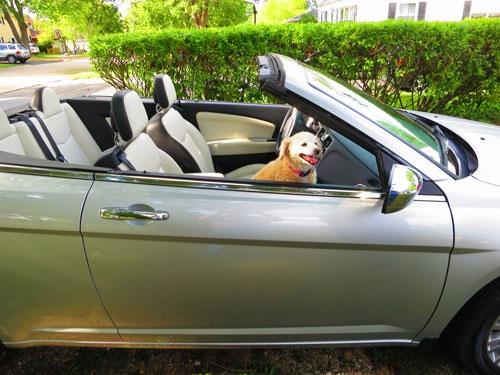 So now that we did a quick tour of the car, it's time to take a Road Trip Review!
Niki is ready to head off on our trip to explore Chicago at night, then over to St. Joseph Michigan for some BBQ and beach time, then back to Lake Geneva, WI to see if the 200 stands up when surrounded by a veritable zoo of high-end imports (from places other than Detroit!).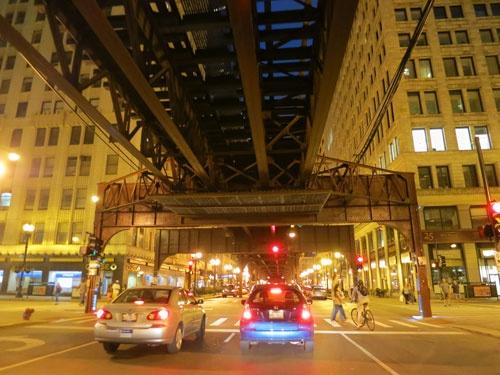 While exploring Chicago at night, it was awesome being able to drive around with the top down and take photos of the buildings without a roof being in the way.
The 200 handled well in the city, with plenty of acceleration (and brakes) to navigate intersections and avoid pedestrians.
The next day, it was off to the beach in St. Joseph, MI and that means a stop at the WORLD FAMOUS Lark and Son BBQ.
While there, the 200 got some nice compliments and we managed not to spill any BBQ on the white seats!
While driving to St. Joe, we were able to test the 200 at highway speeds (70+) with the top down and with the hard top up. Once again the with the top up, the car felt as if it was a non-convertible both in terms of road noise and general comfort.
With the top down, the car was not "uncomfortable" but the farther above 60 we got the less comfortable it was and certainly that also necessitated that we strap down anything loose so it didn't blow away.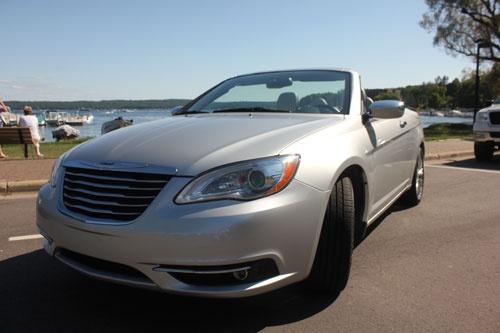 Next it was off to Lake Geneva, WI. On the straight country roads around the Wisconsin border, we were able to test the acceleration and handling of the car on quick turns and starts / stops from stop signs.
This is the one area where the 200 suffered. While there was PLENTY of engine, it torqued strongly if you floored it and quick turns also felt uncomfortable. The simple answer is "well don't do that" but for a car that looks and feels like it should have "Detroit Muscle" with "Import Luxury" it was missing something when it came to handling.
Visually though the car looks competitive when sitting next to Mercedes E-class convertibles and costs half the price! But the performance handling pulled me back and and made me remember that this isn't a Lexus, Infiniti, or Mercedes.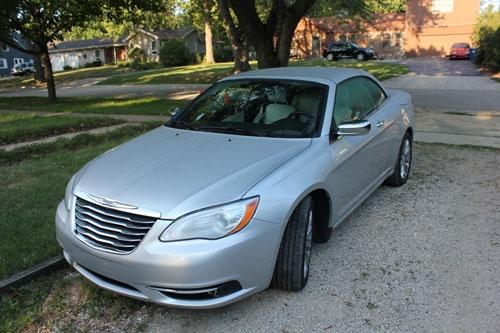 If Chrysler was able to tighten the handling and maybe tweak the 200 convertible to be more "sporty" vs just raw muscle mashed with luxury, this car would be a real winner. That isn't to say that the car was bad - for 90% of the driving we did it performed wonderfully and the car "felt" REALLY GOOD. It's just that for almost $40,000 and based on how sweet the car looks I was hoping for performance handling that was as refined as the car looked and felt otherwise.
Even so, the Chrysler 200 is a solid option if you are looking for a convertible, but it needs to be family friendly and you live in an area where you need to have a "REAL CAR" most of the year.