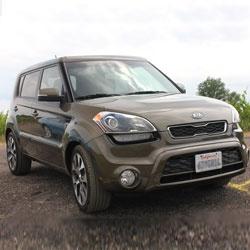 Hamsters, what hamsters? The Kia Soul has been one of my favorite cars ever since the amazing commercials came out. In fact, it is also one of the few cars that I would realistically want to AND be able to buy for my own personal use. As such, when Kia asked me to try one for a review I JUMPED at the opportunity.
While it is primarily presented as an "urban" vehicle designed to take you and your friends from club to club, we found that the Soul is actually a great road trip choice also - while still being fun, comfortable, and practical.
The 2012 Kia Soul is part compact sport wagon, part mini-van, and ultimately the car is something completely unique and super fun both to look at as well as drive.
The Soul ! that we drove, featured a 164-hp engine, delivering a peppy ride around town and a smooth ride on the highway too. I was comfortably able to take the Soul above 100 mph and despite the boxy shape it fared extremely well at high speeds and even with some light winds.
With a mileage rating of 26 City, 34 Highway, the Soul is also pretty respectable with regards to fuel economy for a car like this, though a larger gas tank would be nice for longer trips. The Soul features a 12.7 gallon tank.
At just under $20,000, for the ! and a base that starts at $13,900, the Soul is certainly a fantastic value too.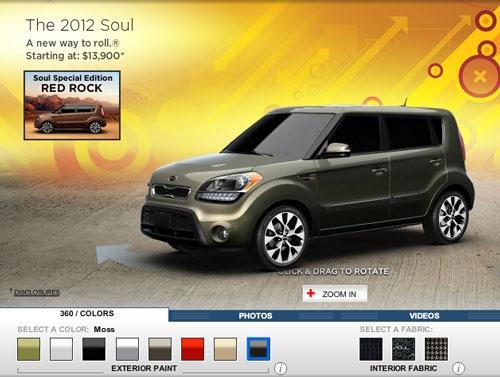 Inside, the Soul is basic, but extremely practical. Personally, I don't always need a giant navigation screen, touch buttons for different features etc. Sometimes having big knobs are nice too!
One thing I also liked about the interior design was the fact that it has two very convenient power plugs and the iPod connector, all located just in front of the shifter so it is easy to reach. The only possible improvement here would have been if they were actual AC outlets instead of the traditional cigarette lighter style.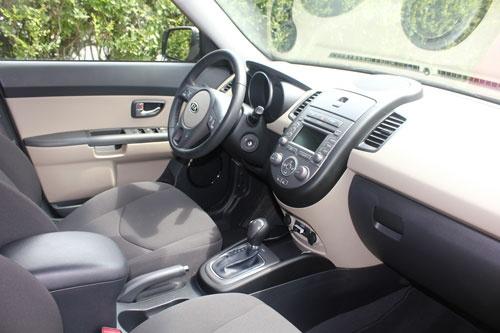 As you can see here, the Soul has a playful appolstery design as well. Instead of keeping a standard grey look, the checkered tops add to the fun that this car exudes.
Unfortunately my camera wasn't able to capture it well at night, but there is a lighting system connected to the radio / audio that lights up the ring around the speakers and pulses to the beat.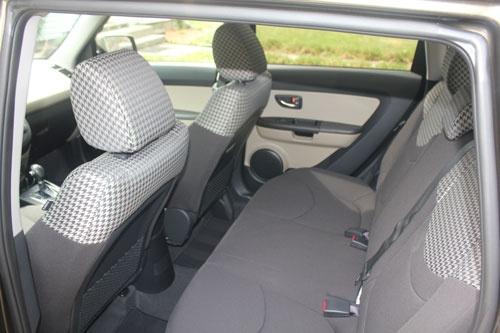 '
In the trunk, there was a surprising amount of room that again was extremely practical in a variety of different circumstances. In this case, it was to keep our wine glasses upright so that they would avoid rolling around and breaking.
I also found that this net / pouch was GREAT when running errands to the store since I could put a gallon of milk in there and not have it fall over and make a mess.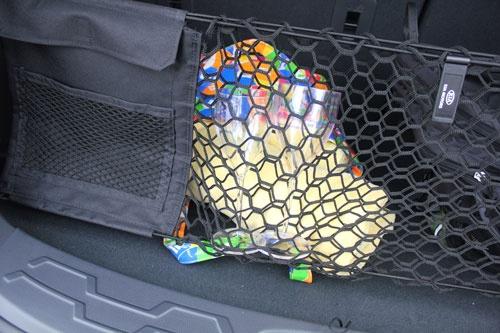 As part of our Road Trip Review, we took the Soul over to South West Michigan to the Lake Michigan Shores Wine (and Beer) festival. After all, the Soul was a perfect fit for this event ... fun, light hearted, compact so it would fit in tight parking spaces, and fast enough on the highway to get their quickly.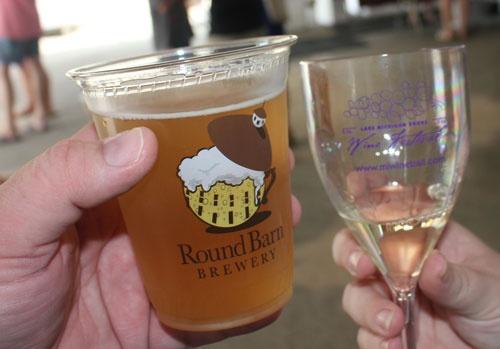 After the wine festival, we decided to drive it around on some back roads. The Soul continued to handle fantastically even in the rain and on dirt and gravel farm / vineyard roads as we explored some of the new wineries that have opened recently, such as Gravity pictured here.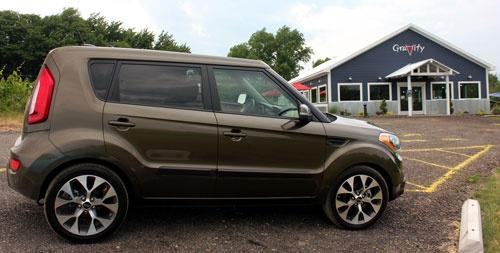 Road Trip

Review Scores (out of 10):
Sportiness: 9 - The Soul is not a "Sports Car" but it is certainly sporty and fun to drive. Plus, at under $20,000, it is a car that you can have fun with and not worry about how much it cost!

Gas Mileage and Range:

8 - at 26 city and 34 mpg highway, it isn't "shockingly good" but for a car with unique styling and a sporty feel, this is darn good.
Cool Factor: 10 - Some people love it, others hate it, but we had a blast driving it. The car just oozes cool at every opportunity, including the audio-synced lights on the speakers.

Road Trip Comfort:

8.5 - This car was very comfortable, including when I tested it with my father-in-law. Two big guys sitting in the front seats was putting the Soul at max capacity. Otherwise though, the Soul performed great on the highway, the seats while basic were not uncomfortable after sitting in them for more than an hour and the great visability made for easy driving too.
Technology and Gadgets: 7 - This is a basic car and didn't have a lot of technology or gadgets. However the music lights were very cool and almost worth doing a test drive just to see them!
FTC Disclosure: Kia provided me with this Soul to review, but all opinions are mine.