Sometimes you need more than a sports car or a typical suburban SUV to pack all the guys into and head off on a great adventure. Man Tripping was invited to come check out just such a vehicle, the new 2011 Infiniti QX. With a 5.6 liter V8 engine, and pretty much every feature one could ask for, the QX 56 is as capable as it is gorgeous.
In fact, the designers refer to a Learjet as their influence when designing the interior. From what we experienced, they were pretty much right on target!
I'm told it is officially a "truck" by the Vice President, but it look a lot more like the sexiest SUV I've ever driven.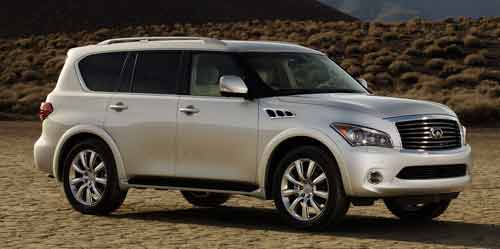 We are being told, "the 2011 Infiniti QX designed to look like a Learjet on this inside," several times before stepping into the truck. Infiniti invited us down to Louisville, Kentucky for this media preview of the 2011 Infiniti QX56. Our route for the trip is a scenic country drive start at Louisville's acclaimed 21c Museum Hotel to the Ashford Stud Coolmore Horse Farm in Versailles.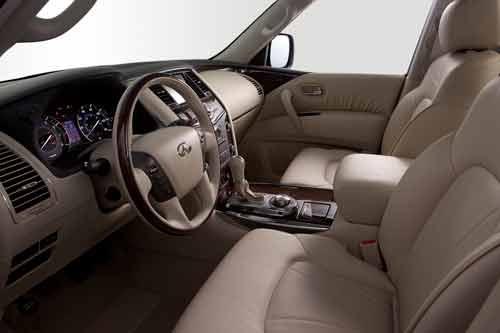 If you haven't had a chance to visit Kentucky, this area is spectacular for a mancation road trip. From distillery tours to golf there is something for almost every man in the Bluegrass region of Kentucky.
Since the QX 56 is designed as a "truck" it also has the towing capacity of 8,500 pounds. This is more than enough to pull all your favorite toys behind it - jetskis, motorcycles, snow mobiles, or even camper trailer.
We're taking a long route of beautiful Kentucky back roads to test out the new QX56 as you'll see in the video review below. The Infiniti QX gives some serious power with it's efficient 5.6 liter V8 and available Hydraulic Body Motion Control system.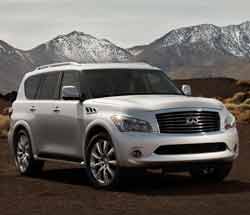 A grounded, rugged and stealth vehicle, the QX is as ready for a family as it is for a bachelor who takes his friends out on the town or a mancation road trip.
There is a high level luxury for seat in the house, including more room in the very back seats than are typical on this kind of vehicle. I'm impressed with the many safety features on the QX, including one which attempts to kick you back in your lane when you might miss another vehicle in your blind spot.
"Design, technology and performance" are the major focuses in the update of this second generation QX as shown in the video below.