When imagining the a road trip you probably don't think of the Ford Mustang. Instead, you might have visions of a big SUV with plenty of room for the guys and gear. What if I told you that you can now have a bad-ass Mustang featuring tons of trunk space, the latest in navigation systems, fantastic gas mileage and it is also a blast to drive?
Last week Ford invited me out to LA as one of the first media in the world to test out exactly how awesome this car was. I wasn't expecting more than just a sports car - but I was wrong!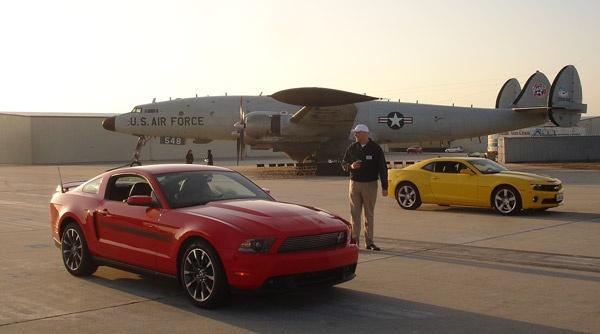 Prior to last week, my impression of the Mustang was that it was "just another sports car". Sure, the Mustang is an American legend - but so is the Camaro. It couldn't possibly be a great road trip car. Luckily I was wrong.
Not only does the Mustang handle like a dream on a variety of roads from twisty turny mountain roads to highways and even LA traffic, but it gets fantastic gas mileage (31 with the 305 hp V6 and 26 with the 412 hp V8). It also has plenty of trunk space for two large bags (or golf clubs!), and the Ford Sync navigation system is second to none.
Later this year, Sync is also going to add a bunch of internet functionality to link - or sync - it to services like Pandora Internet radio, twitter, and more. Right now though, it provides real-time weather reports, traffic updates, even location data for important destinations like the closest gas station. This is in addition of course to standard features like turn-by-turn navigation of course.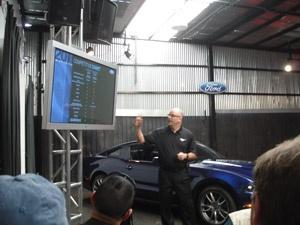 Comparing Mustang to the Camaro:
Much of the trip was spent comparing the Mustang to its arch rival, Chevy's Camaro. Our trip started with a lecture about the Mustang's specs as well as comparison to a variety of vehicles including the Camaro, Audi's, Honda Accord.
Granted this is was a press event and so comparisons were designed to showcase the Mustang's greatness, but we also got to drive the Camaro extensively during both autocross and drag racing situations.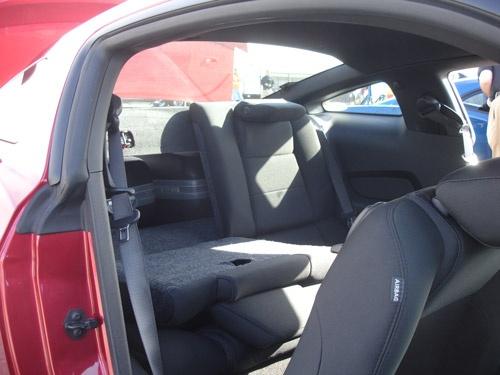 I have to admit that this really gave insight to why the Mustang makes a fantastic car for a road trip. Two of these factors that just don't show up on spec sheets is space and comfort. Where the Camaro is a great sports car, it simply wasn't comfortable for a big / tall guy like myself and the trunk just simply wasn't designed for more than a briefcase.
That right there pretty much knocks it out of the running to be a road trip car. Luckily Mustang shined in this category with seats that folded down so you could even fit skiis in the car!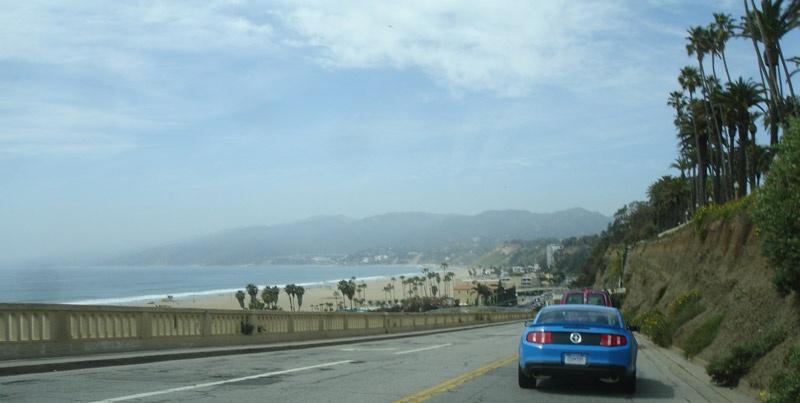 After our briefing, it was time to head north. Our drive consisted of a mixture between the Pacific Coast Highway and twisty mountain roads north of LA. With both the V6 and V8 models of the Mustang it was an absolute pleasure to drive. Though my favorite had to be driving the convertible with the top down.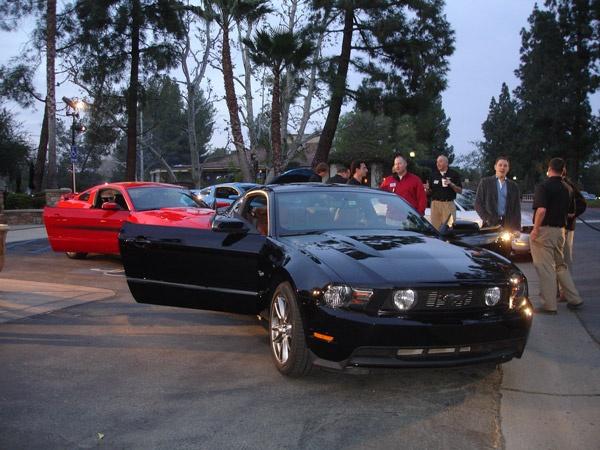 Once we arrived at our destination - West Lake Village Inn - it was time to relax, check out the various trim levels of the 2011 Mustang and have a few drinks.
In addition to speed, space, and comfort, the other remarkable part of the Mustang was that it was QUIET. So quiet that I understand that when they engineered the engine compartment they had to make it so the engine noise went back into the cockpit. Other than the roar of the engine, road and wind noise were almost non-existent.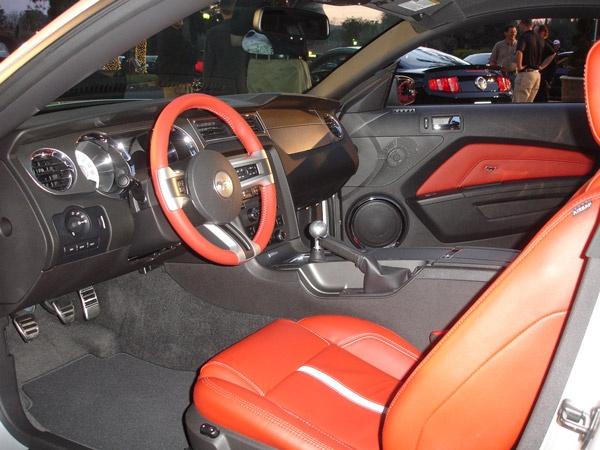 Craftsmanship as well was second-to-none. Little things like the sound the doors made when you shut them do make a difference! The interior felt extremely polished and overall it just didn't feel like your typical American car.
Another aspect of this attention to detail was that Ford even placed a power adapter towards the top of the dash, right below a space perfectly designed to hold a radar detector.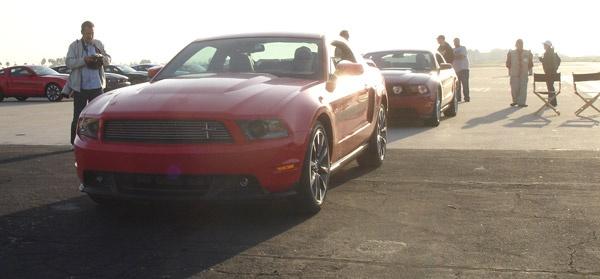 While drag racing on an airport runway isn't a typical mancation road trip activity, it gave me an opportunity to learn a new trick. Apparently if you shift from reverse to drive properly you can actually watch the smoke from the tires peeling out in the rear-view camera mounted in the dash.
Either way, this was our opportunity to "legally" go faster than the posted speed limit. However, I think it is safe to say that everyone explored the upper range of what this car could do on the roads too.
Once again, the guys at Ford pitted a similarly equipped Camaro against the Mustang and the Mustang was hands down superior regardless of who was driving. After several races, my top average speed was 3 mph faster in the Mustang and it was much more fun to drive as well.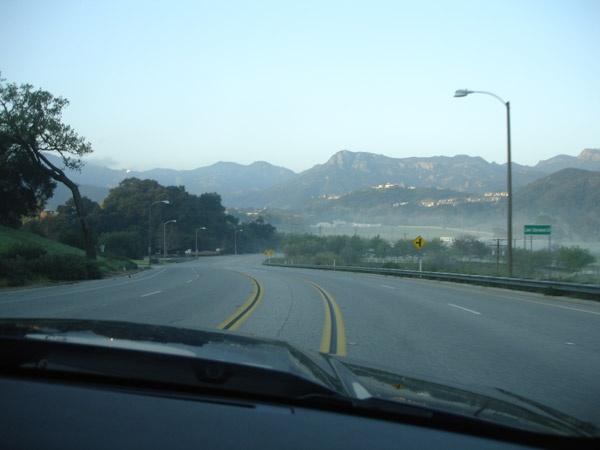 At the end of our trip I have to say that my impression of both Ford and of the Mustang has changed.
With regards to Ford, the company continues to impress me. It is no longer a company that produces average American cars, it is the epitome of what makes America great. The company has turned itself around, has a full garage of great cars including the Flex, Edge, and the Mustang. Each of these combines quality with technology and would be a fantastic for your next road trip.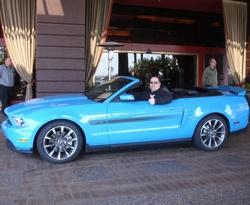 For the new 2011 Mustang, what more can I say. It is a great car that competes directly with the best sports cars in its class, has an interior that rivals luxury cars, and has fuel economy, technology, and features (rear-view cameras, navigation systems, trunk space) that rivals the best sedans. This is no longer just a midlife crisis car.
This is a car that you can legitimately buy, drive, and enjoy as your around town car during the week and your man tripping car on the weekends.