While road trips may typically feature big bulky SUVs or at least roomy sedans, sometimes it is fun to take shorter trips in a car that is just plain fun to drive. The 2011 Ford Fiesta is one such car - small and compact but surprisingly zippy and one of the most fun driving experiences I have had in a long time.
To be completely honest, when I took this opportunity from Ford, I was expecting the Fiesta to be like most other sub compacts that I have looked at in the past - small, junky, lacking in style, and under-powered. Luckily, I was COMPLETELY WRONG!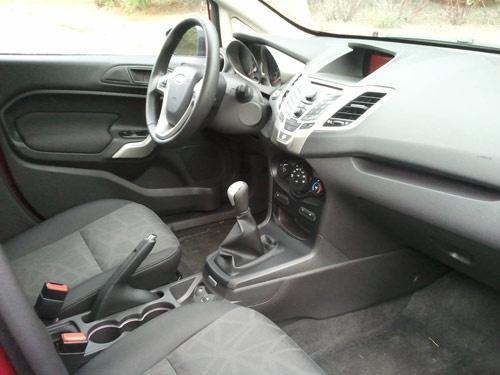 Speaking honestly, I am a big guy and so I was also a bit afraid of the Fiesta and "would I fit". However, everything from head room to the seat-belt were no problem at all. That being said, the version I tested was the hatchback and the sedan that I tested at a dealership was a bit tighter.
In the back seat it was a different story. While two guys would have no problem at all in the front, the back would be limited to "gear" and possibly a smaller guy (maybe a father-son road trip with dad in front?).
However, the Fiesta is really no worse in that area than any other compact or subcompact car. Certainly the rear leg room was on-par with my PT Cruiser.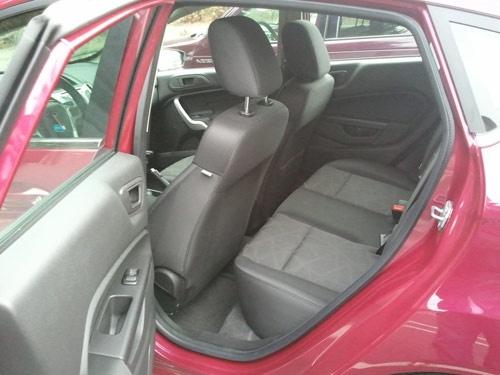 As for power and performance, the US version of the 2011 Ford Fiesta has a 1.6L engine that cranks out 120 HP and a curb weight of about 2400 pounds. Compare that to 1.5L and 106 HP for the Toyota Yaris and 1.6L 108 HP for the Chevy Aveo.
While the Fiesta is certainly not a Mustang, the level of power was PERFECT for a small car and the ability to make super tight turns in a parking lot or a u-turn in the city made this car a really special experience.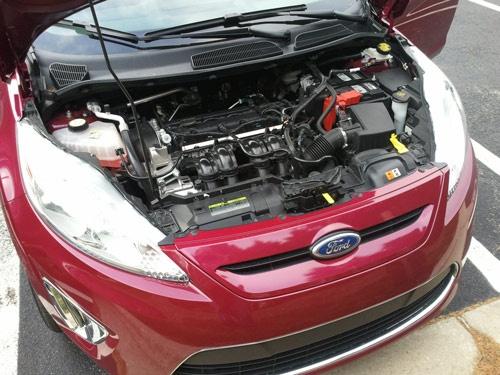 We tested the Fiesta on a variety of terrain over the course of the past week - all while earning how to drive stick for the first time.
I did have some problems with the gear box and finding the exact right spots, 1st and 3rd sometimes felt too close together and this was confirmed by a friend who had driven stick before. Likewise, for me, it would have been a bit more comfortable to have the stick a bit farther back so it would be easier to keep in contact with it, rather than having to "reach" for it.
That being said though, each car is a little different and this was a great car to learn how to drive stick on. Over the course of the week, four members of our Man Tripping crew all had a chance to test the Fiesta and not one of them had any other reaction than wanting to drive it some more!
As far as handling and performance, we tested it on a variety of scenarios:
The Highway
This is typically our bread and butter for a road trip and I was a bit concerned initially that a subcompact would just not be up to the task of a couple hour trip.
While it was very comfortable for short trips, I honestly don't see taking this on a 6-12 hour trip like I might take a larger car on. However, it would be fantastic on an inter-urban road trip between say Chicago and Milwaukee (2 hours).
Handling was just fine and (with proper shifting!) the car got up to speed without a problem and the handling was just fine for highway driving.
Country Road
This is where we had the most fun. Driving the Fiesta around corners, up and over little dips, and even across leave covered roads really showed me this car's true spirit.
It accelerates fast, turns quickly, and overall it handles FAR better than should be expected from a car of its size and price tag.
Plus, it was super comfortable and at no point did I or my passengers feel uncomfortable. We even in advertently tested the traction control on some frozen leaves and that proved to work excellently as well!

"Empty Parking Lot"
After driving around country roads, our attention was really piqued. "What could this car do?" and "How far could we push it?" were our questions now.
To avoid getting in trouble, we selected an empty parking lot and tested acceleration, braking, turning etc. Once again, the Fiesta proved to be a champion.
A couple times I attempted turns that I expected to have to pull out of or slide ridiculously with. However, the Fiesta stayed glued to the ground and while there was a bit of squealing, the car handled exactly as we wanted it to.
Quality Where You Need it!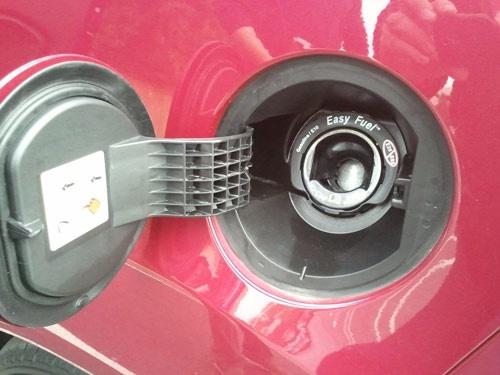 While the quality of the "New Ford" is clearly evident in the Fiesta (as it is in virtually every other Ford vehicle that I have tested recently), it was also clear that this was not a "luxury" car where money was no object. Instead, there were many deliberate design considerations to make sure that time and money were spent where you needed it and not where you didn't.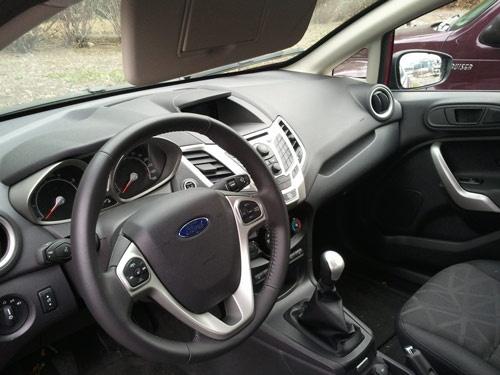 In the photo above, you will see a super comfortable feeling steering wheel, a very comfortable gear shift, and high quality (though not expensive) other interior elements.
However, those places where you won't touch (often) were utilitarian at best. For instance, the sun visor was clearly not as nice as other interior design elements.
For me personally, that wasn't a big deal because I am glad they spent time to make the overall experience as nice as possible, while keeping the Fiesta as affordable as possible.
The Fiesta starts at about $13,000 and the hatchback we tested was about $19,000.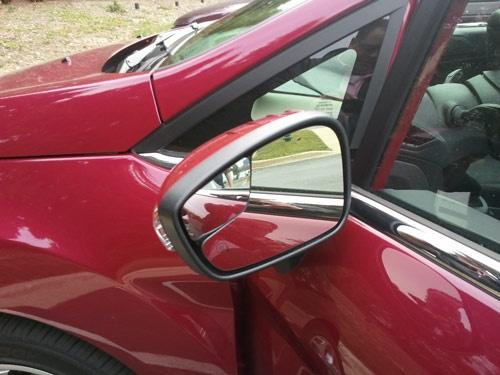 Another example of a really high-quality feature was the compound mirror with integrated turn signals. While the compound mirror took a to get the hang of, it was a terrific, unexpected addition that I would have expected on the Taurus or 300 but certainly not on a subcompact.
Summary of our Ford Fiesta Review:
The Ford Fiesta 2011 is a great car that I would LOVE to have as my third car for going out driving in. I can see this car being a fantastic companion for a quick guys weekend with two guys - possibly a third smaller guy as the back seat does not feature much leg room.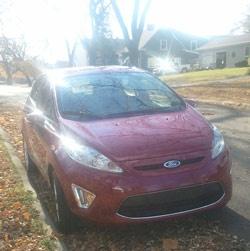 Pros:
Affordable
Exceptional Performance & Handling
Exceptional Quality & Styling
Surprisingly roomy (even for bigger guys)
Cons:
Really too small for a long road trip, but perfect for a quick guys weekend.
First and Third gear feel too close together