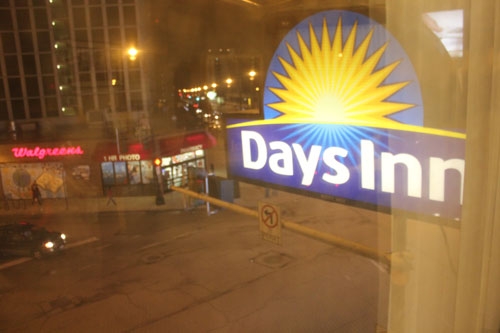 A few weeks ago we had an opportunity to check out a unique property in Chicago, the "Rock and Roll" Days Inn. While typically Days Inn might not be your first choice for a guys weekend, this one is actually worth a look. Though the "Rock and Roll" aspect is more historical than part of today's decor (bummer).
The Days Inn Chicago is located in Lincoln Park, not far from a variety of restaurants, and music venues including the Metro, the Vic, and the Riviera. This is where the hotel has draw its name. Over the years, rockers including Ace Frehley, Beck, Sheryl Crow, The Flaming Lips, The Goo Goo Dolls, Beck, and The Red Hot Chili Peppers have all stayed here. Kurt Cobain and Courtney Love even claim to have conceived daughter Frances Bean at the hotel.
Our initial view of the Days Inn Chicago ...

Unfortunately, there isn't any memorabilia on display, but the hotel is a very nice hotel that offers very fair rates - $100-$120 in the summer and substantially less than that during the colder months.
This is certainly not the Four Seasons, but it was impeccably clean and very well maintained with new linens, a very comfortable bed and flat screen TVs in the bedroom (though a fully adequate CRT TV was in the living room of our suite).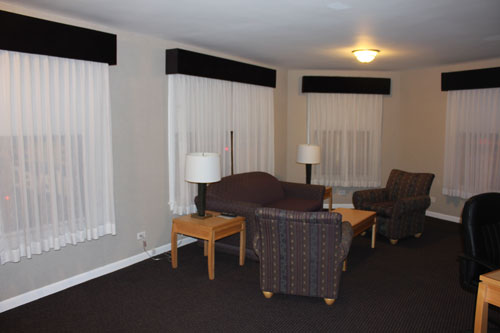 The room we stayed in was a suite and had ample room for a group of guys - either as "home base" with guys staying in other rooms, or everyone camped out in the same room.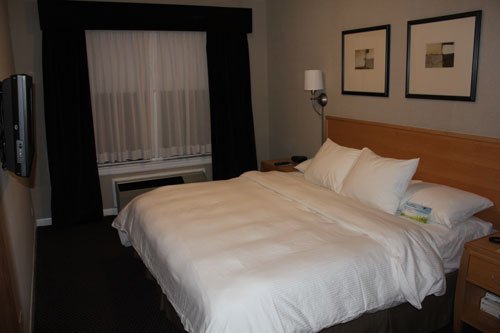 One of the really nice things about this hotel that you don't always find in a downtown hotel is that there are tons of places that are very close (walk, stagger, cab, or L). This includes Wrigley Field and the numerous bars located around it, as well as some iconic Lincoln Park eateries like the Wieners Circle.
If that wasn't enough, there is even a spa for men located right next door! HALO [FOR MEN], though I didn't have a chance to check it out, it looked interesting.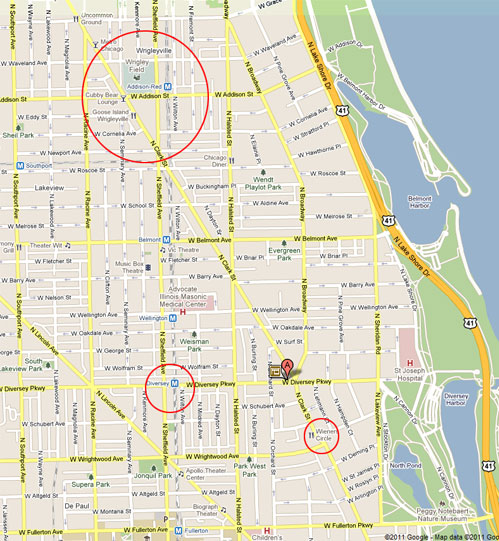 Almost as important is that there is a 24-hours McDonald's a quick walk away, and a CVS that was open late right across the street that sells limited groceries like Hot Pockets, drinks, and donuts. Perfect for a late night snack :) Luckily, our room had a micro-fridge in it so that came in super handy too!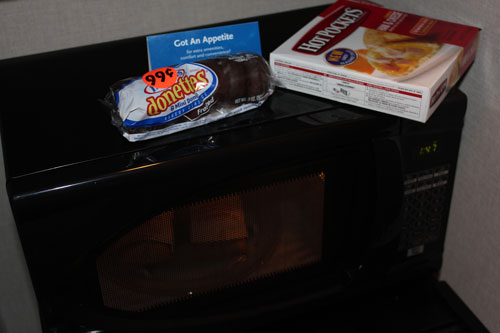 In the morning I was extremely surprised to see such a robust complimentary breakfast - not only were there the standard pastries, juice, cereal etc. they also had waffles.