Salt River Tubing is probably one of the most relaxing but fun macations you can take. Located in the beautiful Tonto National Forest near Mesa and a short drive from Phoenix you can spend the afternoon tubing down rapids in the lower Salt River.
You will be able to experience the natural wonders of the Arizona Salt River ...wild horses, blue herons, and majestic mountains all while hanging with your friends and enjoying a nice cold beer that floats on a tube right next to you.
Cost is only about $15 for your tube and shuttle bus service. You really can't go wrong at that price, and that also means you can spend more money on beer! You choose how long you float for, your choices are a 2 hour, 3 hour, or a 5 hour float trip down the river, depending on how you adventurous you feel. If you had enough for the day simply grab your tube and the shuttle bus will pick you up at the checkpoint and take you back to the parking lot.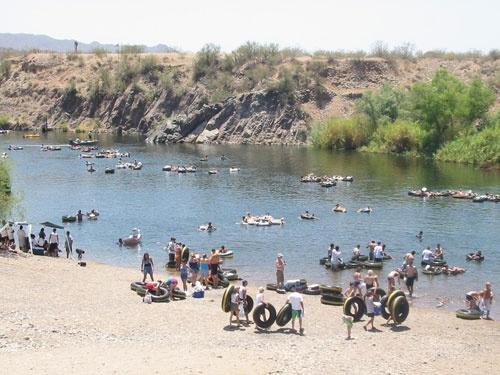 What I recommend just from my personal experience on the Salt River is to rent an extra tube for a cooler and a backpack for your beer, water, and snacks.
Don't forget your towels! Those tubes get really HOT! Most importantly, keep hydrated and also wear sun block and lots of it. Many guys get very creative with their tubes, on my last trip down the Salt River, I saw a group of guys that tied their tubes together and put a piece of plywood over it to form a raft - fully furnished with music and tiki bar. Pretty cool!
Depending on the day you go will depend on how fast the rapids will be. I've seen rapids pretty big one day and another day it was very calm. On a calm day, Cliff Jumping seems to be very popular - just make sure you know what your doing. Another thing is wear water shoes, old gym shoes, or flip flops if you don't mind losing them cause there are rocks on the bottom of the river and you will probably end up walking in the water at some point of your trip.
Overall what a wonderful experience just to float through the mountains with the guys, drinking beers, looking at all the wildlife, and cliff jumping.
For more info on Salt River Tubing visit their website: www.saltrivertubing.com