This hotel was booked for us by Visit Santa Fe. One of the things that I love to see is when older properties are renovated - rather than simply leveled to create something with a cookie-cutter design conceived of without any regard for the community. It shouldn't be a surprise that this was the path that the owners of the Santa Fe Sage Inn took, considering the dynamic and unique nature of Santa Fe itself. What on the outside looks like an older motel, has been lovingly restored and updated with a low-frills but comfortable and inviting decor matching the vibe of the town.
The other thing I like about the Santa Fe Sage Inn is that it is pet friendly. Not just accommodating your dog but welcoming them like family including pet beds, treats, and waste bags found on property. It's also adjacent to two pet friendly parks and a dog park just a short walk away. The fee is an affordable $15 per day (non refundable). While Niki Belle wasn't with us on this trip, I'd love to bring her back here.
From the moment you enter the check-in building, it is clear that you are in Santa Fe. In fact, the building itself is a mock adobe and inside is decorated with stone, bold colors, and native American-inspired art.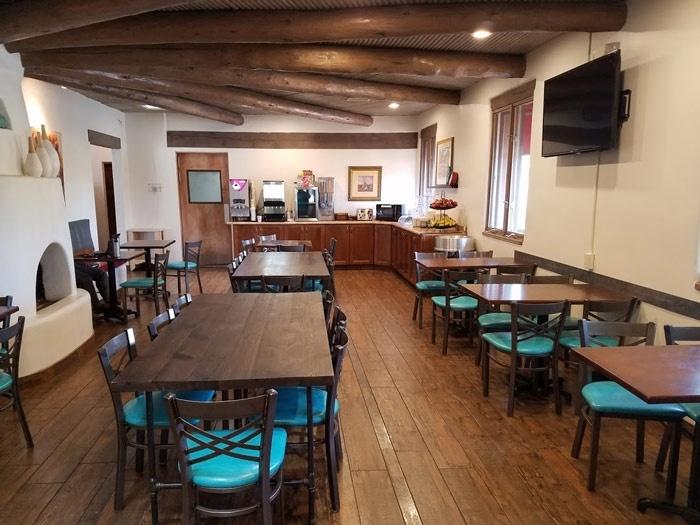 The check-in building also operates as a breakfast area in the morning with standard budget hotel continental breakfast of pastries, waffles, juice, and fruit.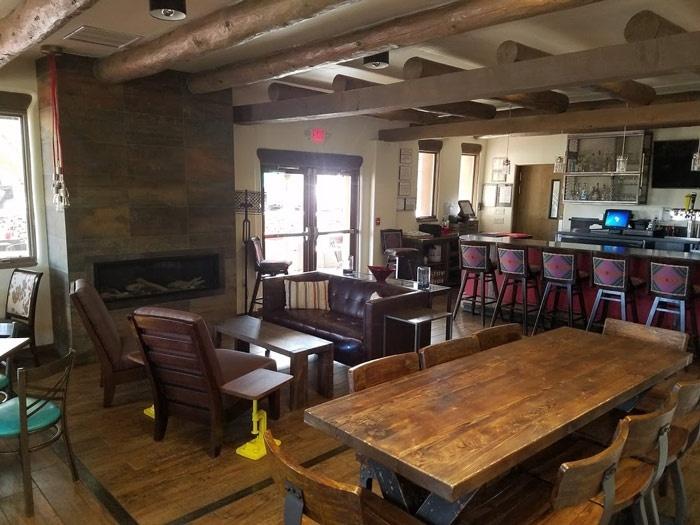 At night, the breakfast room and it's adjoining area become Derailed a bar and restaurant that is part of the soon to be opened Santa Fe Margarita Trail.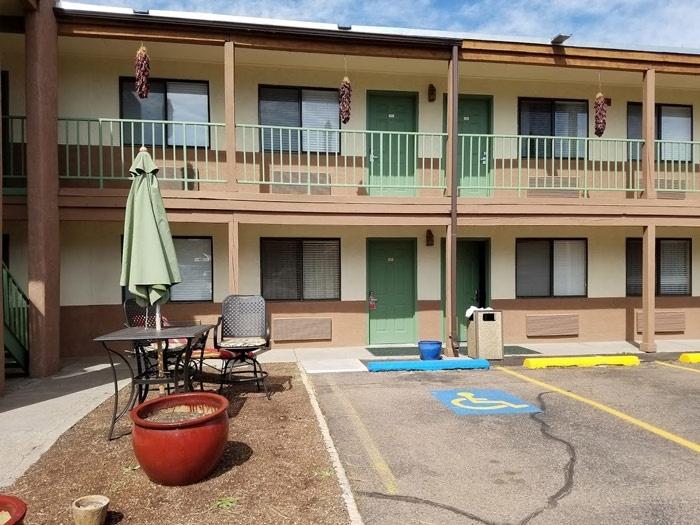 From the outside, it's clear that this is an older property. To their credit though, the owners have made some nice additions including the table and chairs outside and the entire property is very well maintained. Plus, it wouldn't be Santa Fe without a bundle of chili peppers and once again, the Santa Fe Sage Inn didn't disappoint there either :)

Inside the room - ours was a suite - you'll find a continuation of the very Santa Fe decor. The room - while small - is well appointed and has a comfortable bed and looks great. While it doesn't have a surplus of wall plugs like some newer properties, I was impressed that they did have extension cords to make it easy to plug in our phones, laptops, tablet etc. without having trouble. Likewise, WiFi was nice and fast.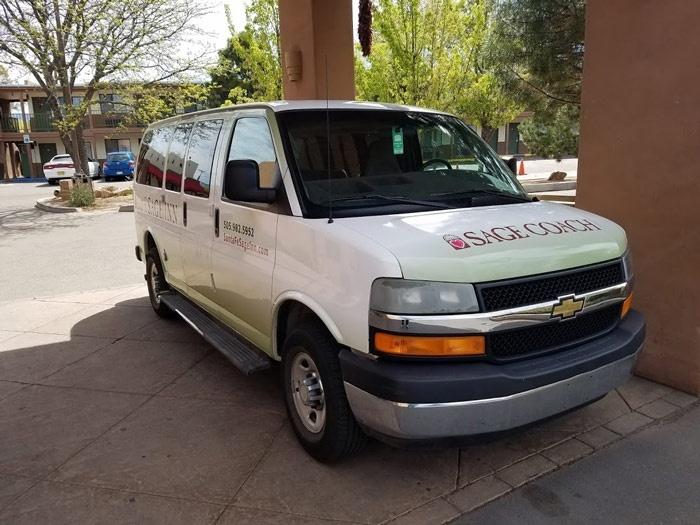 The Santa Fe Sage Inn is located close to downtown and you could probably walk if you wanted but they have a free shuttle that runs once an hour from the hotel to the Plaza. This makes it very easy to explore the art galleries, restaurants, and other sights you won't want to miss.
Rates range from ~$100 midweek and higher for weekends. Strangely though, while they didn't play games with credit card holds, resort fees, or extortion level pet fees - they charge $5 per day for parking. While that's not a huge number, it was a surprise to us during check-in though the fee was waived since our room was a media comp.