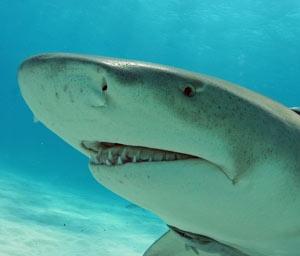 Scuba diving in the warm tropical waters off the coast of Baja
California
or the Carribean could be a great
mancation
adventure, but when you add sharks to the mix it becomes the ultimate mancation adventure. That's just what
Shark Diver
delivers!
To learn more about this amazing adventure, we chatted with Patrick Douglas, CEO and founder of Shark Diver.
How did you get started out being a shark diver?
Great question. That's a long story, suffice to say many years ago at the Farallone Islands, off the coast of San Francisco I was treated to a face to face encounter with a simply titanic white shark. From that day on it was love at first sight. Having been deeply involved in global tourism for almost 18 years, the switch from terrestrial adventures like caving, sky diving and whitewater rafting, to sharks was an easy one. Back in 2000 the industry here in the USA was in its infancy, most operations were focused in South Africa or Australia. I was surprised to discover the URL's Sharkdiver and Sharkdivers still available. Today you'll be lucky if you can get something like sharkydivrrs.tv.co.net
Are your expeditions more educational or tourism focused?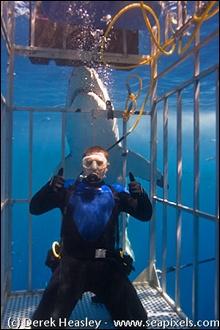 A combination of both. I have been fortunate enough to meet and work with some very forward thinking vessel owners and crews because at the end of the day that's the key to successful operations. From Shark Divers inception we have always kept the focus on what I call the "three pillars of commercial shark diving".
Commercial operations
Regional shark conservation efforts
Regional shark politics

Let's face it, with close to 80 million sharks getting killed each year for just their fins we, as operators, can no longer afford to be fence sitters or just purely commercial ventures anymore. The best way to achieve a better awareness of sharks is to mix some conservation into your adventures. It's the purpose behind one of our websites www.guadalupefund.org a way for divers to give back to the very shark sites they were just exposed to.
Which of your shark diving trips would be the best for a mancation?
That's a tough question, the white sharks in Mexico are a home run, but for sheer seat of your pants, what-the-hell-am-I- doing-here kind of thing, the deep water shark submarine in Honduras you cannot beat. I did that a few years back with owner Karl Stanley. We were sitting at 2am in 1700 feet of water being knocked around by 18 foot six gill sharks. These are huge benthic species that eat anything that floated down during the day. We had attached a few pigs heads to the side of the sub. May seem like a crazy thing, and at the time it was, today the operation has evolved into a pretty slick adventure.
Are your expeditions mostly guys or do girls go shark diving too?
Oh, girls come too. In fact about 20-30% of our adventures feature women who come solo. Girls love sharks. One of my favorites is a semi regular shark diver Christie Fisher. She started with us a few years back with a little off the shelf camera at Isla Guadalupe. Five days later with a simply staggering number of the white shark images she went home and bought some seriously professional gear and has been capturing amazing shark images ever since. She could go pro if she wanted to, she's organically good with sharks and that's a rare talent.
How does the on-board experience differ from a "cruise"?
It's like comparing a Tahoe ski cabin to the Hyatt Regency Tahoe. Our vessels are comfortable, the food outstanding, but do not expect a mint on your pillow at night. When you rent a Tahoe ski cabin you're up there to ski your brains out, when you stay at the Hyatt Regency not so much. When you shark dive with us we deliver sharks, finding them is half the battle, but you often have to go places where cruise ships don't.
I see you have a Submarine Shark Diving Adventure available this year, is this private, or does the group take turns in the submarine?
The sub adventures are open to anyone, in fact you need not book with us to do it. The sub is a three man vehicle with the captain so two go down each night. The set up is unique. You meet the captain for dinner at a beach side Argentinian place and drink a few bottles of wine while feasting on the biggest steak you have ever seen. After all if this is your "last adventure" it might as well have some class. Then, you digest, and meet at the docks at 12.00 midnight. The drop happens at 12.30 and by 2.00am you are face to face with some huge sharky critters at 2000' feet. Very civilized. When you consider that in a planet with 5 billion people on it the three of you are probably the deepest non military humans at that moment. It kind of dawns on you just then how cool this really is. I still have fond memories. Submarines are fun.
What is the most awesome place that you have gone on a mancation?
That depends. For explosive fun there's a few places in Nevada where you can play with military hard wear from chain guns, to single shot 50 cal sniper rigs, that's fun. I am always drawn to any island that still has under-a-buck-beer and really bad techno music. Those places are becoming fewer and further away to find. Alaska is a great place, Gravina Bay is home to pack hunting Salmon Sharks (mini white sharks). I love helicopters and Hawaii, I was just there for my 40th with 15 friends and a huge house. Let's say anywhere you can find what you are looking for, and at the end of the day your soul becomes settled and full.I have seen many places like this - but still searching for that perfect place.